This Is How: 'The Crying Mirror' by Ash Davenport of Miki Studios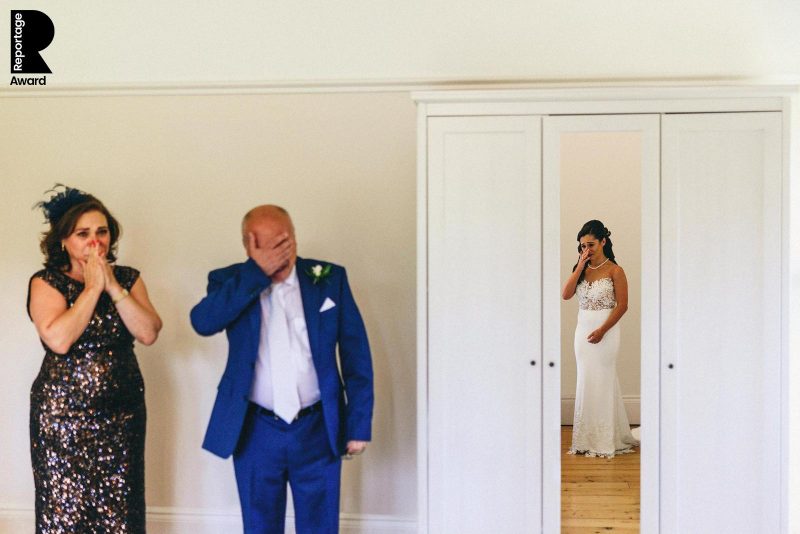 Honoured to have the brilliant Ash Davenport of Miki Studios on the site today to tell us how he got this Reportage Award-winning capture from Collection Two. Ash shares great insights into noticing potential for extreme moments, composition, the importance of a pre-wed to build rapport (and thus capture this intimate moment), and much more. Brilliantly, we also have thoughts about the image from the bride herself. A fantastic read!
I will never forget this wedding, this couple and finally this image and the joy it has brought to me and Frankie and Andy (the bride and groom) and their family. It's a pleasure to write a few words about it and how it was captured. This image has created so many opportunities for me including being asked to Judge Collection 4 for TiR. I am also honoured to have received a TiR award in Collection 2 for this image and cannot wait to see what Collection 4 has to offer!!
On the day of the wedding, I arrived super early on a blisteringly hot September day back in 2016. I was greeted at the door by Frankie's Father – John – He struck me as extremely kind, gentle, loving Father who could have the tendency to be emotional and at this moment to be a little bit at unease (which is to be expected as Father of the Bride). The rest of the house was calm and enjoying the drinks and food that had been laid on. It was clear that Frankie's Mother – Minou – was also nervous but was keeping herself busy and enjoying all the company around her. With 2 hours to go until the ceremony everybody was in good spirits, however, I could tell John was clearly struggling with the anticipation and emotion of the day, although I had never met John before I could tell this was not a position he had found himself in before.
To try and distract John from the emotion that surrounded him, I started up a conversation that led me to find that John was a company Director, my suspicions were confirmed – this was a day far removed from the office and instead dictated by the overwhelming love for his daughter.
I started capturing bridal prep but instead of the usual group of girls getting ready all together, Frankie was getting ready on her own with only her maid of honour and makeup artist. The moment a Father catches sight of his daughter for the first time can be one of the most emotional moments of the day, and with John, I believed that it might be taken to the next level. It wasn't until Frankie put her dress on that I had that eureka moment. I knew I had to act quickly as the emotion and anticipation was growing quickly. The light was great and I positioned myself so I could see Frankie through the mirror and prayed to the photography gods that John would stand in the right place and then let his emotion come out. I knew it would be emotional but could never have imagined what would happen next. John walked into the room and uncontrollable just let go. This was the trigger for Frankie and her mum (who were feeling just as emotional as John) to let go as well (including me…). I was lucky to have the perfect conditions, Frankie's childhood bedroom allowed me to capture both her dad walking in and Frankie through a mirror within the wardrobe.
The reason that I believe I was able to capture this moment stems back to the pre-wedding shoot with Frankie & Andy. I find this an invaluable time to develop a rapport with my couples and build up a good level of understanding and trust. From this, I believe that Frankie thankfully trusted my judgement and allowed me to stay in the room to be a part of such an intimate moment. I have no doubt that without having built a relationship with her I would not have been able to take this image.
Since shooting Frankie and Andy's wedding I myself have become a father to a baby girl so I have learned how overwhelmingly strong the bond between a father and daughter can be. She might only be 18 months old but I have no doubt that should I ever be in his situation I will be every bit as emotional and proud of Martha as John was on that day.
This image is exactly what wedding photography is all about in my opinion. Not images that show how you looked but images that instantly transport you back to how you felt. Don't get me wrong, I love a good epic flash night time image but these real moments, capturing the exact moment where people are at their most vulnerable, are priceless and will live longer in people memories than a posed image.
In addition to the amazing TiR award, this image also has won a Fearless Award, WPS, Masters of Wedding Photography and a WPJA award proving that the sincerest of moments always win!
I'll leave the last word to the bride Frankie.
"……From the outset Ash understood exactly what we were looking for in our wedding photography – his style is relaxed, discrete while perfectly capturing the atmosphere of our day. This photo demonstrates all of that and more and if we had to pick one photo to sum up our day, this would be it! I remember my mum helping me get dressed and shaking with nerves as I waited for her to bring my dad into the room. Ash was just beside me waiting for the perfect moment. I don't think either of us anticipated such an emotional response! Coming from a big Italian / Iranian family and being the only daughter, this was a truly special moment for all of us and we love how Ash was able to perfectly capture the emotions in the room – to quote my dad "tears of joy and pride." Two years on and expecting our first child (and first grandchild!), this memory still brings tears to our eyes and we've received countless comments about this moment…… "
You can see more of Ash's work on his website, or over on his TiR profile. Ash, as part of Miki Studios, is also one of our judges for Collection Four of our awards (winners announced 1st August 2018).
Did you enjoy this post? We have more documentary wedding photography tips over here.
Interested in becoming a member of This is Reportage? View all the benefits of membership and sign up at this link.