This Is How: 'My Marshmallow' by Alexis Jaworski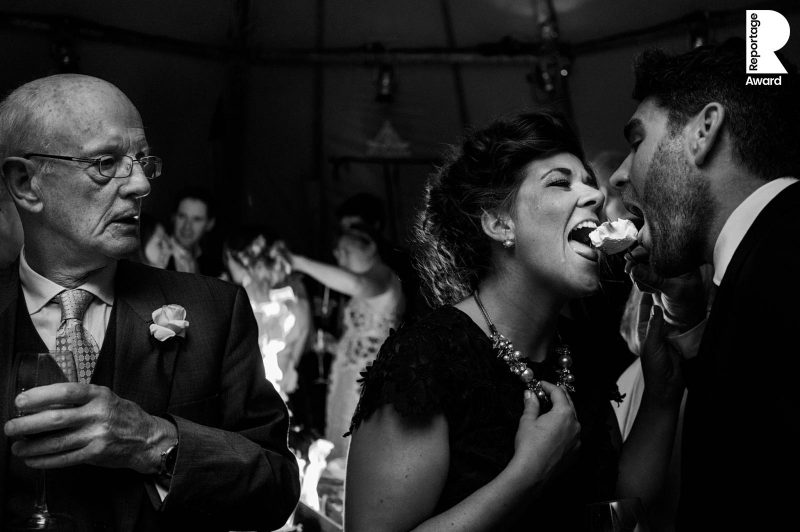 We absolutely adore our 'This is How…' pieces by our This is Reportage members; the way they share their insights and advice into such exceptional moment-capturing is just brilliant! Today is no exception, and it's an honour to have the fantastic Alexis Jaworski taking us behind the scenes of his recent Reportage Award. Great insights into building relationships with not only your clients, but also the guests on the day, the difference a smile can make (spoiler: a huge difference!), and also an exploration of a different frame from the moment – thanks so much, Alexis!
I love this image from Charlotte and Alex's wedding. It was a really relaxed day. A village affair. The bride lived 500 yards from the church and the reception took place in a tipi literally across the road from her house. The bride and groom wanted minimum fuss and just to enjoy their day with friends and guests. I feel that it is important to adapt to each wedding. I always tell the bride and groom to be relaxed around me when photographing as their guests will naturally pick up on it. They will understand the way I work and they will also be relaxed in turn when I am taking photos around them.
I also feel that it is important for me to talk to the guests when appropriate and when it makes sense. I feel that creating a relationship early on, will help create better images later in the day. They will be more relaxed around you. Sometimes, I get introduced to other guests and whilst it is not necessary at all, it can help to "break the ice" and make people more comfortable around you. If I have not spoken to guests at a wedding, I do make sure to try to smile and make eye contact when taking pictures. I can have a serious face when working, but I find that the more I smile, the more positively people react and start ignoring me.
This image was taken towards the end of the evening. The first dance had already taken place and guests were dancing, some were enjoying a drink outdoors and some were by the fire pit eating marshmallows. I saw this couple having fun eating their marshmallow and being playful with each other. I had a quick chat earlier on with them and I think that this helped me here. They were aware that I was around but they carried on what they were doing nonetheless. I do not think that they did this for my benefit either, they just ignored me and carried on doing what they were doing.
There was a challenge with the flames behind them that was blowing highlights in my frame but I captured this the best I could. I tried two angles. The one that you see in this winning image. I love the gentleman looking on. In my mind there is almost a disapproving look or surprised look, although perhaps he is just looking at where I am pointing my camera at. I love the juxtaposition of the fun moment: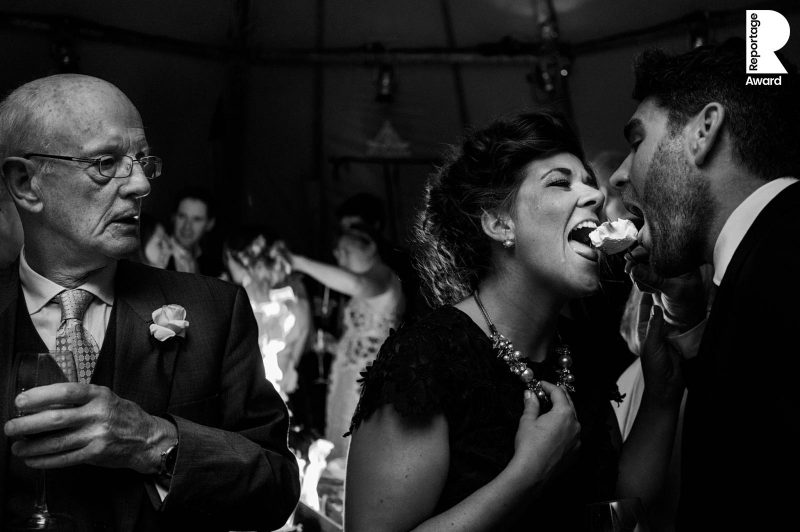 I then got even closer (physically by moving in although there is a small crop on the frame too in post production) and documented this other frame. This frame is also on my list of images to submit for awards. I like the playfulness but perhaps lacks the added dimension of the man looking on. I chose to process this one in colour to bring in the colours of the fire and the tipi: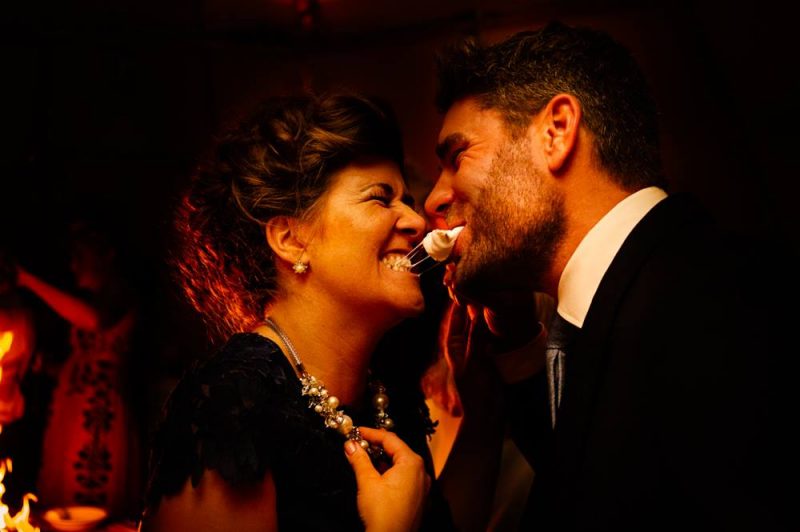 These images were taken on Sony a9, 35mm 2.8 lens, ISO 6400, 1/200 sec, f 2.8
I know that some colleagues prefer to be almost like a fly in the wall and not talk too much to guests. While I don't try to chat to everyone, I do enjoy having a small chat with people when it works out, I like being sociable and I believe that it gives me more access.
You can see more of Alexis' work on his website, or here on his TiR profile.
If you found this piece interesting, head over here to see lots more 'This is How…' pieces by our This is Reportage members.