'This is How' by Bogdan Chircan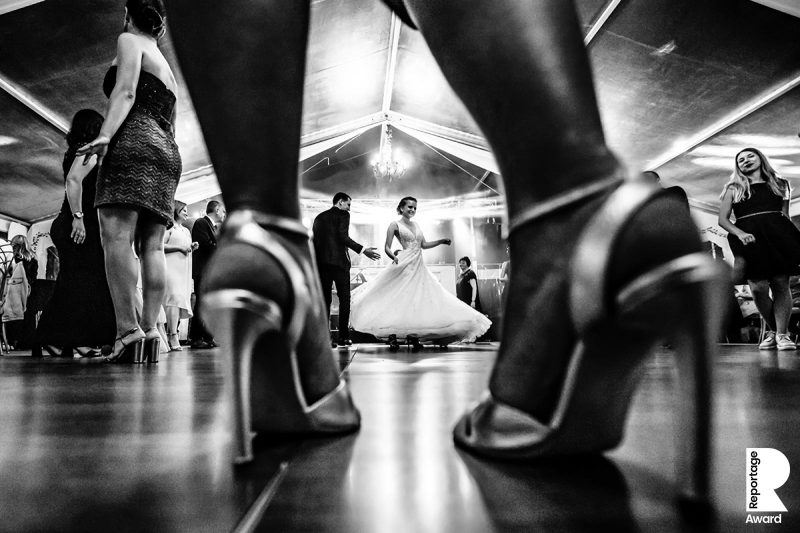 So happy to be back again with another fantastic 'This is How' piece! Today, the brilliant Bogdan Chircan – one of the best documentary wedding photographers in Romania – tell us exactly how he captured this Reportage Award from back in Collection Twelve:
The story behind the photo starts out like this:
I have long wanted a photo of this kind super spontaneous, but it is very difficult to align the stars in a such situation, I consider myself lucky, but at the same time stubborn, until I get a picture exactly as I do want, I do not give up, I am very, very demanding with my works (my photos). If I do not meet all the criteria well implemented in my head in one photo, I think is just not ok, maybe I have to lose because of this, as many times some of the photos can have all the chances to fit very well at being at least one finalist in a contest, but being so demanding, often I do not consider them suitable and I hang them out in many times. I will review them more closely from now on.
Hey, but this time it wasn't the same!
I remember with fondness of this beautiful wedding, organized in a dream setting, a mountain area very appreciated in our country, Vulcan-Rasnov area, close to the famous city Brasov, Romania, an area with many cities, areas of beauty forest, with German-style stone houses, fortresses such as Rasnov's. Râșnov Fortress is the fortified complex located on the limestone hill. It is one of the oldest structures preserved to date and dates from the 14th century, on the site of the wooden fortification erected by the Teutonic Knights at the beginning of the century XIII.
It is one of the best preserved fortified assemblies in Transylvania.
Here are some old castles of over 100 years, the most famous in the area is Bran Castle known as the castle of Count Dracula. Commonly known outside Romania as Dracula's Castle , which I really recommend to all.
There are places loaded with history that are still very well preserved today. We expect you all to visit them, you will definitely not regret it.
The wedding day it started with a lot of fun, through a maximum fun with the boys and girls at the pool, where after 1 h of crazy fun, where I had to attend capturing some memorable images there, because I could not miss a fun like this, followed the preparations of the groom, the bride and the religious ceremony that was spectacular, in a stone church, in a Gothic style!
The reception began, which was sensational, the priest who met the grooms gave a very nice speech, in honuor of the grooms. Splendid moment and full of emotion.
Of course, the party started on a positive note with lots of drinks (for the sake of courage), my brides had great emotions and said to lower their legs and body a little before dance?
They had an explosive, not classical dance, but a completely atypical one. They created a truly memorable moment.
After a crazy party in the truest sense possible, the party is nearing the end…..I kept spinning around them, to be able to catch as many moments as possible, it was a crazy madness, I didn't even know what to catch faster. ..
The dance was nearing the end and I was still photographing from all possible angles, I try every time new compositions and I like to risk, even if I could miss an important moment, at a certain moment, in that madness I was first attracted by the legs that which are in the foreground of photography (I hope my wife does not kill me when she sees these lines, I swear dear that you have the most beautiful legs in the world!?), I targeted them with some special dance moves that made me follow them and I thought about trying to photograph. When I was focusing on catching a funny and even more creative frame, I realized that in the center of the dance floor and in the middle of the weddings that danced on the breathless, the bride and groom had appeared, it was all so fast, I didn't know where to look anymore. Quickly, everyone dances on a song with a specific traditional Romanian alert rhythm, it is very difficult to keep up with such a foot dance and then among the lady's feet, of course, as a girl when she sees as an objective and the camera is between her legs, not a very comfortable situation, so I was out of time, I had thought a little about the situation before triggering this frame, and I started in a burst of photos next to her, to get used her to the flash lights- pretending to be photographing her so randomly…
At the same time I was also with my eyes on the grooms, fearing that they might disappear at any moment from my frame.
So I continued very quickly moving the device in a fraction of a second exactly between the legs of the lady, So I continued very quickly moving the device in a fraction of a second exactly between the legs of the dancer I fixed the device, she did not have time to realize what happened to her and saw further on the dance.
Pfuuu, I breathed lightly, not the other, but I risk waking up with a palm over my eyes exactly in my most hunted moment ???
I saw what happened in the background, but I thought that the frame did not come out because my former camera very often lost focus failed frames during that period, when it was not the time, but I hoped.
Then I reviewed the frame in a small wedding break, where I saw that the stars aligned with me!
The probability that Stefan (the groom) and Otilia (the bride) would spin in a pirouette, as well as their feet helping me in a perfect composition, were not very high.
And here are, the photo I wanted, I had it in a harmony of movements complemented by a perfect composition. I have imagined her black and white from the first, without thinking too much, I love the black and white photos, I adore their feeling and the vibe they convey.
I love this photo so much, especially when I saw that this photo in which I believed from the first second was awarded the TiR , one of the most titled wedding photography in the world, and with much appreciation, it filled my soul with immense joy.
PS: I did not receive complaints from the lady even after seeing the photos, because being black and white, it helped me not know exactly who it was. I know for sure that she is one of the bride's friends that I will see her again this year at a wedding, in their circle of friends.
I do not know if her figure will seem familiar to me, but I am sure that I will recognize her legs from 1000 from thousands of feet and I will be keeping an eye on them throughout the next wedding.
It seems that were very lucky to me
And to make such a small bracket: all I could say about photography itself is that when your imagination gives you signs and guides you to make a certain frame, to take a picture in that is, do not hesitate and do not be afraid, the art is born from mistakes, and a palm given for the sake of art will remain legend!
Stop the time to remember,
by Bogdan Chircan Photographer
Thanks so much to Bogdan for this great 'This is How' piece. See more of his work on his website or here on his This is Reportage profile. We have over 100 more of these guides by our members over here – a real treasure trove of documentary wedding photography tips!