Ask The Photographers: What Would You Look For In A Wedding Photographer?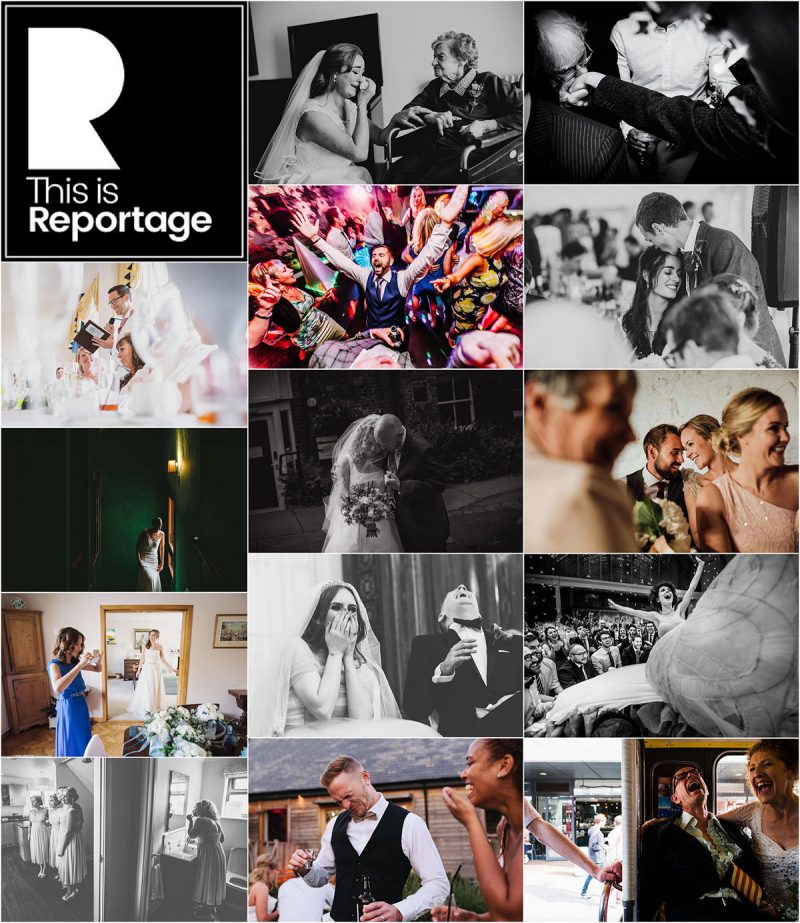 We know that, when it comes to such an important question as 'How to choose your wedding photographer', it can be a real minefield – so many of us to choose from, so much (often conflicting) advice, so many places to look – where do you even start? Well, we thought it would be a nice idea to ask the members of This is Reportage, what would they look for, as wedding photographers themselves, if they were to get married (or tie the knot again). Here's what some of our lovely members had to say:
Megan Wilson told us "When I got married, I spent ages looking for my wedding photographer (in fact, I think it was the one supplier I spent the most time looking for!) and I'm so glad I found our photographer as I absolutely love my wedding photos. I wasn't a wedding photographer at the time so although I knew what I liked and didn't like in terms of style, I didn't really know what I was doing! If I had to do it all over again, I'd still pick the same photographer for the following reasons:
1) Both my husband and I absolutely love her work which I think is SO important. If you don't already love your photographer's existing work then I think you're less likely to love your own wedding photos.
2) I got along really well with my photographer. I don't think you need to be besties but I'd meet up or have a video call before booking to make sure I felt comfortable around him/her since I know how much time a wedding photographer spends around the couple!
3) We both loved that her images felt real and natural. It would be really important to me to make sure my photographer was someone who could be discreet and capture things as they happen…so yes, he/she would need to have a reportage style! 😉 We had a really intimate wedding (only 10 people!) so having someone who was able to blend in and not be imposing was really important to me. It also meant that we could be present in every moment and not worry about a photographer intruding and interfering.
Those would be the three main things that would be most important to me if I had to get married again. I think, in addition to that, I'd get practical and check things like making sure they have a contract, what their payment schedule is, approximately how many photos they deliver and how they're delivered as well as what plan they have if he/she becomes ill or unable to shoot.
Soven Amatya had this to say: "Must be someone who we like, as the photographer will be there for most of the day. The photographer has to have a good demeanour – be able to handle any sh*t that might happen during the day… strong documentary style, creating strongly composed photos. Must also be able to create amazing portraits of us… being the groom, I'd definitely want to ensure my partner had the wedding of her dreams."
Hannah Hall of Red on Blonde Photography told us: "For me, wedding photographs are so much more than pictures. They're memories, stories, shared moments, experiences and it's all about the feels. This is what I'd look for – photographs that go way beyond being a visual record; I'd want to see the spirit of a wedding day and all those real moments, raw emotions and humour.
I'd be looking for a photographer who showed me some of the big moments but even more so, those little bits in between; the unplanned, unorchestrated moments that happen between people and make a wedding yours. I'd want a photographer who gets under the skin of a wedding, to create meaningful images with narrative layers. I know that many years from now you'll want your images to have bottled all those magic emotions, so you can revisit yourselves as you were, with the people you love – heads back laughing, bear hugging, totally unleashed and loving life on the dance floor."
Karen Williams of Willo Photography said "We were lucky to have a great photographer at our wedding, which was one of the reasons we ended up in this game!
Looking back, we were clueless. If it was to all happen again, I'd do more research for a start. I knew what we wanted, but didn't even know reportage wedding photographers existed until we did a bit of digging around, nowadays there's a lot more choice – which probably makes it even harder.
What's important to me – apart from looking really fierce as a bride – is my family. Being able to look back on your wedding photographs and seeing what an absolute ball everyone was having… Years later, the kids have grown and loved ones may have left us, but nothing will give more joy than seeing their shining faces laughing through our wedding day.
I wanted our wedding photos to so obviously be of a moment in time, because our wedding images would become about reliving the memories, not trying to futureproof them. We chose a style we liked at the time, in photography, outfits, details, makeup… If we loved it, it was in. If it gives our little girl a laugh in fifteen years from now, all the better!
If I were to look out for anything, it's about having a strong emotional connection with a photographer's images. Look past what the couple are wearing or how awesome the venue is, and really feel the moment. If it grabs you, then you've hit on what's real!
Have a chat – preferably face to face – and if you think you can spend your day with this person (or people in our case) being a huge part of your day, if they give you the confidence that they'll do you proud, then you've nailed it. Decision made!"
John Steel let us know this: "When I was getting married I was given the job of choosing the wedding photographer. Like many couples we don't like having our pictures taken so photographers weren't massive on our agenda (we didn't know the term documentary wedding photographer 7 years ago).
I asked a photographer who I know was a good commercial photographer if he'd come along and shoot candid photos at our wedding but unfortunately he was already booked. He did recommend his friend who was a professional wedding photographer. We went to see him at a wedding fayre but I had my professional head on, I looked at the pictures, lighting and composition and thought they were good, I also chatted geek to him and generally got on, so we booked him.
We told him that we weren't posey people and that we wanted him to capture our wedding (documentary) although I didn't know documentary at the time. My (now ex-wife) told him she didn't want any bridal preparation pictures and we wanted to spend time with our friends and family.
On the wedding day (I won't talk about the nightmare pre-wed) despite us telling him what to do he turned up for the bridal preparations which didn't go down well. All day he was trying to take us off for an hour and half, didn't want to do any group pictures (despite me sending him a list) and he had his own itinerary.
Now, the next time I get married. I'm just going to choose a documentary wedding photographer who's pictures I LOVE. But most importantly I have to be able to get on with that person, someone who I could go to have a drink with (not that I drink). Someone who I know I can trust, who won't be telling me what to do. Someone who I know will tell our story the perfect way. Someone that is honest, not someone who will try and upsell. Someone who I can call a friend
It's probably a little bit pants, I could go on forever about the nightmare of a photographer I chose. I won't even mention the fact that I didn't get a picture of us both together, that he slagged us off on his blog, that the next month he won 13 awards (WPPI) that my ex-wife somehow mistakenly transferred 10 grand to his account (fortunately we got it back) that I had to spend 2 hours Photoshopping a group formal (that he didn't want to do) to get a picture of us both together."
When we asked Gareth Williams what he would look for in a photographer, he said "a photographer who's understated, fun and relaxed, I wouldn't want to be thinking or having one eye on the photographer all day wondering what they're doing; just getting on with their thing, capturing the day organically and with little input, a photographer who's portfolio shows they love their job and how they go about things, oh…And they'll need to bring their own lunch ?"
Nicki Feltham told us "For me my photographer would have to be someone I connect with. I would look for someone laid back and fun with a strong portfolio of reportage, candid images. I would have to love their work and be able to feel the emotions in their photographs. A timeless edit is also important but mainly they'd have to be someone who can blend in with my family & friends and be like another guest at the wedding."
Mike Riley said "What would I as a wedding photographer look for when booking a wedding photographer for myself? Interesting as I've just done this comparatively recently. I looked for pretty much all the things I try to offer myself.
First criteria was an outstanding portfolio of images. Not wedding photographs but images that sold me that the photographer was a photographer, that he had a practice outside of weddings. I wanted to see photographs not made at weddings that showed that the photographer had a vision. Too many wedding photographers are doing a job, they're not in it because they want to make pictures and the wedding allows them to do that.
Next I / we needed to feel that we could get along with that person. It was important that they came with a similar mindset as ourselves. We're not up for posing and faking stuff, not interested in a set of 'wedding pictures'er se so its important that they're the kind of photographer who can just get on with applying their photographic vision to what they have in front of them.
Lastly a bit of due diligence is always worthwhile just to check that the person you hire has either a reputation for reliability or that you can see that yourself from what ever dealings you have with them. We made a long list guided by all the factors above. Then a shortlist to sharpen that selection and get down to a final 5. The final choice was made on portfolio alone."
Craig Williams told us "If I was looking for a wedding photographer. The photographer would need to have a strong portfolio to start. The work would have to definitely have to have that buying a house feeling of when you know you know but more than that it would have longevity in its style.  I would need someone crazy enough to take a risk on a big picture but relaxed enough to blend into my friends and family. I would hope that a lot of the feeling of the day will sit in those pictures so there is no pressure."
Joshua Wyborn told us "When me an my wife were looking for wedding photographers only two years ago high on our list was artyness. Were both lovers of fine art and the documentary style. We wanted creative yet reliable. Dont get me wrong we love creativity and its freedom but if you go completely creative then you have no idea what results you would get. So seeing a wide range of weddings photographed by our short list was key.
Second was budget. Photography was key to us and we set aside 20% of our budget for it which was about £1500 in total. Knowing this amount was great as it set boundaries on who to shortlist. After all, i wanted someone who cost £10,000. Somewhat unachievable. But knowing the budget really helped us find the perfect match!
So, we defined what style we were after first and then our budget. The Photographers who landed jn the middle got short listed. Until we narrowed it down to our final choice."
David Weightman told us "We're very fortunate as a family to have an amazing collection of photo albums, stretching back virtually to the birth of popular photography. They tell an amazing story, and as a student I used these pictures in my work. Sadly, there are some noticeable gaps in this visual history, but having such an amazing record continues to motivate me and influence my own wedding photography.
If I was to get married I'd of course want to do all the normal checks, and fall in love with the photographer's work, but I'd also want to look for, and hope our photographer would have an appreciation for, that almost intangible/magical quality that certain photographs have to improve with age, trigger memories, stir emotions, but always remain slightly mysterious. In the "Here and Now" digital era of Facebook and Instagram when more of our lives are documented than ever before, I'd like to think that our photographer would understand how the pictures they take will be received by future generations. A pivotal moment in the family's history, one very special day in our lives, and so much more than just pretty stationary, chair covers and table decorations. I might even look outside of the wedding industry for our photographer."
John Murphy had this to add: "If I was to book a photographer now for my wedding. I would…..
Make sure a lot of the images were natural, and candid capturing the day in a reportage style.
A photographer who had a great sense of timing with the light, and always being in the right place at the right time.
I would move away from more traditional family group images and ask my family be captured naturally at key moments during the service, reception and indeed speeches.
I know I try to encourage my couples to just forget about me and enjoy their day as it goes so quickly, so I would love a photographer who would blend in and be part of the day and the celebrations and non intrusive in the day."
Brian Robinson said "As a wedding photographer that is engaged and one day will set a date… I quite often get asked who I'd have to photograph my wedding. Personally I do know who I'd like. But if I was to begin the search from scratch, my approach would be the same as the reasons that'd I'd hope that my couples find me.
Firstly I would have to love their work and that their style matches our vision for the day. Secondly (and something that I always say to my couples) I'd like to have a connection with them, I feel that this is important as you are basically inviting a complete stranger to share your wedding day with you."
Wayne La told us "Wanting to do the right thing without the faff, and desperate for a long dreamed about ski trip Stateside, Debs and I decided to get married in Las Vegas. This was almost 15 years ago and the memories are as vivid as ever: The limo ride down The Strip to the chapel; Watching her walk down the aisle; the choking of my vows…
What I don't have is the narrative, the full, connected accounts of the day. I'd have loved to have seen a few pictures that conveyed how we felt. As it was just the two of us we didn't bother with a photographer (I wasn't a photographer 15 years ago). I got ready by myself in a could-be-anywhere-in-Basingstoke looking hotel room, whilst she was in the hotel salon. Where are the photo 'opportunities' there, I thought to myself.
Looking back there is regret in not paying attention to the small stuff, because really…on a day like that, every little detail is significant and becomes more so as time passes by.
What I've realised is that photography for me isn't just about the grand entrances, the bouquet toss, the first dance..it's the small threads that create the rich tapestry, and that no matter where, or how you get married, just don't make my mistake of thinking that aesthetics…that 'things' matter more than memories."