This Is How: 'The Flower Girls' by Justine Boulin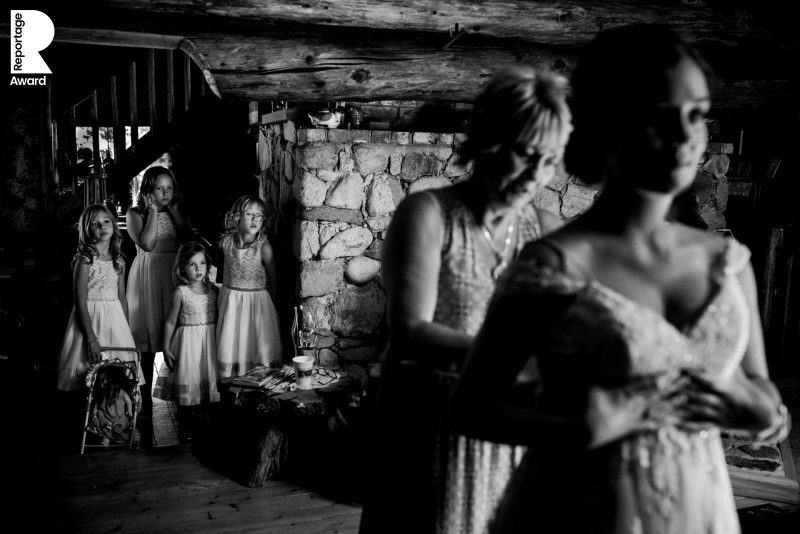 For the thirtieth of our 'This is How…' pieces, it's an honour to welcome This is Reportage member Justine Boulin to the site today. Justine takes us behind the scenes of her recent Reportage Award, with fantastic insights into not interfering or directing in order to capture meaningful moments and capturing the true essence of people, patience and observation, using available light, storytelling, focusing on the moment, and much more…
When photographing a wedding, except for maybe 20 minutes or so of relaxed portraits, I'm shooting in a documentary manner. I suppose I could direct a bit here and there, but I find by not interfering that these little moments and more meaningful images are created. I'm pretty strict with myself.. maybe too strict haha – but who am I to tell a couple what their wedding day should look like? When photographing a wedding, I'm really trying to capture who the couple is – their personalities, their relationships with family and guests, and all the little interactions on the day of their wedding that help to create that story. If someone is always aware of a photographer because the photographer is constantly telling them to stand there or do this or do that, they are pretty quickly, even subconsciously, going to change their mannerisms and interactions for the camera. Even just subtle suggestions to get them in better light or suggesting where in the house to get ready is going to have people be more aware of the photographer and hence they don't let go and relax and just be themselves. By just letting things be how they are, and the day unfold as it's unfolding, it doesn't take long for people to just do what comes naturally and then the moments that you want to observe and document are kind of just given to you if you are looking for them. I really believe that the best images can be created by being patient and observant and often with a little bit of luck – and luck was definitely a part of this image!
When it's time for the bride to put her dress on, as I mentioned above, I'm not wanting to interfere and tell her where to stand or what to do. So a lot of times, as things are happening, I'm just looking around to see how I can use the available light and what else is in the room that can help tell the story. It wasn't the best room to get dressed in – there was harsh light shining from the skylight above, and the rest of the room was pretty dark. She was coming in and out of the light, so I felt like the images were going from overexposed to underexposed BUT if I had chosen to place her by some nice window light or in a different room with more clean lines and background, I defiantly would not have gotten this shot and all the others that followed that told the story of her day much better.
As I started shooting her getting dressed, I was just looking at light and trying to fix the harsh overhead light (it was literally full sun shining right into the skylight so very bright) and seeing different angles of how I could work with it a bit.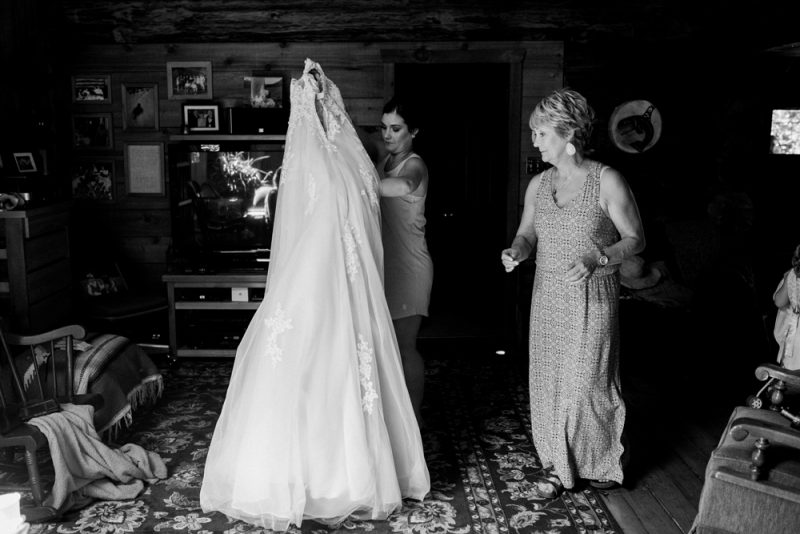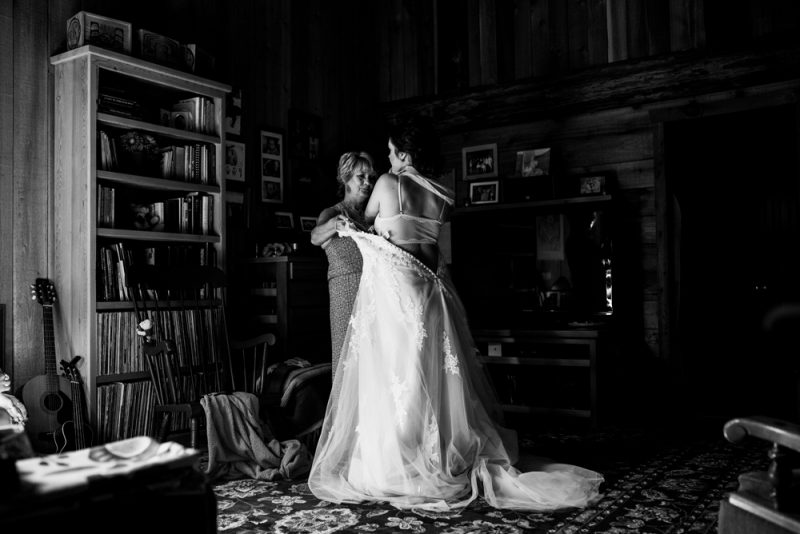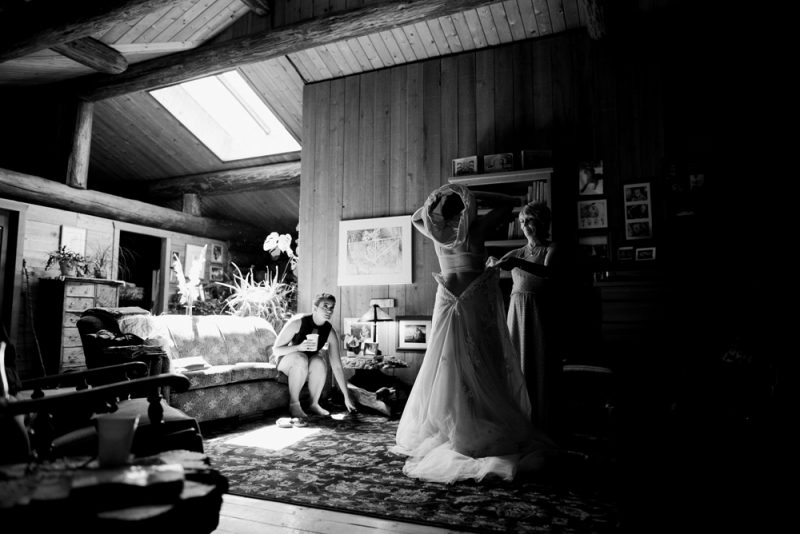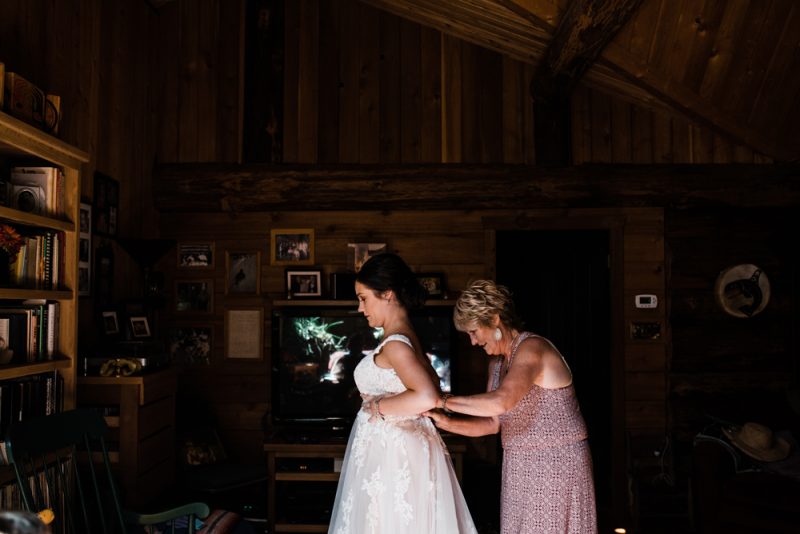 The four flower girls were just in awe of the bride all morning while she was getting ready. When it came time to put the dress on they all came running to the edge of the room to watch and I could see their expressions just gazing up at her. So I forgot about trying to fix the lighting situation and starting focusing more on the moment instead. I figured I had enough of her mom getting her dress on and now I wanted to try and tell a bit deeper of a story. I started moving around to try and get them in the frame. I moved to the other side hoping that they would all stay there for just the quick 20 seconds I would need. There was barely just enough room as I squished up against the bookshelf and wall and took this photo. A bit of luck that they all stayed there and were huddled just so. Both shots before this one and after had one of them distracted and one with the bride making a funny face at me.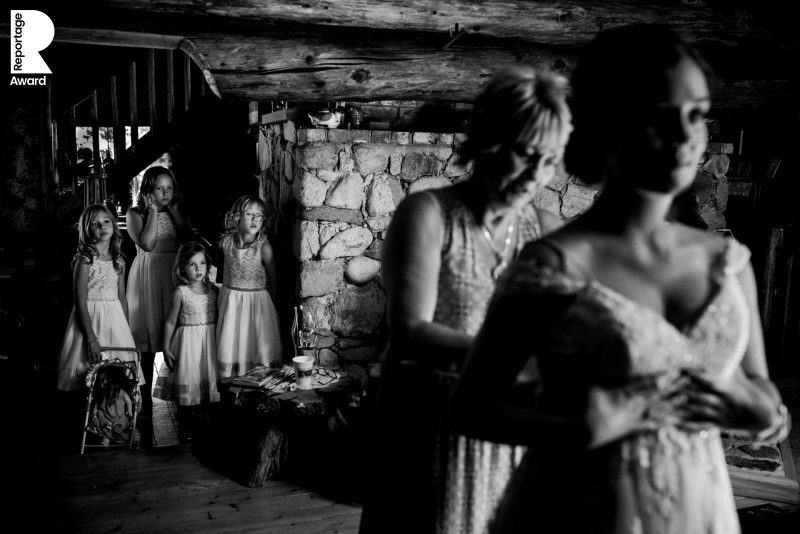 After her dress was on, they all dispersed around a bit, but there was still quite a bit happening that brought the flower girls and the feeling of the day into the story even more.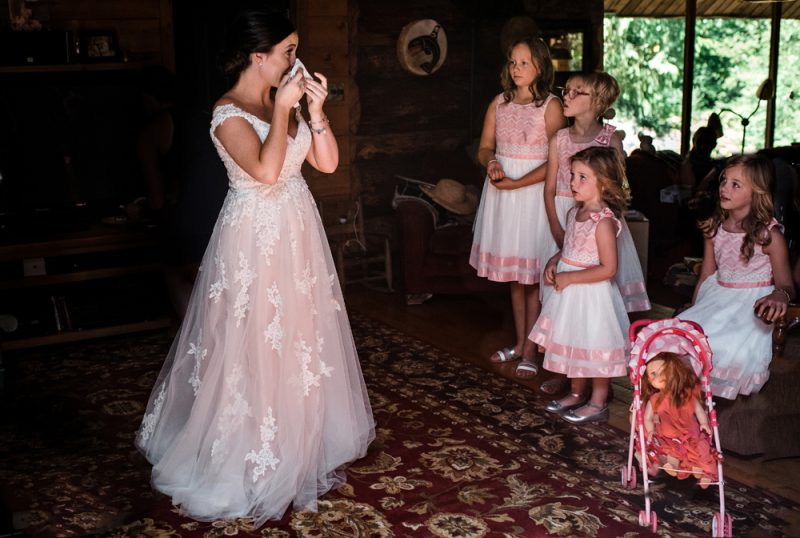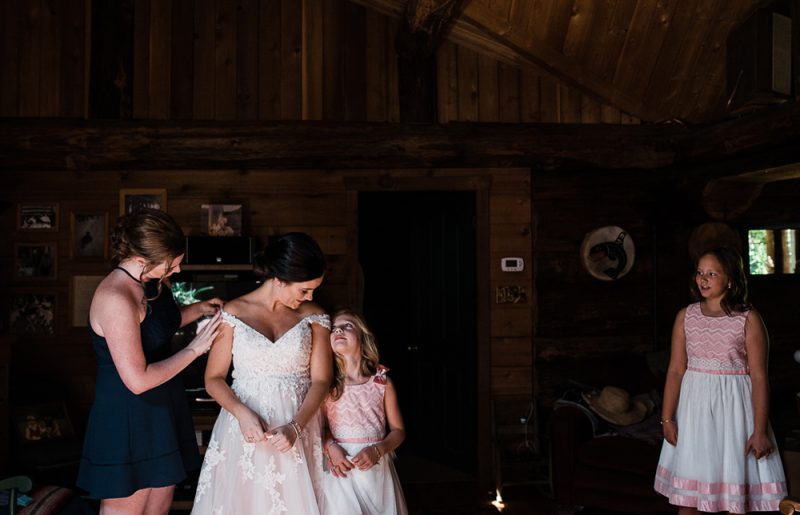 If I had decided to tell the bride where to get ready – likely in a 'clean' room – nice light, clean lines, less clutter – perhaps these flower girls would not have even seen her getting ready and would have kept playing and doing what they were doing. Or even if, earlier in the day, I had asked the flower girls to do certain things for me so I could get good photos of them – maybe they would have been more aware of me being there and would have been trying to smile for the camera more instead of just being themselves and forgetting I was even there. So technically, no tricks and not a brilliant photo in terms of lens choice or settings. I think a lot of it does come down to luck – being in the right place at the right time – but being patient and observant to get to this right place at the right time when it all comes together.
You can see more of Justine's work on her website, or here on her This is Reportage profile. We're honoured that Justine will also be one of our judges for the current collection – thank you, Justine!
If you found this piece interesting, then you may be interested to read lots more of our 'This is How…' pieces by TiR members.