This Is How: 'Tuning into Emotion' by Alex Miller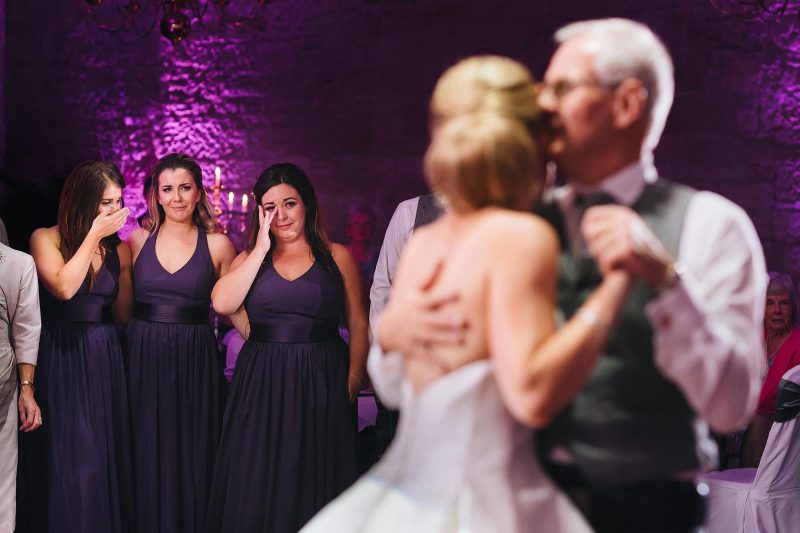 In the fifth of our regular series of 'This Is How…', West Midlands-based photographer Alex Miller gives us lots of insights into his thought process, and how he got this emotional capture.

Having lost my own father shortly after getting married myself, I'm particularly sensitive to any parent / child moments at weddings.
After the first dance, Louise's dad joined her on the dance floor and it was a moment I really wanted to capture well for them both. Empathy is such an important quality for a wedding photographer to have and I believe that trying to identify with how others might be feeling on a wedding day can only ever lead to good things.
I usually start off shooting first dances with a wide lens (35/24) to set the overall scene and these days it's not uncommon for first dances to be quite fast and for couples to move around a lot, so it's far easier to capture that on something like the 35mm. But if the first dance is slow and the couple are close together I love the intimacy of a tighter crop with a longer lens like the 85mm which really helps to isolate the couple. That's the feeling I wanted in this shot and so that's what I used.
The ambient light in the room was not great. Dim, directionless and very purple (as can be seen in the background). I wanted to try to get a decent skin tone, so I decided to kill a lot of the purple ambient light with my camera settings and then I cross lit the dance floor and made sure that I angled the rim light to throw a bit of light onto anyone standing in the background. My settings were ISO 800, f2.8, 1/250th.
After taking a few shots of Louise and her dad I noticed the three bridesmaids, including Louise's sister, in the background with their arms locked round each other having a moment, so I shifted focus onto them. The girls had been great fun all day and I knew they were all especially close so I was really pleased to get a shot like this of them together. I decide to wait a bit longer to see what would happen and soon after, Louise looked over her dad's shoulder at them and I imagine that's what set the tears flowing and produced this image. What I love about the shot is that there's an emotional connection between everyone in the frame – Louise, her dad, bridesmaids and sister.
Every time I'm working hard trying to capture a moment like this, I'm mindful of my own wedding and how I would just love to have that one photo that meant the world to me. I'm so happy Louise got to enjoy such a special moment with her father and I'm pretty sure everyone else at the wedding knew just how much it meant too.
You can see more of Alex's work on his website, and on his profile on This is Reportage.
If you enjoyed this post, we have lots of other'This Is How…' posts by our TiR members over here.