To celebrate 100,000 #thisisreportage hashtag uses we're giving away 100,000 hours of membership!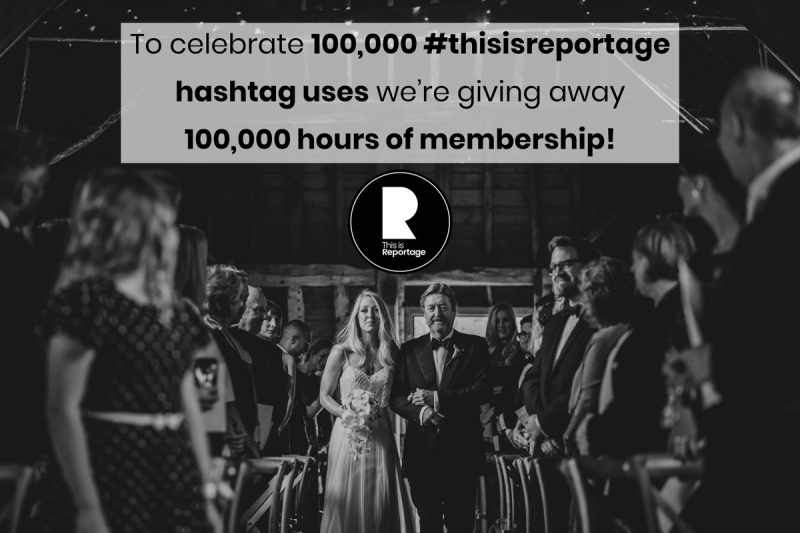 We were blown away to discover that there has been 100,000 uses of the #thisisreportage hashtag on Instagram! That's amazing; 100,000 images tagged with #thisisreportage – humbling, and an honour to be helping to increase the prominence of this art that we love and is so important: documentary wedding photography.
To celebrate this milestone of 100,000 #thisisreportage hashtag uses, we're going to be giving away 100,000 hours of membership! 100,000 hours equates to 11.4 years, but we're going to round that up to 12 – so, basically, it's a bit of a long-winded way to say that we're giving away 12 annual memberships! This is a total prize-pool value of £1200 (as membership is usually £100/year).
We're biased, of course, but This is Reportage membership really does come with so many benefits, including:
* An unlimited number of images on your profile (why be limited to 6 or 10…? Our members can show a truly infinite number of images)
* 60 Reportage Award entries (for individual captures) and 18 Story Award entries (for a series of 15 – 20 images from a single wedding) per year. That's two different types of Awards for every Collection, with six Collections per year. Members can't pay for any extra submissions, either, so everyone is on the same level playing field.
* Exclusive educational videos from some of the world's best photographers. We currently have over 17 hours of video, with new ones added regularly. Learn from the likes of York Place Studios, Tyler Wirken, Sanne De Block, The Framers, Pedro Vilela and many more, as they explain exactly how they captured some of their Reportage Awards; hear about their approach, methodology, gear and technique as they talk about every frame of their Story Awards.
Each video contains such a wealth of knowledge and tips, including gear/equipment, flash/lighting, composition, creativity, moment-capturing, empathy, editing/workflow, business advice, people-skills, and so much more.
* Exclusive offers and deals on wedding photography-related products and services. Our members have received discounts worth well over £1500 already!
* Frequent opportunities to be featured on our website and our social media. We regularly ask for submissions for various features that we do on the website, which we then also promote on our socials.
* Free invites to our meetups and parties (past meetups include our summer meetup in Lisbon, Portugal, and our regular Christmas Party in London) – when physical meetups are possible again, of course…
* A discount on our new sister-site for documentary family photography, This is Reportage: Family.
* And much more…
How To Enter
So, what do you need to do to win 1 of 12 memberships? It's easy, just follow the 3 steps below. (By the way, the contest is open to new members and existing-members, too – if an existing member wins, we'll add a year on to their membership):
Head over to Instagram and make sure you follow us.
'Like' this post on Insta.
…and, finally, on the same post, tag 3 friends in the comments who you think would be interested in joining us over here at TiR, the worldwide community of the very best documentary wedding photographers. You can tag more than 3 if you'd like, too…!
And that's it. Everyone who does the above will be entered into a random draw, with 12 people then winning a TiR annual membership. The contest deadline is 23:59 BST on 19th August 2020, and winners will be notified, via Instagram, soon after that. Our usual rules of TiR eligibility also still apply. The contest is also in no way sponsored, endorsed or administered by, or associated with, Instagram.
Good luck!