This is Storytelling: 'Nele & Michael' by Sanne De Block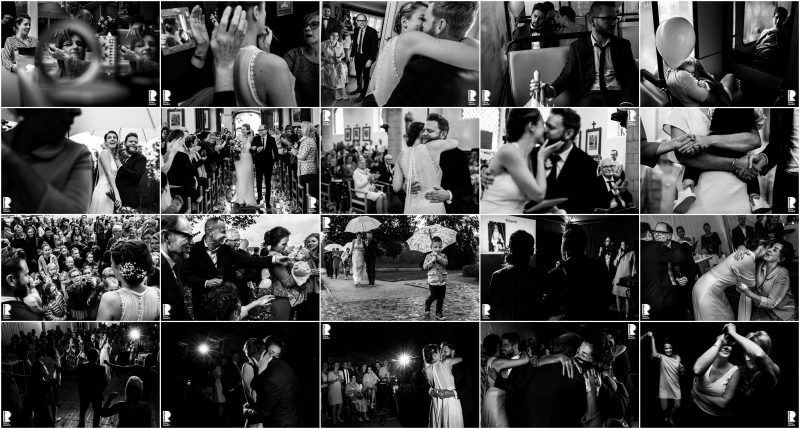 We're absolutely delighted to have the brilliant Belgium-based TiR member Sanne De Block on the site today, taking us behind the scenes of her recent Story Award – but not only does Sanne talk in depth about that, she also lets us know how she won a Reportage Award which came from the same wedding; double-documentary goodness! We can't recommend this post enough, with fantastic insights into working in wet conditions (so wet that one of her cameras stopped working properly – eek! – and how she dealt with the problem), practical advice on how to capture in-between moments, lens and flash info, and much more…
Nele & Michael were supposed to get married on a different date. Sadly Nele's mom was involved in a truck accident a couple of weeks before the initial wedding date. Luckily she survived and was recovering well! So they moved the wedding to a different date.
The day of the wedding came and the weather was just terrible. A cold, rainy day. Me being me, I shot through the moments even with rain pouring over my cameras. Resulting in one of them not properly working anymore:
I got stressed but never showed it, just working double as hard to make sure something came out.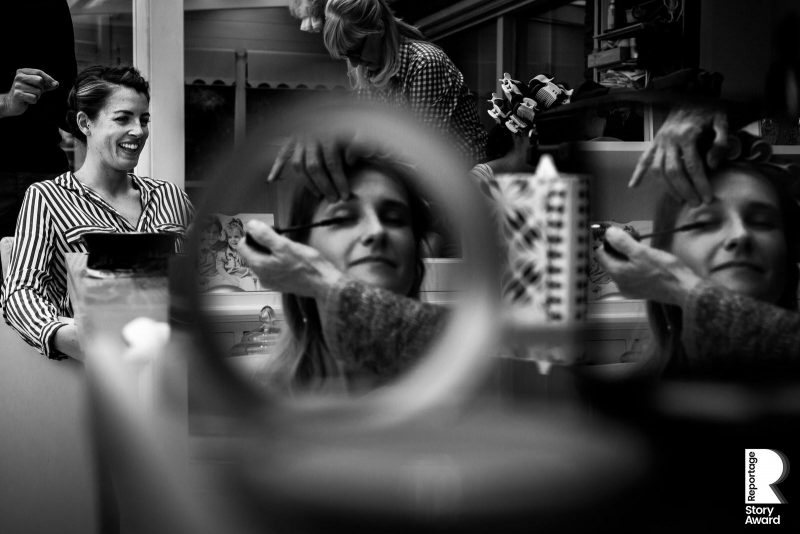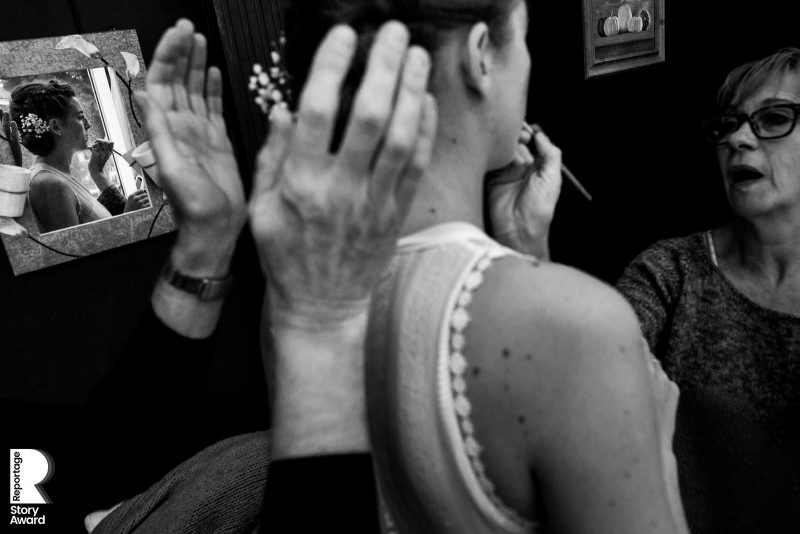 The transport to all the different venues (town hall, back home for lunch, church, party venue) were all done by an "old school" school bus, so all of the family could stay together all day long. I stayed in the bus with them until church. I always try to stay as close as possible with my wedding couples, because you never know what's gonna happen. In this case I was able to deliver some great in between moments, which, in my opinion, show even more who someone is.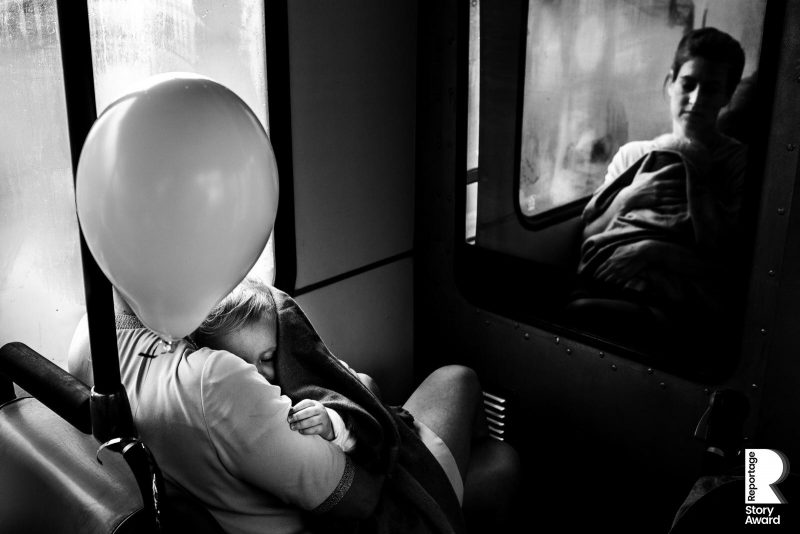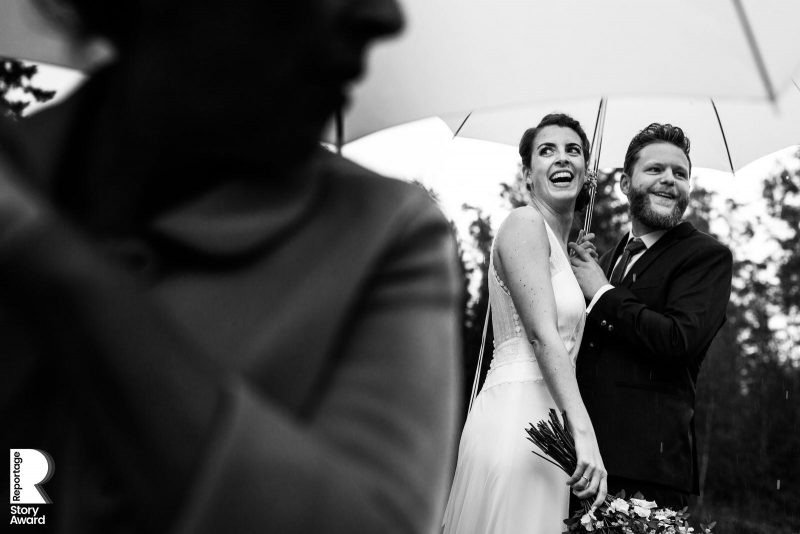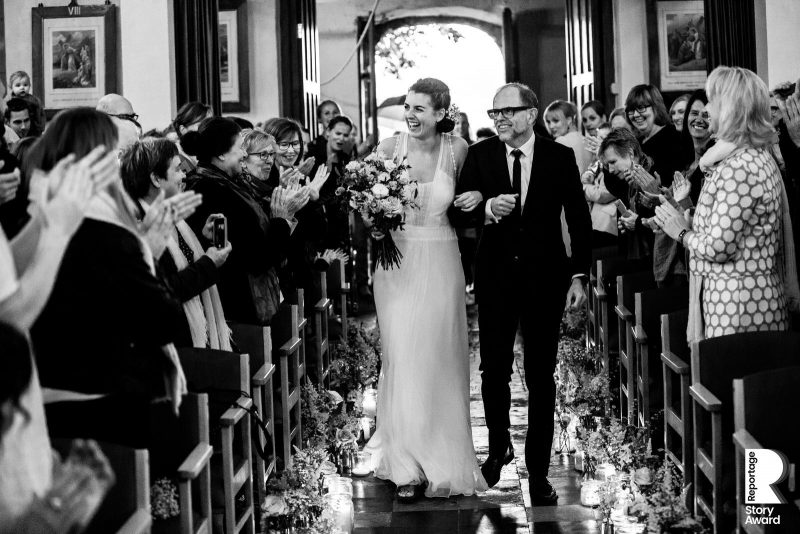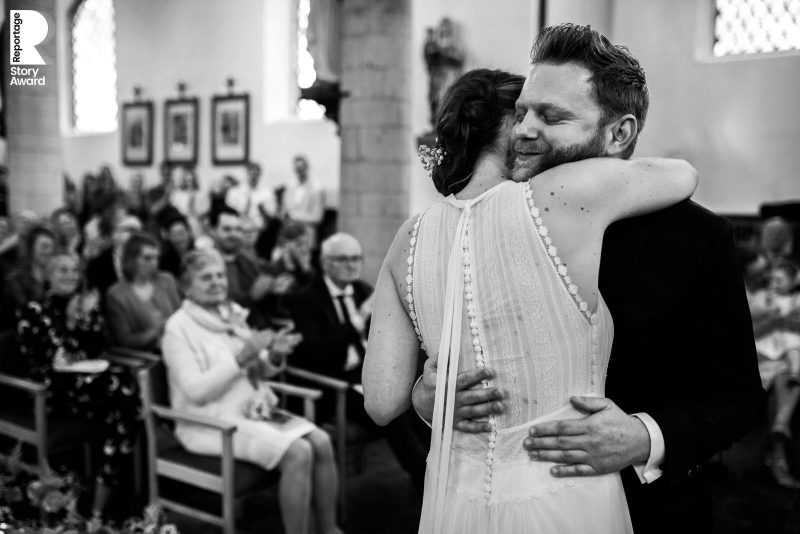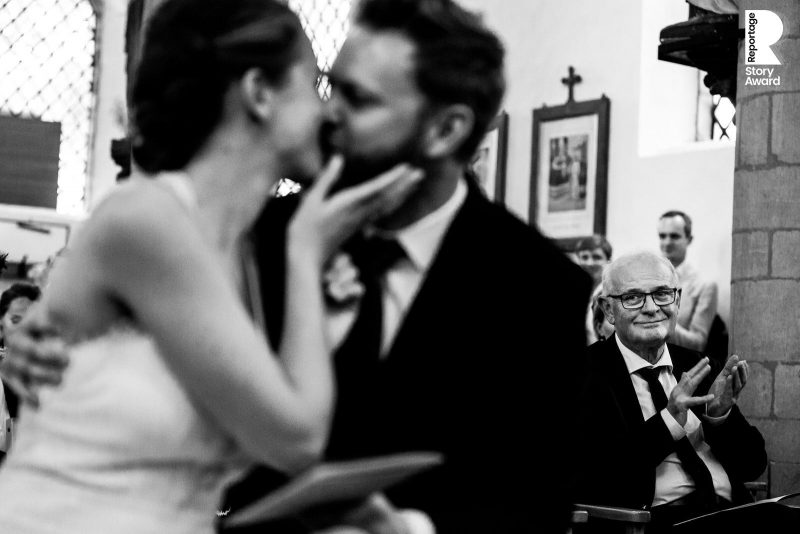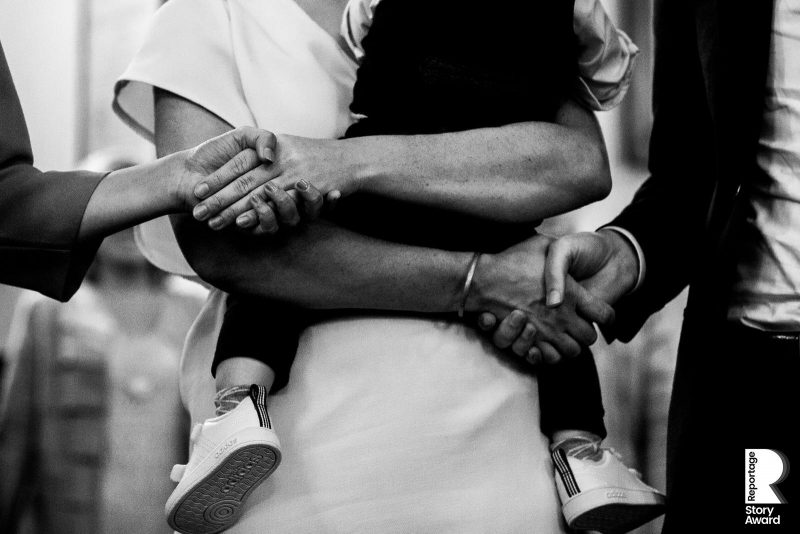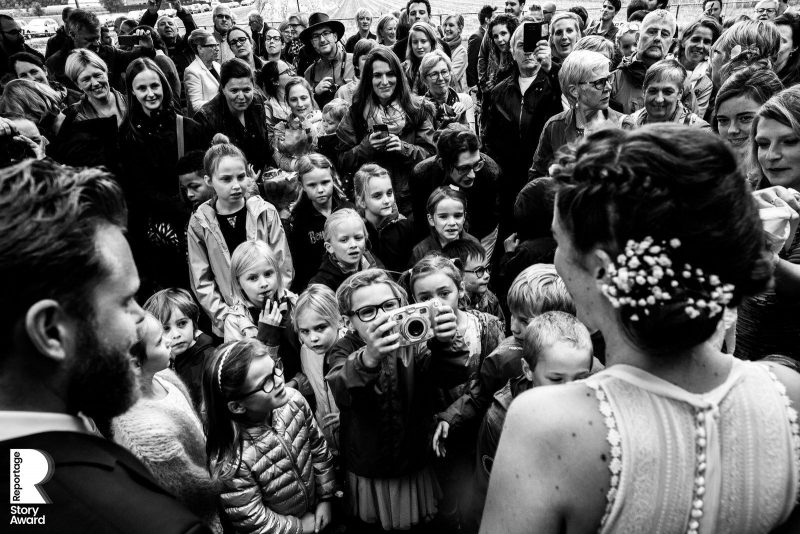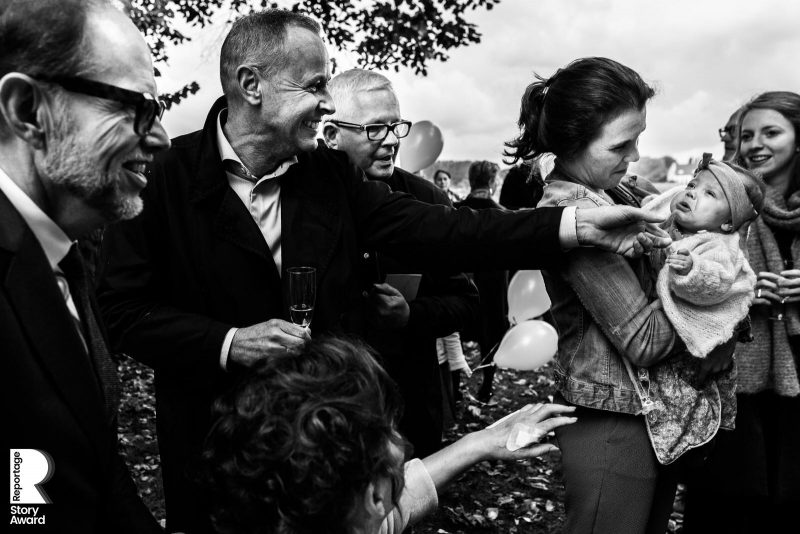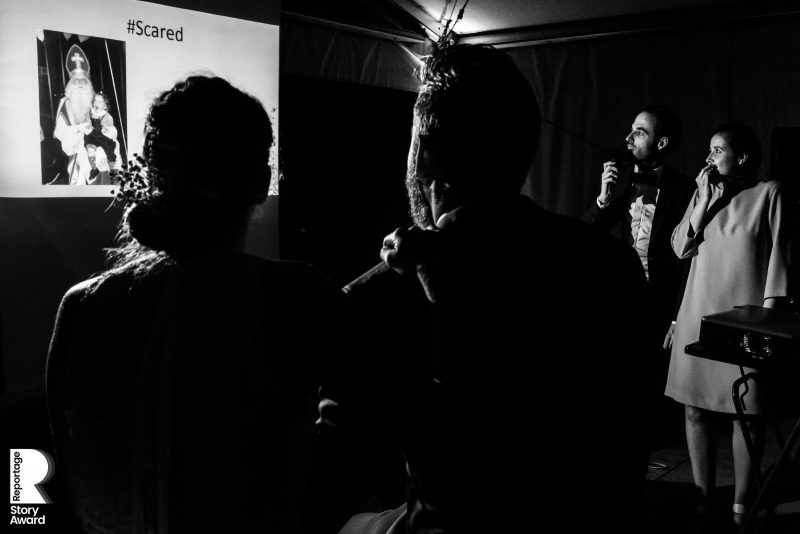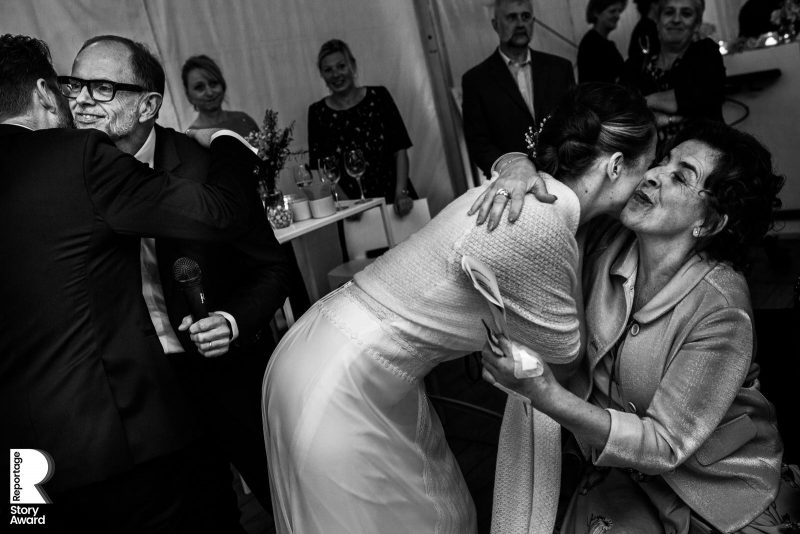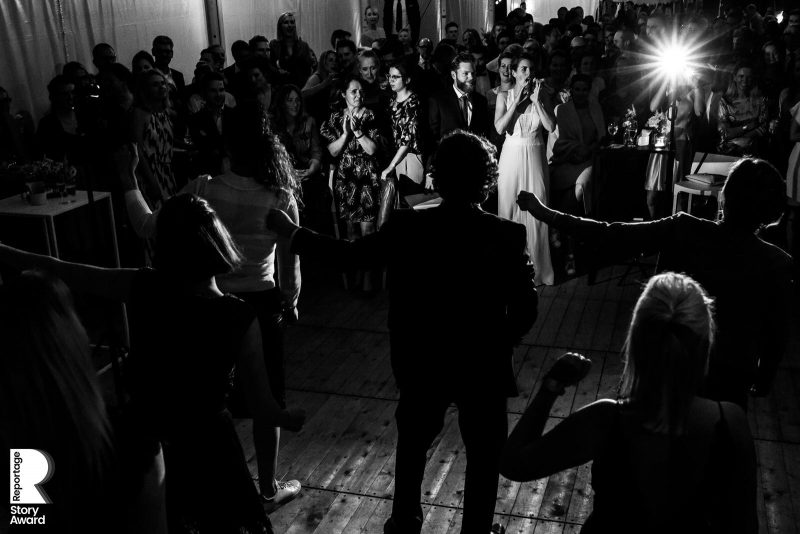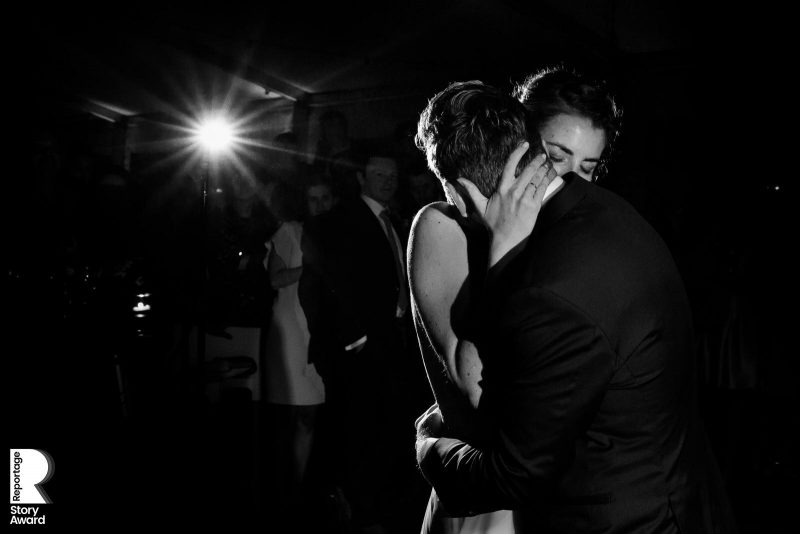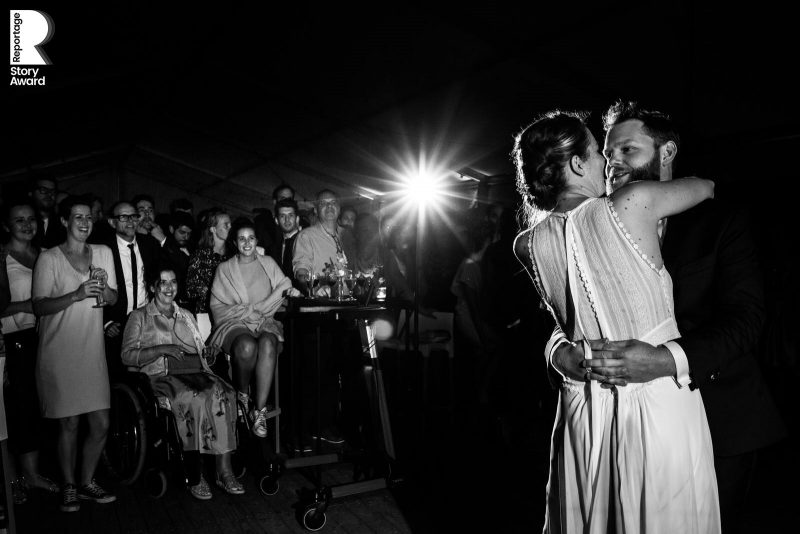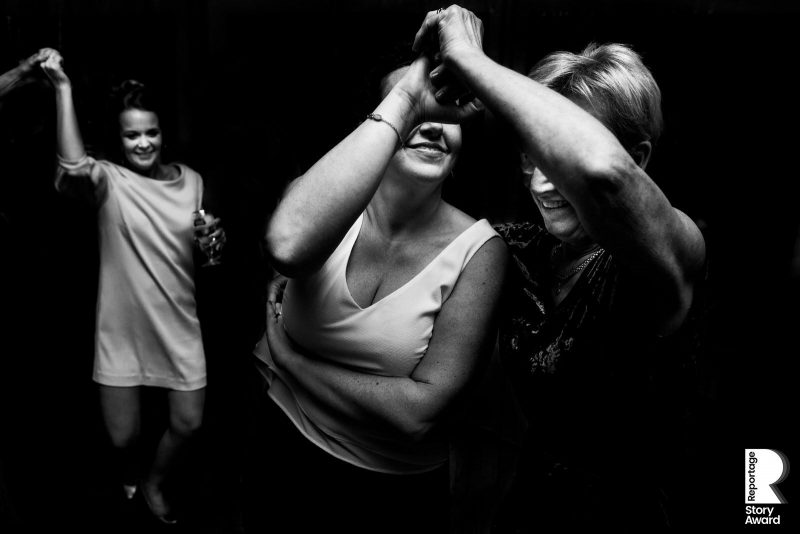 Fun fact: The day got even more weird when a bat randomly started flying around in the room right after the civil ceremony.
During the church ceremony I couldn't see the pictures I was taking on one of my cameras (because you know… water damage ?) So I had to check my other camera to see if the settings were alright and then copy those to the other camera. I knew the camera itself was still working because the play button worked only once after I turned the camera off and on again. But it was way too time consuming to keep doing that. It felt like shooting analog.
By the time we got to the party venue I had called one of my colleagues to help me out with a spare camera.
This was probably the most stressful wedding so far, but also one of the most epic and fun days ever! Nele and Michael couldn't be bothered with the bad weather. They were just so happy that they could finally get married surrounded by all their friends and family. So it doesn't matter if it rains, as long as you're enjoying the moment, everything will be fine. Although there were some quiet in-between-moments, this was a very high energy day where there was something happening all of the time. I was happy to have a second shooter with me, so I had time to recover from the stress due to the broken camera.
**************
This picture was taken on the same wedding (so no, I don't deliver black and white only. It was just fun to tell a complete story only in black and white)
The venue was just a simple tent at the riverside with views on Antwerp city. They had provided wooden floors in the tent so people wouldn't have trouble walking or dancing. However, the underground for that floor was kinda wobbly… So when the party got started, not only the guests were dancing, but the tables next to the dance floor were dancing along with them. Including the glasses on top of those tables. I saw what was going to happen a minute before the people dancing saw what they were doing, only to start jumping harder.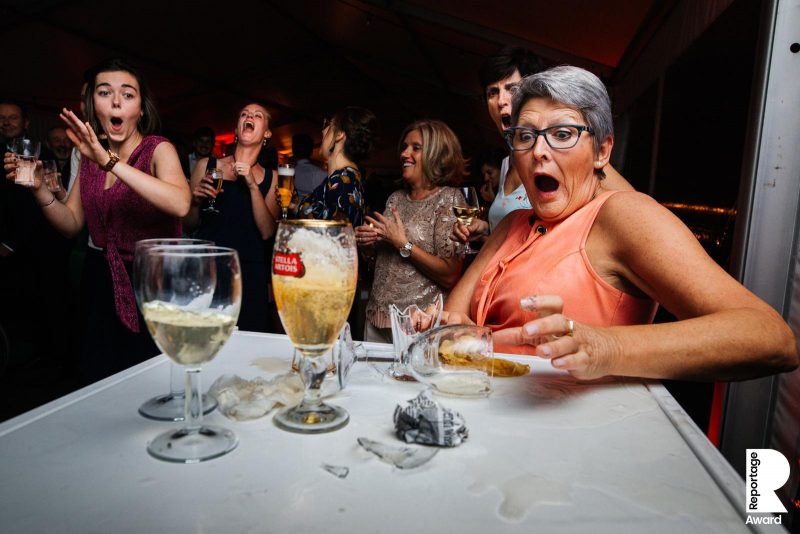 This picture was taken with a flash. But I don't remember if it was on or off camera. In case it was off, the flash would have been not more than 1,5m behind me and directed at the ceiling to bounce back. From the moment the party starts, I only shoot with one camera (canon 5d miii), with a 24mm 1.4 Sigma art lens.
What makes this picture fun for me is the contrast between the people who got startled by the glasses spilling and falling over, and the people in the back who have no clue what's going on.
You can see more of Sanne's work over on her website, or here on her This is Reportage profile.
There's just under two weeks left to submit to our next Collection; members can submit up to 10 Reportage Award entries, and now up to 3 Story Award entries per Collection. Deadline for submissions is 23:59 BST on 23rd September, so if you're not yet a member, head over here to sign up. 
If you enjoyed this piece, we have lots more guides and tips about storytelling and individual captures by our TiR members.