This Is How: 'The Shadow Catchers' by Alex Miller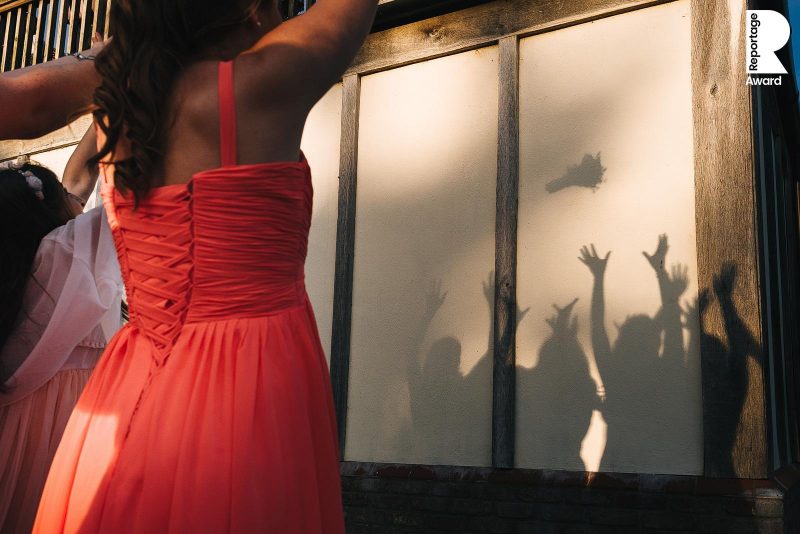 Excited to have the fab Alex Miller with us today, telling us how on earth he managed to capture this bouquet-catching capture – an image which very deservedly won a Reportage Award in Collection Two. Alex shares some great insights into the circumstances which led him to attempt (and totally, nail, Alex!) such a shot, observation, composition and context, editing, and some really interesting thoughts on working as a solo shooter.
When I first posted this photo on Instagram, a few people said that it was a brave shot to attempt. I suppose it's because there were a few things that could have gone wrong with it and so it seemed a bit risky.
It was one of those days where the sun was constantly in and out of cloud so the shadows could easily have quickly vanished or even with constant sun, the silhouettes might not have lined up very well. The bridesmaid could have moved towards me and blocked my view of the wall or the bouquet could easily have fallen on the shadow of the tree to the left hand side of the frame meaning it wouldn't really have been visible as a silhouette.
In truth, as a single shooter, if I had just one chance to grab this moment I probably wouldn't have attempted it this way. I'm fairly sure I would have gone for the 'safer' pulled back shot of the whole scene instead. In fact, that's exactly what I did. The bride's first throw had seen the bouquet launched right over everyone's heads, missing everyone! So I photographed the initial throw as described above and when she decided it was going to be thrown again I had the chance to try something a little different.
After the first throw, I noticed that the sun had emerged from behind the cloud and as it was late evening it was low enough to cast shadows of everyone on the wall. I instantly knew I wanted to try and use that to make the second shot more interesting than the one I already had, so I walked over to the waiting group and started to see how I could frame the next attempt. I wanted to keep a bit of context and also try and get a bit of layering into the shot, so I moved in close to include a couple of the bridesmaids in the foreground.
There were quite a few guests watching from the deck above (you can see the railings in the top left of the frame) and originally I wanted to include these in the frame too, but in hindsight it was just too much, so a bit of heavy cropping cleaned the final image up and kept everything nice and simple. After I'd got the shot in mind and was in position, there wasn't much else to do but wait and shoot a fast burst of frames to catch the bouquet at the right spot in the air. Luckily it all came together.
As much as I prefer shooting weddings by myself (I feel it's much less intrusive), there are certain times where it'd be great to be the secondary photographer so I could take riskier shots like this. I'll often shoot a 'safe' shot and then try and create something different if there's opportunity. But important key moments at weddings only happen once, and you really don't want to miss them, so sometimes it can be tricky to get the courage to try something a bit riskier where there's potential for things to go wrong.
I'm always in awe of photographers who are prepared to take that risk and try something a little different and it constantly amazes me of how many ways there are to photograph essentially what are the same thing (such as a bouquet toss). I love looking through the TIR awards for this very reason – there's always something fresh and different to see! It's such an honour that this little frame was deemed worthy of a place in Collection Two!
See lots more of Alex's work here on his This is Reportage profile, or over on his website.
Did you find this behind the scenes piece interesting? We know we did – thanks a lot, Alex! – and if you did too then you'll no doubt love lots of our other 'This is How…' guides by our TiR members.
The Collection Five deadline is approaching fast (23:59 on 23rd September 2018, UK time) so if you'd like to enter up to five individual documentary captures (for our Reportage Awards), and up to two series of images from a single wedding (for our Story Awards) then head over here to apply for membership and submit.