This Is How: 'Raining Confetti' by Lyndsey Goddard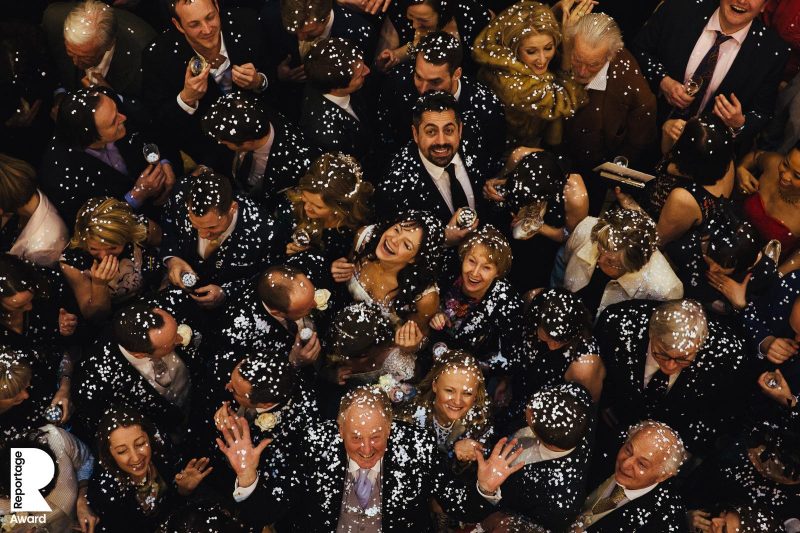 In the forty-second of our regular series of 'This Is How…', the fab Lyndsey Goddard shares her thoughts on how she got this recent Reportage Award. It was incredibly difficult to get an award, with just the top 2% of submissions becoming Reportage Awards in Collection One (Collection Two has a few days left until the deadline, so don't forget to submit your favourite documentary captures and Stories soon).

This photo was taken at One Great George Street, also known as the Institution of Civil Engineers, in London. I had just taken a large group photo from the upper balcony, looking down on all the guests, and everyone was turning around ready to head up the staircase to dinner. At that moment, one of the staff members from the venue tipped a basket of confetti over all of the guests. I was shooting with a 24-70 so zoomed in slightly to focus on the bride. It was very much a lucky shot, and if it weren't for the bride, Chloe, in the centre of the frame, with her head turned towards me, eyes closed and such a joyful look on her face, I doubt it would have as much impact.
The wedding took place in March 2017, just 3 days after the Westminster bridge terror attack in London, and One Great George Street is just yards away from where it happened. There was a really large police presence on the streets around the venue that day, as well as all sorts of blockades, barriers, etc. It was a glorious day and I'd been hoping to get some good documentary photos of the couple on the walk from their ceremony to the reception in the last remaining bit of daylight, but it was just too difficult to make it work. Inside the venue it was pretty dark, with no natural light, and I'd been wondering how and where (and if!) I would be able to get something striking. This shot was quite unexpected, everything came together at the right time. I know the couple love the photo, and it's one of my favourites from 2017 too.
I used a Canon 5DMKlll with a 24-70 lens, 1/160 sec at f4 iso 4000, no flash or additional lighting.
You can see more of Lyndsey's work on her website, and here on her This is Reportage profile.
If you enjoyed this post, we have lots of other 'This Is How…' posts by our TiR members over here.