This Is How: 'Pouring On The Dress' by Eve Dunlop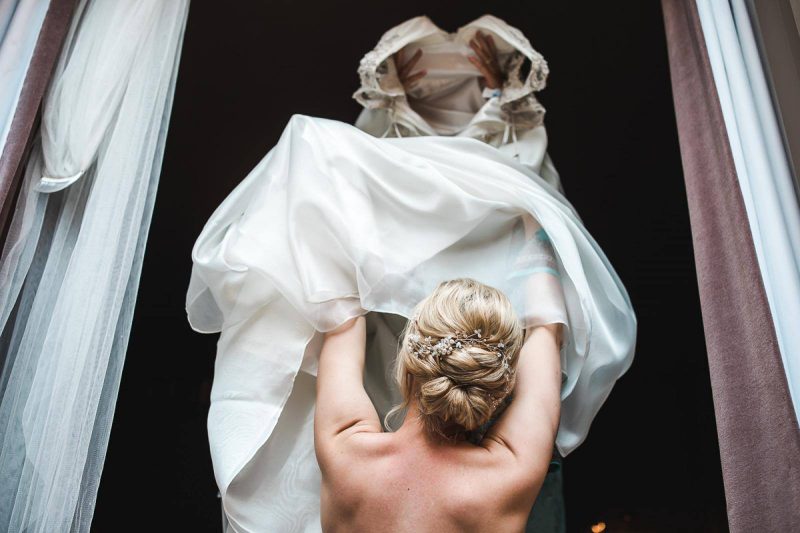 Honoured to have the fab Eve Dunlop on the site today to take us behind the scenes of this fantastic bridal prep capture of hers. Really great tips on how to immediately put people at ease (a vital skill!), using natural light, shooting at different angles and from the subject's point of view, composition and more…thanks, Eve!
I really like bridal prep. It's the beginning of the story, where it all starts, and a good time to get a first feeling of how the day will be. I find the most important thing to start with is tea, I'm serious, most of the time someone offers me a drink when I arrive and then I take it out of their hands (as they will always have something better to be doing), offering to make a drink to all around. Immediately I'm seen as human, it brakes invisible barriers, removes any thoughts that I may harbour an ego and turns my camera into friend not foe. You see I want to be accepted and ignored in the same breath, part of the day but not important enough to be nervous about. Then I get on with my work.
The dress on shot is one that can often seem like a very messy moment. Often the brides pulse rate has gone up making her flushed and she can become a little stressed and in all honesty it's rarely an elegant moment. Her attendants are concentrating hard and the chances are most people in shot are frowning so it can often be difficult to cultivate a strong image from.
I like to use natural light for most of my work and I don't get involved in any positioning, if there are elements in a room that I don't like I will quietly tidy away some unsightly bits and bobs but otherwise I just shoot what I see and position myself near the available natural light source.
In the shot This Is Reportage has asked me to talk about today the dress was going over the brides head, I decided, as there was also a videographer on the day and a busy room that the best thing would be for us to get out of the space and stand in the court yard, I knew that she would turn away to protect her modesty but from where I was standing the moment was lacking any strength, I wanted to show her mother's hands in the shot (I'm a big fan of hands in a story), so with the videographer standing over me I dropped to the floor and lay on my back to take the shot, allowing me to get a stronger angle and partially taking it from the same view point of the bride, as they are after all her memories I'm trying to record. What you can't see is that the bride was kneeling, the moment in itself was lovely but a little too intimate so I took two images. One that was sent privately to the couple and this one that I included in the gallery, a pinnacle moment that she can feel comfortable sharing. The curtains make a good frame and the focus of the image is surrounded in a dark negative space that is accentuating the fluidity of the fabric.
You can see more of Eve's work over on her website, or here on her This is Reportage profile.
There are lots more documentary wedding photography tips and guides by our photographers at this link.
Interested in becoming a member of This is Reportage? View all the benefits of membership and sign up at this link.