This Is How: 'Lock Down For Lift Off' by Jon Mold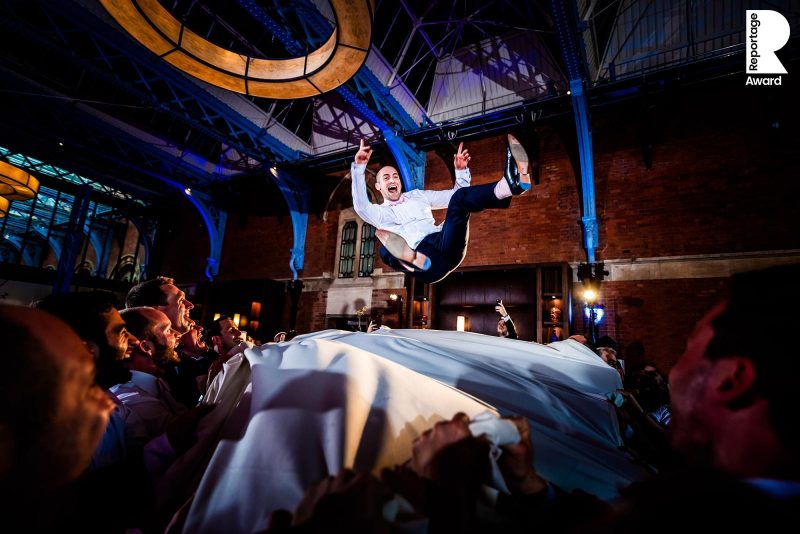 It's an honour to have the fantastic Jon Mold on the site today to tell us all about how he captured this Reportage Award-winning image. This is a brilliantly in-depth piece, with detailed insights into his exact flash setup and equipment use, great insights into testing and 'locking in' your settings so as to focus on the moment and composition and much more – thanks so much for such an exhaustive and informative 'This is How' piece, Jon!
I was the lucky one who got to shoot Andy Tyler's wedding back in 2016. Andy is a seasoned professional photographer producing incredible wedding and commercial work. So when he asked me to shoot his wedding to Rachel, I was both thrilled and nervous as hell!
The venue was the fabulous St Pancras Renaissance Hotel in London. As always, I like to visit the venue before the wedding date so I can see what I have to deal with. The Hansom Hall is just shy of 5000 sq/ft and has a rather lofty 70ft ceiling! So lighting was going to be a challenge, no bounce flash here!
I've always bought the best equipment I can afford, at the time I saved up and invested in a pair of Elinchrom ELB400 portable strobes for my commercial work. They also make for a great tool to have in your armory for big weddings venues. They kick out 400Ws of power (a typical speedlite outputs 70Ws) and paired with a 21cm 50 degree reflector, these units can throw out some serious light. With super fast recycling times they are perfect for large reception venues where you need to place your light stands in the corner of these vast reception rooms.
Anyone that has witnessed Jewish weddings know what happens when the bride and groom enter the reception room. The Israeli dancing kicks off, and it's mental! The first part is the Horah, this is when Andy gets tossed 10' into the on a large tablecloth by his mates. I roughly knew where this was going to happen, but with 250+ guests on the dance floor I was literally carried in a wave of bodies into the centre of the room where Andy was being readied for launch!
Within seconds the Horah has started. Luckily I'd tested and set my settings beforehand. My trusty D750 in manual mode and shutter set for burst mode, partnered with the Nikon 14-24 ultra-wide zoom which was essential for what was about to happen. Luckily I was placed just behind the guys doing the lifting with Andy facing towards me. It's in scenarios like this I find it vital to get as many variables locked in as possible so you can concentrate on your composition and moment. Exposure and flash power dialed in all I had to do was get focus and try and stay on my feet.
I had 2x ELB400 strobe units set 180 degs on opposite sides of the dance floor. I triggered these with an Elinchrom EL Skyport HS unit, it has excellent range and suffered no misfires which is remarkable knowing the amount of wireless mics, lighting and audio equipment there was in that room.
I always try and under expose my OCF (off camera flash) shots. The ambient exposure dialed in to give -1.3 ev was:
1/200 @f4 ISO 800
My strobes were then set to 1/16 power to give the correct exposure for the middle of the dance floor where Andy was about to be launched into the air. With the strobes being more than 60' away either side I had a nice 6m x 6m area to work in where my exposure would be spot on. It's all to do with the inverse-square-law, took me 12 months to get my head around that!
The 21cm reflectors on the strobes were important, I wanted to keep as much ambient and overall atmosphere in these photos. The reflectors control the direct of light much like a grid does, but without the loss of output. It stops lighting bleeding out into unwanted areas like the ceiling and walls. It kept the strobe light directed to the middle of the dance floor.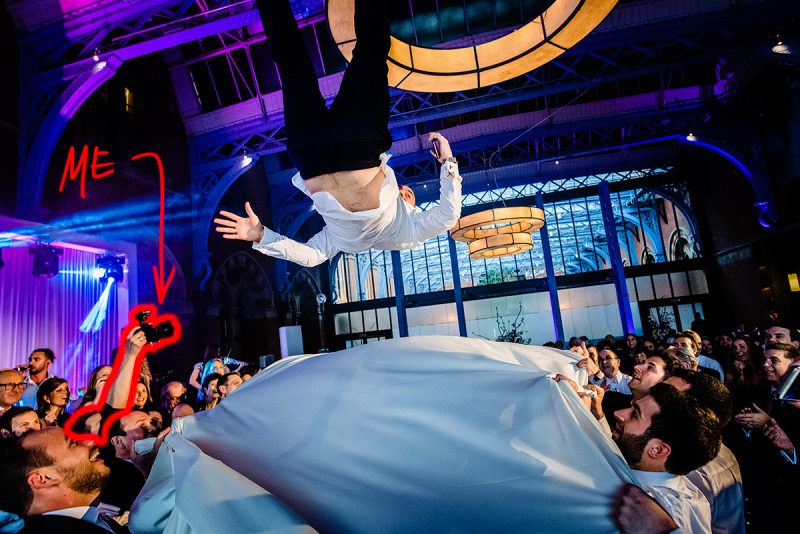 As you can see from the photo above, I'm shooting with arms aloft (outlined in red on left of frame), just hoping one of the frames is in focus and I have a relatively good composition. The ultra wide angle lens was brilliant for this kind of shot where you are shooting from close range and you want to tell a complete story from a single frame. Getting the guys with the sheet, the awesome ambient lighting on the walls and ceiling and also Andy at the top of his flight!
From this crazy 3 minute Horah here is obviously a large percentage of shots out of focus, badly composed and Andy looking terrified. I shot over 100 frames to get this 1 shot, nothing wrong in spraying and praying in this instance.
Lastly, the key point of this post is to say, lock down as many variables as possible before something like this goes down. Get your exposure and OCF power dialed in. Envision your shots and have the right lens all ready to go. Aperture also, get a good DOF ready as your subject will be jumping all over the place and you might not be able to move. Sometimes presetting your focus and locking that in too if the available light is really poor.
See more from Rachel and Andy's Jewish wedding over here.
You can see more of Jon's work on his wedding website, his commercial site, or here on his TiR profile.
We found this piece incredibly interesting; if you did too, then be sure to check our lots more 'This is How…' pieces by our This is Reportage photographers over here.