This Is How: 'First Dance As Shot From A Balcony' by Leonard Walpot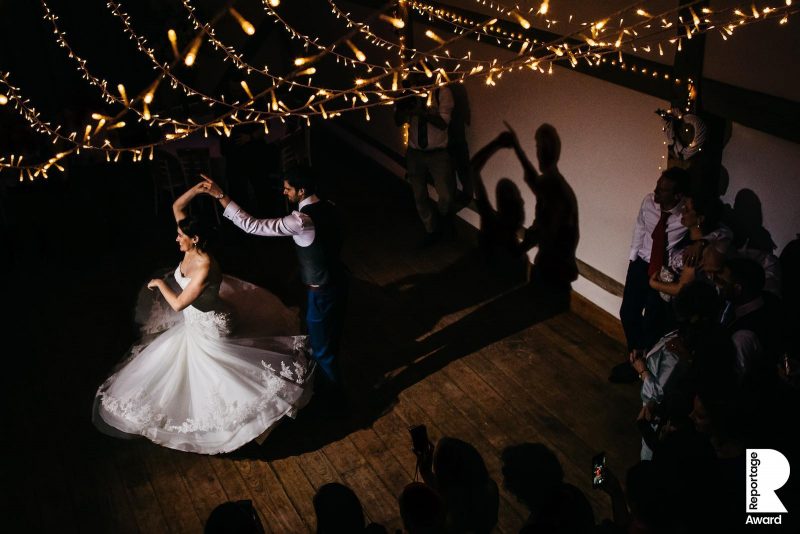 Thrilled to have Leonard Walpot with us today, as he tells us all about how he captured this Reportage Award from Collection Seven (Collection Eight winners due to be announced later this week, by the way!). Really great insights into working with two 'lead' photographers at this particular wedding, composition, finding different viewpoints, pre-visualisation and more…
This picture was shot at a wedding that I did together with my good friend Jesse van Kalmthout. When we shoot together, we cover weddings under our brand Best Men Weddings. It's always very interesting to be able to shoot a wedding with another photographer that is used to be a lead photographer. Somehow for us it works wonders. When we get total trust of our couples, I think we are able to outperform ourselves – so in that regard I think that this image is also the result of the fact that I was together with Jesse on this particular wedding.
This was a wedding we photographed in the UK, at Cain Manor, in Surrey. To me, this particular image really transmits the feeling of a first dance. Although I would have loved to see a little bit more of the guests, I do like the shadow that is coming from the one flash I used here (I was able to just cram this nicely between to beams – at a perfect height). It is a movement we as wedding photographers all know and looks familiar to us, but I think that the shadows together with the movement of the bride's dress do make some sort of nice complementing visually attractive photo.
I was standing on a balcony, which had a perfect overview on the dance floor. Before the first dance, the wedding cake had been cut on the exact same spot and I was also shooting that from the balcony, so we knew that there was something visually interesting to create from up above.
For the first dance I wanted to create something dynamic, that showed something of the dance. So we decided that I would stay on the balcony, while Jesse was able to shoot the first dance from the dance floor and would be able to move around there.
You can see more of Leonard's imagery over on his website, or here on his This is Reportage profile.
Head over here for over 100 more 'This is How…' pieces by our worldwide community of wedding photographers.
Interested in joining us? Showcase the documentary-side of your work and submit 60 Reportage Award and 18 Story Award entries per year, all included in our membership fee. Members also receive lots more benefits, including your own profile with an unlimited number of images/Stories, exclusive discounts from major wedding photography-related products/services, invites to physical meetups, and much more. Apply here.