This Is How: 'Corrupting Influence' by Lucy Judson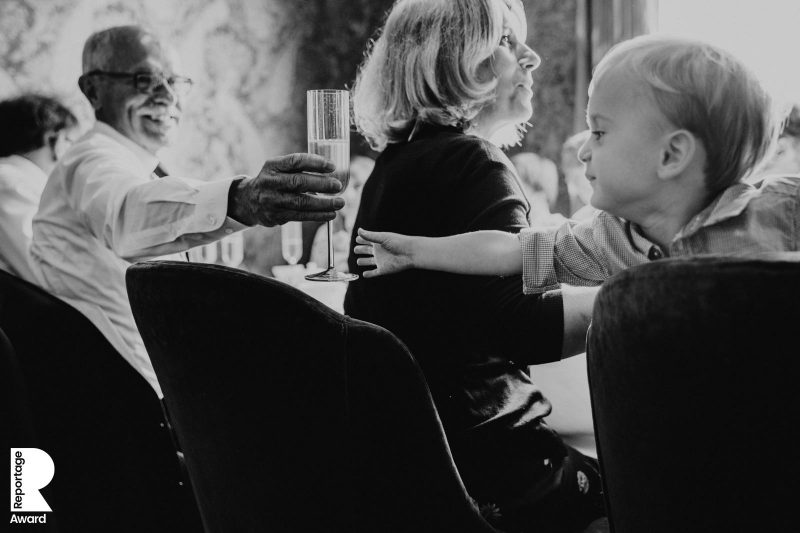 Fantastic to have Lucy Judson on the blog today, as she takes us behind the scenes of this Reportage Award-winning capture from back in Collection Three. This is a really extensive piece, with Lucy dealing with lots of different subjects, including patience, intuition, 'looking for the moment', the importance of capturing the moments before, and more. With supporting images as well, this is a fantastic read; thanks so much, Lucy!
Photography and particularly wedding photography is all about being ready for the moment before it even happens. It's easy to be prepared for the predictable moments during a wedding day, the first kiss, the first dance etc. But we all want to be ready for those unplanned moments that will hopefully mean so much more to our couples.
When Alan asked me to write a little bit about how I captured this moment I was bit worried that all I'd have to say was "I saw a cute, funny moment happening and I pointed my camera in it's general direction…" I'm still a tad worried I don't have more to say? But I'll give it a go.
Firstly I guess if I had just seen the moment and pointed I would definitely have missed it. Being ready for anything is basically what being a documentary wedding photographer is all about. Being ready but then also waiting for luck to play a little part, trusting that the moment is going to deliver, this is a big theme I learnt from attending the Ninedots conference the last couple of years. Making a judgement call about a moment's potential and then sticking around to see it through.
I've heard it called 'proactive serendipity', searching for the unexpected. You can't just be waiting for a moment to happen, you have to be looking for the moment, even if you don't know what you're looking for… It's easy to miss something you're not looking for, so try to be looking for something.
I went back to the RAW files from this shoot to see how many images I'd taken around the same moment. I was surprised by finding nearly thirty images in the lead up to this shot and only two or three that I'd taken afterwards. When I started photographing weddings I remember quite clearly missing moments because I waited too long, I'd be so nervous about missing the first kiss for example that I'd miss all the lead up, I didn't realise I was actually missing the more powerful moments. The lean in for the kiss is sometime more full of emotion and full of grinning faces than the kiss itself, which can often look awkward and usually includes the back of someone's head.
I think the reach of this little boy's tiny hand is way more powerful and funny than the moment after, when he grabs the glass. I also love that the act of photographing this moment keeps it in suspended animation, so that we never actually know whether or not he gets the glass.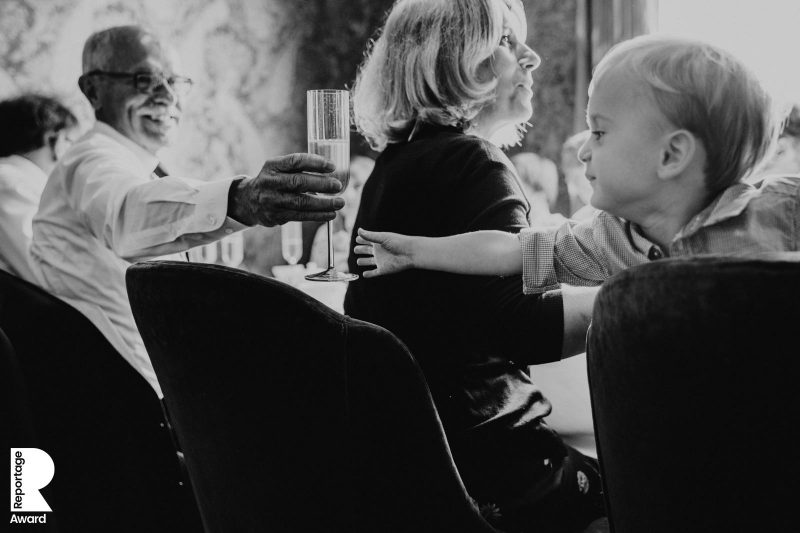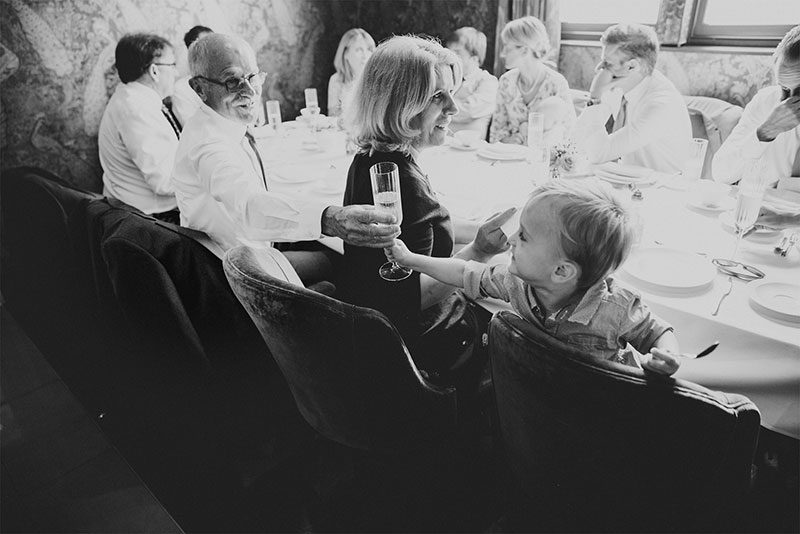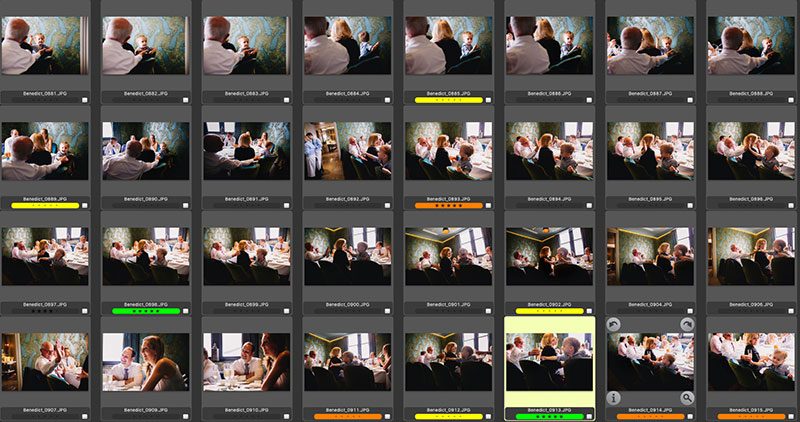 It was also interesting to look back at where I took the images. I moved around quite a bit, from the left facing towards the child, to the right facing towards the granddad, I stood up a bit, sat down a bit. I knew the scene had the potential so I was waiting it out. And then when the moment delivered I was in the right place at the right time.
It's one of my favourite images, I think it's what every little boy wants from his relationship with a grandparent and what every grandparent wants to be able to be for their grandkid. Sneaking them cheeky things behind the parents' back, being the bad influence they could never be with their own kids. The grin on the granddad's face and the tiny smirk on the little boy's face says it all, it's what weddings are all about, bringing together family and generations.
From a techy point of view this image was taken at 35mm, ISO 1600, f2.8 at 1/160th of a second with one of those old school Canon cameras. I love the contrast of their hands and if I'd taken the image a moment later the boy's hand wouldn't have been quite as outlined by the lady's black top and the beautiful contrast would have been lost. I think this is one of the reasons why the image works so well in black and white.
Thanks so much to Lucy for this really interesting piece! You can see lots more of Lucy's work on her website, or here on her This is Reportage profile.
We also have lots more wedding photography tips and guides (over 100 and counting!)
Would you like to showcase the documentary-side of your work to the world? Apply for membership and receive lots of benefits, including a profile with an unlimited number of images/Stories, 60 Reportage Award and 18 Story Award entries per year, exclusive discounts on wedding photography-related services/products, access to our private members-only Facebook group, invites to physical meets, and more…