This Is How: 'Bouncy, Bouncy, Bouncy, Fun, Fun, Fun, Fun, Fun!' by Emma + Rich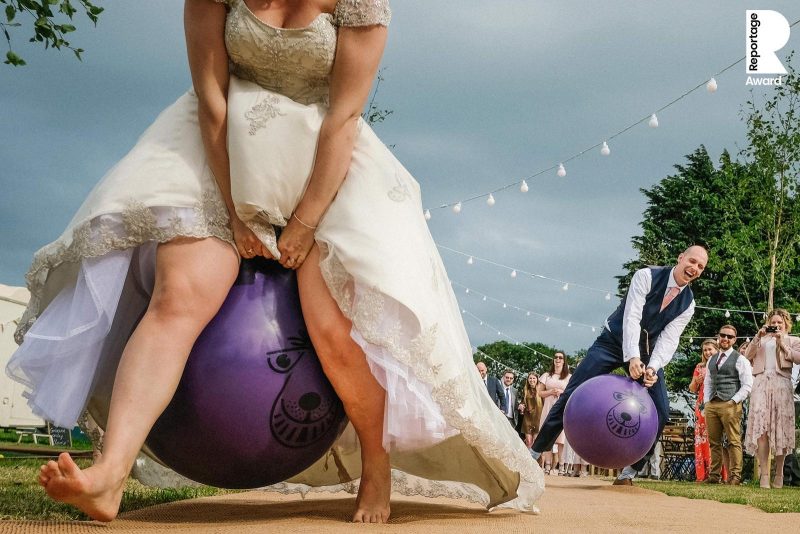 Super to have the fab Emma Warley of Emma + Rich on the site with us today, taking us behind the scenes of this fab Reportage Award-winning capture from back in Collection Three. Really great insights into making the most of each and every capture, composition, editing, and Emma also includes lots of supporting images so you can really see how this image came about – thanks so much, Emma!
We're known for our fun photographs. People book us now when they know they're going to make their wedding all about having fun or just have a massive party. We love fun weddings, but we know a secret, all weddings are fun if you just look for the smiles and the happiness.
Laura and Andy had a secret on their wedding day. They were expecting a new family member, but no one knew apart from a couple of close friends and us photographers. They planned to have a game of hangman with their guests after the speeches and have their parents play while their friends and family watched. They combined this game of hangman with their own wedding olympics. Egg and spoon race, sack race and space hoppers.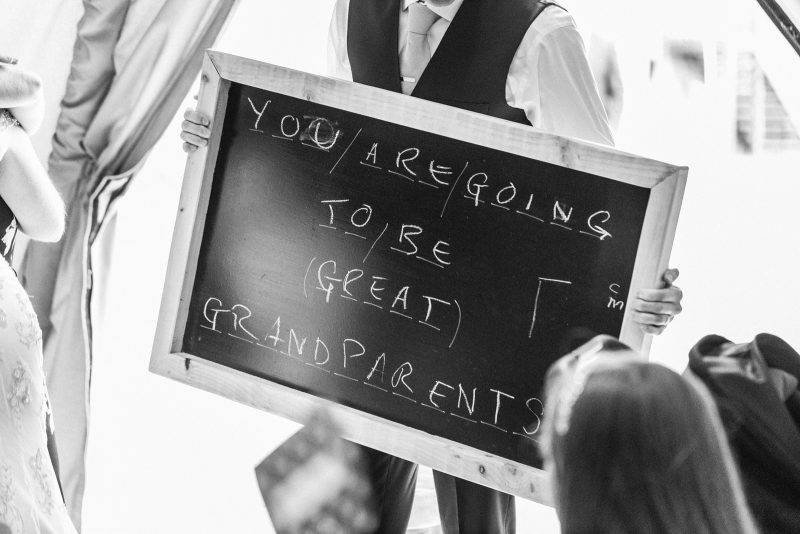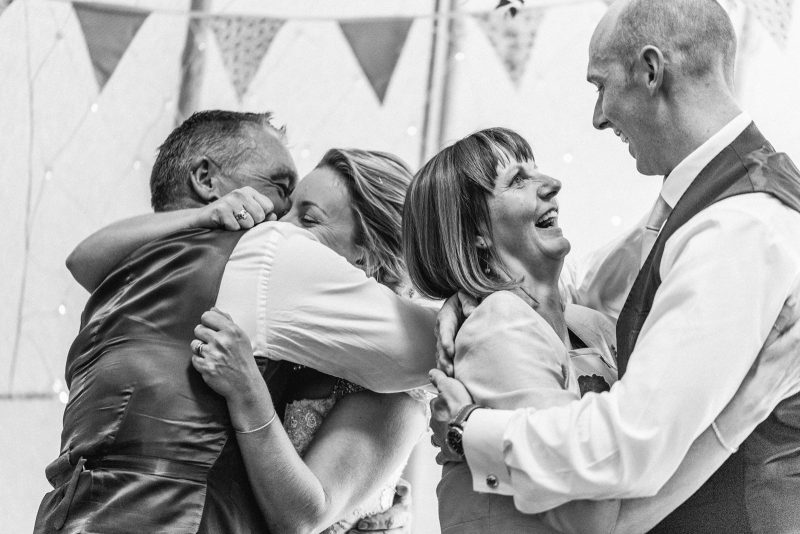 After the very emotional game of hangman where many tears were shed, everyone pilled outside in high spirits and Laura set about organising everyone into teams. Everyone insisted they should be the first and they should race the space hoppers. Laura wanting to stay safe decided to run instead of bouncing.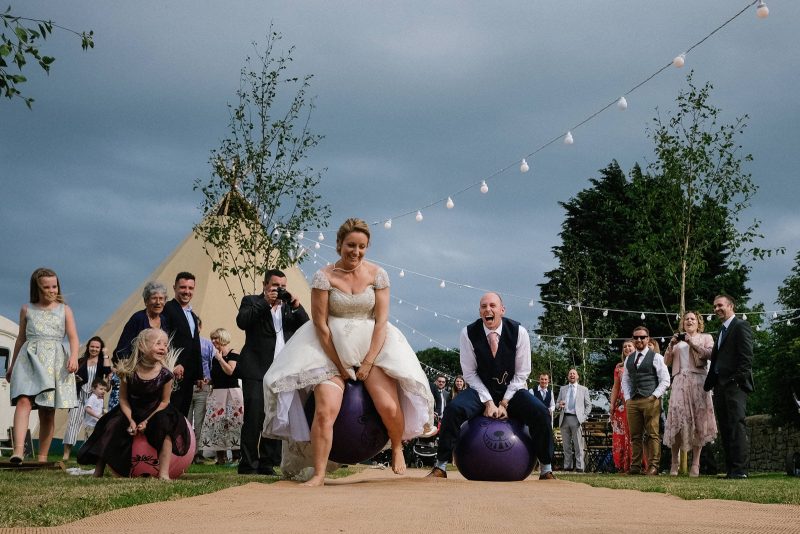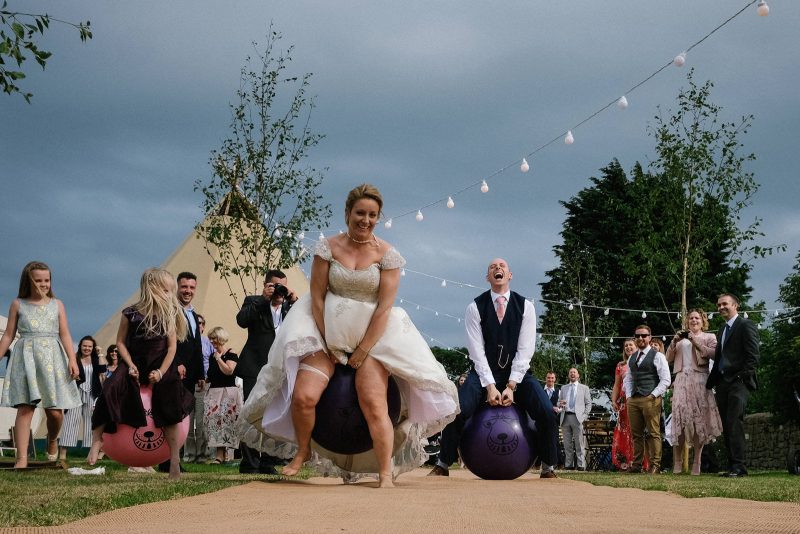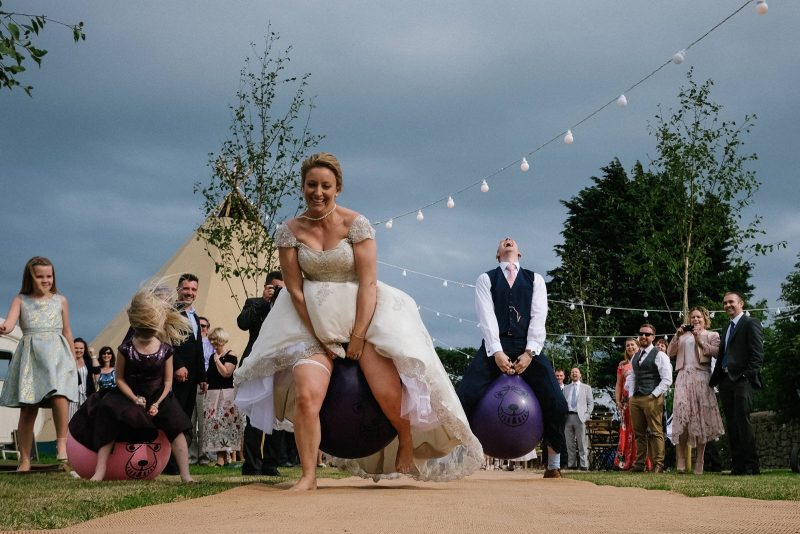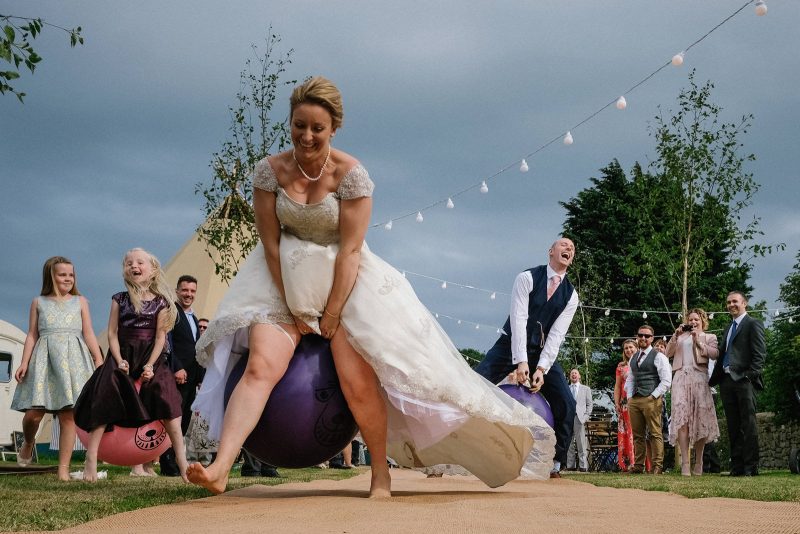 Set up in front of the action, they came at the camera. Squatted down, shooting wide and keeping the background nice and clear, I got the shot. Not quite this shot though (seen at top of page). This was what I originally delivered (below). I didn't think much of this shot because half of Laura's head was half missing and I properly beat myself up about it. Almost binned it. Since then I have learned that sometimes a picture doesn't have to be perfect to be a great capture of a moment.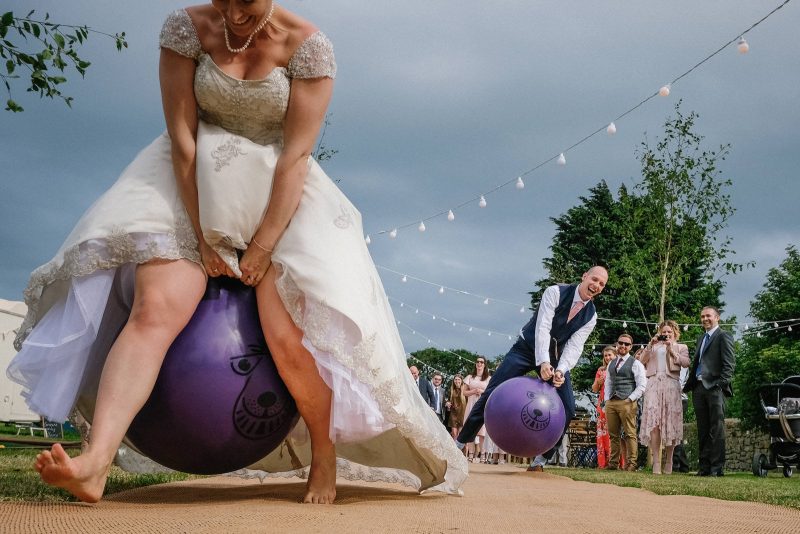 That photo never got shared publicly, just went in the gallery. It wasn't until later that year, I was sat talking to some of the world's best wedding photographers at Nine Dots and something one of them said made me think of this picture. We were just chatting in the bar and I was asking some of the American photographers which logo I should go with. One of them said something that just made me want to go and look through every photograph I had ever taken. I went straight back to the Premier Inn and started looking for this image and fiddling with it on my phone. Within 5 minutes and a bit of cropping it became the award winning image you see in this blog post (and also below). It's also now the first image you see on our website and Facebook page.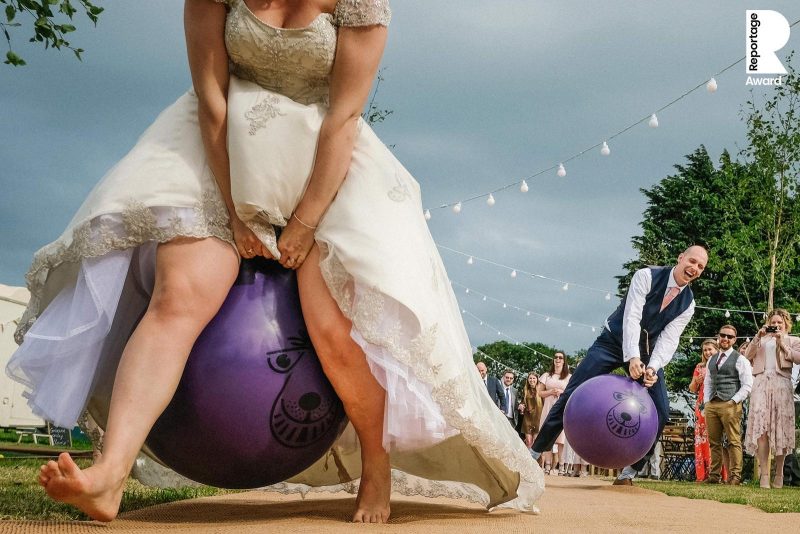 The picture tells a story, you don't need to see Laura's face because you can see Andy's face. He knows he's been had, you can see Laura is running and it just works. It taught us the valuable lesson to love the imperfections because when you really look, there's often more to be seen than you first thought.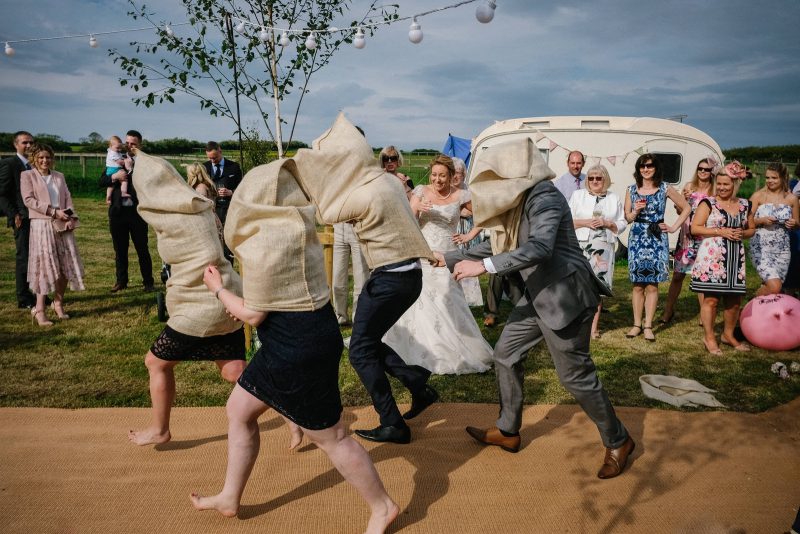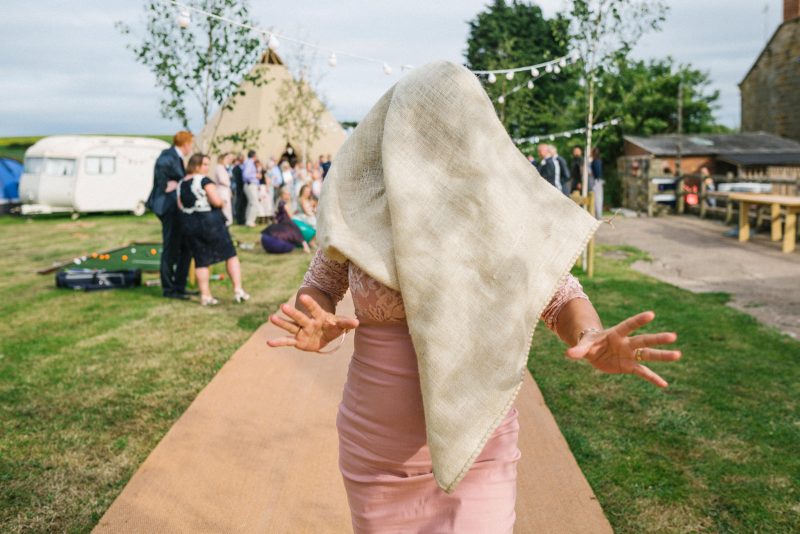 Thanks a lot to Emma for this fab piece! You can see more of Emma + Rich's work on their website, or here on their This is Reportage profile (where photographers can show an unlimited number of images and Stories).
Enjoyed this piece? See lots more of our members' wedding photography tips.
Apply for membership and join us here at This is Reportage! Members receive lots of benefits, including your own profile with an unlimited number of images/Stories, 60 Reportage Award and 18 Story Award entries per year, exclusive savings on wedding photography-related products/services, frequent extra opportunities for features on our site and social media channels, and much more…
Collection Nine is open for submissions now! Deadline is 23:59 BST on 24th May 2019. Apply for membership and submit your favourite documentary captures and Stories now.