This Is How: 'Aren't Nannas Just The Best' by Karen Flower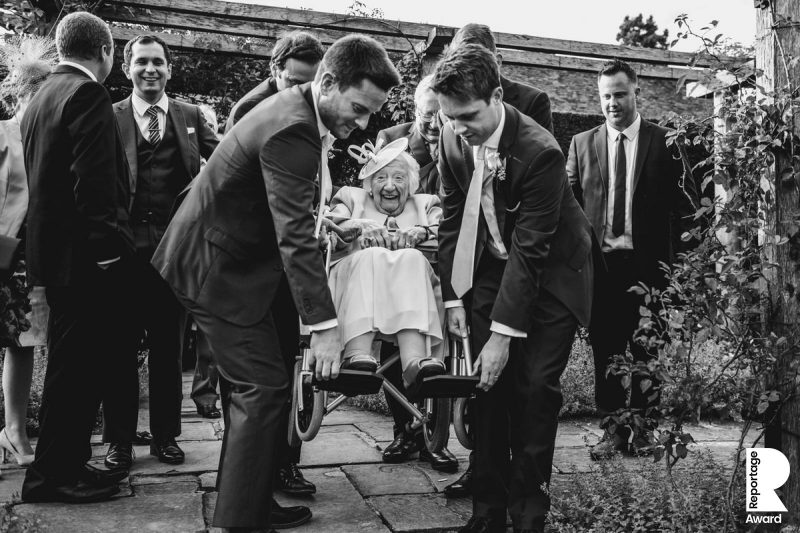 Delighted to have Karen Flower on the site today, for our 'This is How…' series: World-class photographers telling us exactly how they got the shot. Here, Karen takes us behind the scenes of her Reportage Award from Collection Two; great insights into personal connections, empathy, and how building relationships and thus blending in enabled her to capture this great image. Thanks a lot, Karen!
Aren't Nannas just the best. What I like about this photo is the look of sheer delight on this lovely lady's face amongst a sea of dark suits.
When photographers are at a wedding it's hard not to get drawn to certain characters throughout the day and for me it was the bride's Nan. It was obvious right through the wedding just how much she was loved and cherished by the family and guests. Whenever I saw her, she was surrounded by family and friends in huddled conversation, or roars of laughter; everyone making the most of her company. Whenever I see grandmas at weddings I get a little pang as my own adored Nan was not around for mine.
When we photograph weddings we always bring a bit of ourselves to the way we see things and for me wedding days are all about relationships, connections and emotions. From the way the family get ready together, to the how the guests greet each other on arrival right through to how everyone lets loose on the dance floor, gives us an insight into what kind of wedding this is going to be. I try my best to read people and the situation, immersing myself in what is going on by being warm and friendly enough so the family and guests start to see me as part of the wedding and not the gal with the camera.
I know as documentary photographers we aim to blend in and for me building a relationship with my couple from the outset is what enables this to happen at its best; wedding guests take their lead from the couple and make me feel like part of the gang too. All the pieces fitted together for Lucy and Roger's wedding at Great Fosters – when it came to taking this photo no-one was paying much attention to me as I was amongst a hundred-plus guests in the venue gardens trying to catch those in-between moments.
The ushers were wrangling, an appropriate term I think, the guests into a big group shot of the whole wedding party. I wasn't organising this, but mingling, when I noticed that Nan needed a bit of a hand, or several as it turns out.
It was the most normal thing in the world to get Nan where she needed to go. Being a part of the wedding crowd and watching and waiting to see what would unfold, and controlling the urge to help out, meant I could get this picture of delight on Nanna's face as she was lifted over the steps to take part in the big wedding photo. If anyone in this frame had started to pay me attention, I think the magic of Nan's smile would have been lost. A quick conversion of the image to black and white helps Nan stand out in a full, busy frame.
You can see more of Karen's work over on her website, or here on her This is Reportage profile.
As mentioned at the top, we have lots of other wedding photography tips and guides by our members.
Interested in joining us? Members receive a whole host of benefits, including 60 Reportage Award and 18 Story Award entries per year, all included in our annual fee. If you'd like to submit to our next Awards, know that the deadline for Collection Eight is by 23:59 GMT on 24th March 2019. Apply for membership and see all the other benefits over here.