This Is How: 'All Hands On Dress' by Andy Griffiths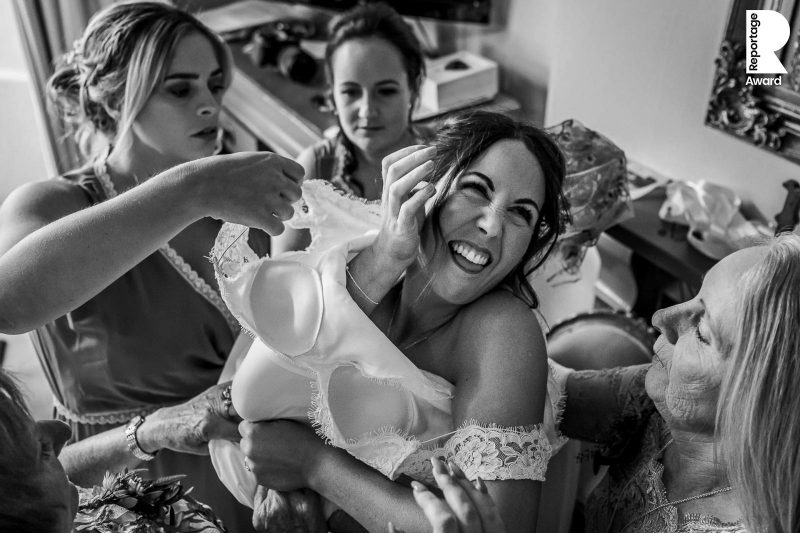 Delighted to have Andy Griffiths on the site today, taking us behind the scenes of his recent Reportage Award from Collection Seven. Really interesting insights into how and why Andy tells his couples how he works, composition and looking for those different angles, and just why he loves this capture…thanks so much, Andy!
The morning of the wedding could be the first time you ever meet your bride / groom, yet you are potentially seeing them in a state of undress – which to many is weird!
In the build up to the wedding I tell all my couples to basically ignore me on the day, but when I arrive I never start photographing straight away as I feel it puts people at ease – to have a normal conversation and explain to all the wedding party present how I work, that I don't ever want them to move out the way as I often use people to frame photos.
This photograph was taken before a wedding at Stanford Farm in Shropshire. I had met the bride and groom before the day and spoke at length about what to expect on the wedding day and how I approach things. I always give the option that if they want me to leave I will of course leave when the bride is putting on her dress, but always state that ideally before you're fully dressed and ready to allow me back in the room to capture the final moments. It's all about respect and knowing what not to capture and what to go for.
Today, the bride was really a great person and I stayed. I could see all the bridesmaids were trying to get her into her dress, I was being blocked slightly by the bridesmaids and knew that anymore photos from the same angle would be very similar and wanted to try something different. I jumped on top of the bed and went for a different angle. I wanted to be as close as possible so had to lean over and hope for focus. At that point the bride was having a second attempt at getting her arms through and I was lucky that she was looking up at the same time.
I love this image (as does the bride) for a number of different reasons. I think the main one is because it is real. It's not staged, its not in beautiful light, its not posed its showing the real struggle that I am sure everyone goes through once in a while when trying to get dressed. A wedding day is no different in that respect! I am just grateful I went for different angles as it is very easy to stay safe.
Thanks to Andy for this piece. You can see more of his work on his website, or on his This is Reportage profile.
Lots more wedding photography tips can be found over here.
If you'd like to submit to our next Collection, the deadline for submissions is just a few weeks away: 23:59 GMT on 24th March 2019. Members receive 60 Reportage Award entries (for individual documentary captures) and 18 Story Award entries (for a series of images from a single wedding, as we want to celebrate the art of storytelling and consistently creative coverage, as well as those individual captures) per year, all included in our membership fee. There are lots more benefits to membership too; see all the details and apply for membership over here.