This Is How: 'A Helping Hand' by Richard Skins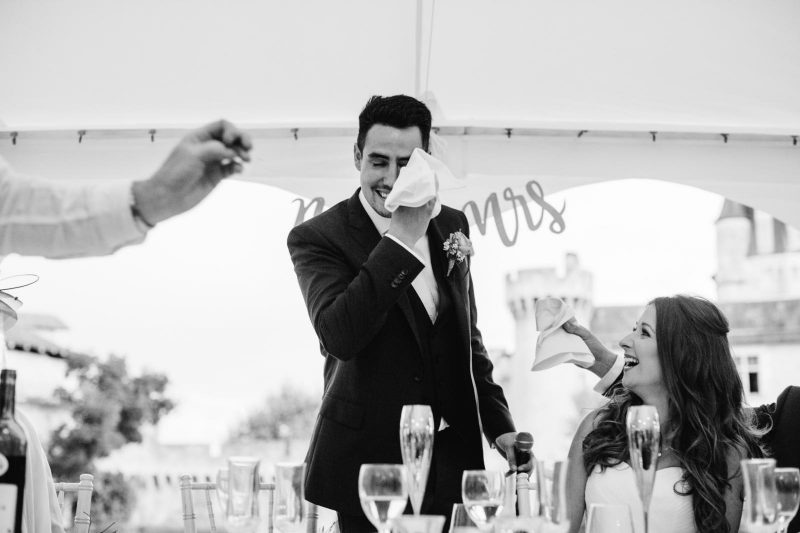 Great to have the fab Richard Skins on the site today to talk to us about this superb capture of his. Really insightful and useful tips about getting in close, focusing on emotion, composition, lens choice and more…thanks so much, Richard!
Ahh, the speeches, probably my favourite time to photograph during a wedding, so many types of emotion within minutes of each other that even I get a little emotional sometimes!
Earlier in the day Greg (the groom) had a little tear as Amy walked down the aisle so I thought it might happen during the speeches as well. I like to get as close as possible to try to and capture all the laughter and emotions, this usually means ducking low around tables to get what I need. For this one, I was directly in front of the head table low down so people could still see behind me.
As Greg made his way through his speech he stopped every time he mentioned Amy, you could tell he was welling up, slowly shouts from the crowd started to help spur him on but tears started to emerge.
I set up myself directly opposite Greg at this point and after he broke down with a mixture of tears and laughter, suddenly guests to his right and left started to pass their napkins to him, I could have shot wider but I like you don't actually see the two people from either side, leaves something of the imagination! All you need to see is a teary but smiling Greg and Amy in hysterics!
This was shot on the Canon 50mm 1.2, probably my favourite lens for speeches! Far enough to not be in the way but close enough to fully document all the good stuff!
5d Mark iii – 50mm f/2 – 1/320s – ISO 2000
You can see more of Richard's work on his website, or here on his This is Reportage profile.
We have lots more 'This is How…' pieces by our TiR members over here.
Interested in joining us? See all the benefits that a membership brings and sign up over here.