This Is How: 'The Selfie' by Benjamin Toms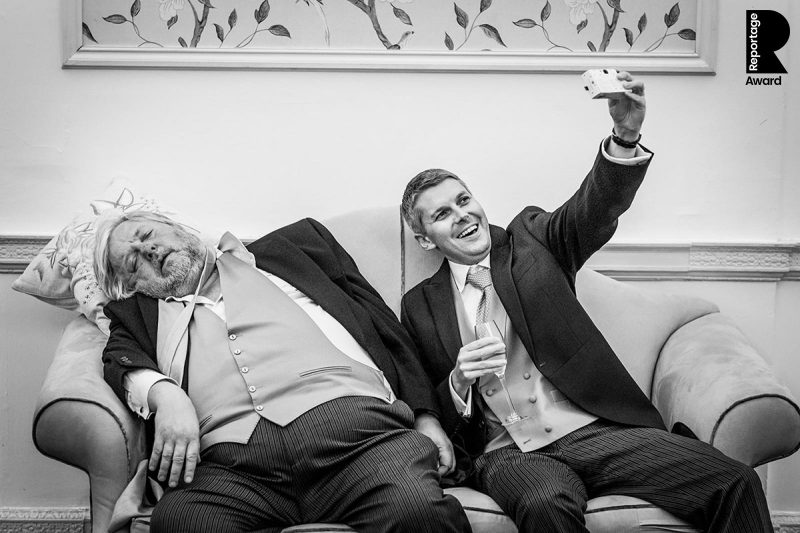 Really fab to have Benjamin Toms on the site today, taking us behind the scenes of his Reportage Award-winning capture from our previous round, Collection Two. Great insights into shooting through moments, trusting your instincts and more…
I think it's fair to say that the guy on the left of the image has maybe had one too many. This image was taken at a wedding at Hedsor House last September. There are a number off rooms at this venue just off the main entrance hall where the dancing takes place. These are nice to escape to now and again to for a few minutes to give your ears a rest from the music. Looking back at the contact sheet from the shoot this guy had settled in on the sofa for a fair while not long after the wedding breakfast had finished. I have a few shots of him throughout the night on his own. There was a break in the evening entertainment as everyone went outside to enjoy a fireworks display, which needless to say this guy missed.
Not long after everyone had retuned to the evenings entertainment I must have walked back into this side room the find this guy was joined by another wedding guest who had maybe had a few too many as well and was taking great delight in capturing selfies of the two of them with a disposable camera. I shot this from the other side of the room on my 85mm so as not to draw attention to myself and hopefully not disrupt the moment. I managed to fire off half a dozen shots before I was spotted. I learnt as a documentary wedding photographer to trust your instincts and to keep shooting thought the moments and as someone once said to me pray to the photo gods. For some reason I kept coming back to this room and this guy. The photos of him on his own are OK but this one for me is a far stronger image with much more context.
Canon 5D Mark IV, Canon 85mm f/1.2, F3.5, 1/125s at ISO 3200, no flash.
You can see more of Ben's work on his website, or here on his This is Reportage profile.
We love these 'This is How…' pieces by our This is Reportage members; so interesting and useful! Be sure to check the rest of them out over here, and check back frequently for new ones.