This Is How: 'Tears Of Joy' by Johannes Morsbach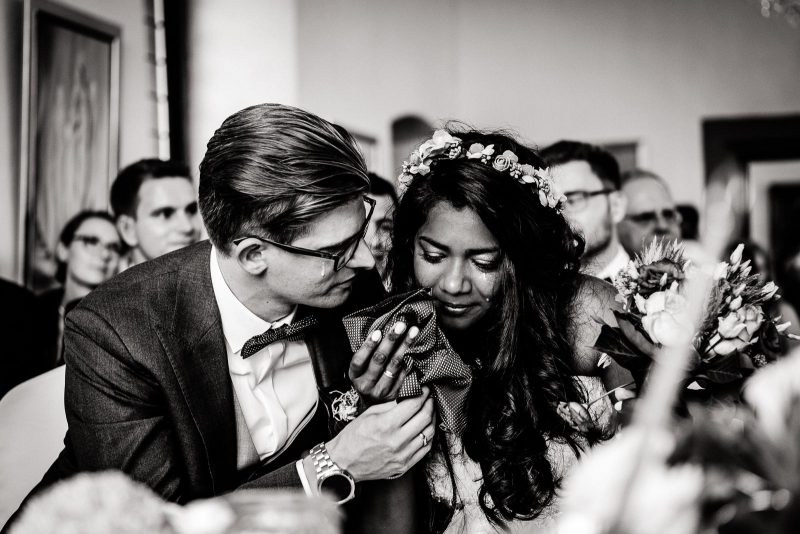 For the thirty-seventh in our 'This is How…' series, it's an honour to welcome the Germany-based TiR member Johannes Morsbach to the site, telling us all about this emotional capture of his. Really great insights into why – and how – capturing real emotions are what it's all about, being ready for the unexpected, being sensitive to a scene and remaining unnoticed, authenticity, not using flash, and more…
Weddings are full of joy and human interaction. That's why I love documenting them. A natural smile, a little touch or a burst of laughter is what it's all about for me and that's why I've decided to never ever ask anybody to smile or act for the camera. It's just not the same. And there's one thing you can't ask anyone to fake for you anyway: real tears of joy. I know the rhythm of a wedding day by now but sometimes, emotional moments like these happen when you don't expect them.
This was especially true for this image. The ceremony was full of happy and funny moments, the bride was laughing a lot during the speech of the officiant. I have dozens of pictures of her laughing during the ceremony, mainly because of the really funny story told about how they met and got together. After the exchange of the wedding rings and some lovely words from the best man and the maid of honor, the ceremony was basically over and the violin player started playing for the couple so they could walk down the aisle. The groom and his best man got up so I was going to the exit, ready to get the shot.
I was waiting at the end of the aisle but the bride was not standing up. And after a few seconds the groom sat down again as well. The whole room was getting really quiet again, listening to the wonderful melody of the violin player. It was one of those moments where you could feel the tension in the room – and I mean that in the most positive way. I sneaked back in front of the couple and after all the fun and laughter there was something about that melody that made her really emotional and it suddenly all came together. I guess it was one of those moments where the bride finally left the 'zone' of the ceremony, where everything happens so quickly and is full of excitement.
The bride started crying with joy, the groom handed her his handkerchief and soon after that a tear was rolling down his face as well. They sat there for one or two minutes, listening to the music, enjoying the atmosphere together. I only took three or four quick frames of this scene from a safe distance, hiding behind the table and then quietly moved on to make sure they won't be disturbed by my presence. Not being noticed is one of my main principles as a documentary wedding photographer to make sure that I capture 100% real emotions that would've happened exactly the same way if I wasn't there.
This was one of those really intimate moments where it was crucial for me to be as unobtrusive as possible. I don't want to interrupt anything during the whole wedding day and especially not an intense moment like this between the couple. I truly believe that everybody acts different as soon as they spot a camera directed at them. That's why I don't use a flash until I absolutely have to (usually just on the dance floor). It only makes people aware of me as a photographer. As soon as I get spotted I move on – because to me the authenticity of the moment is gone. It's a photograph that tells a story that unfolded completely natural and therefore means a lot more to me and hopefully to the couple as well. And when they will look at this particular image in a few years from now, I hope it will take them right back to that moment.
You can see more of Johannes' work on his website, or here on his TiR profile.
If you enjoyed this article, there are lots more 'This is How…' posts by our This is Reportage members on the site.