It's Our Birthday!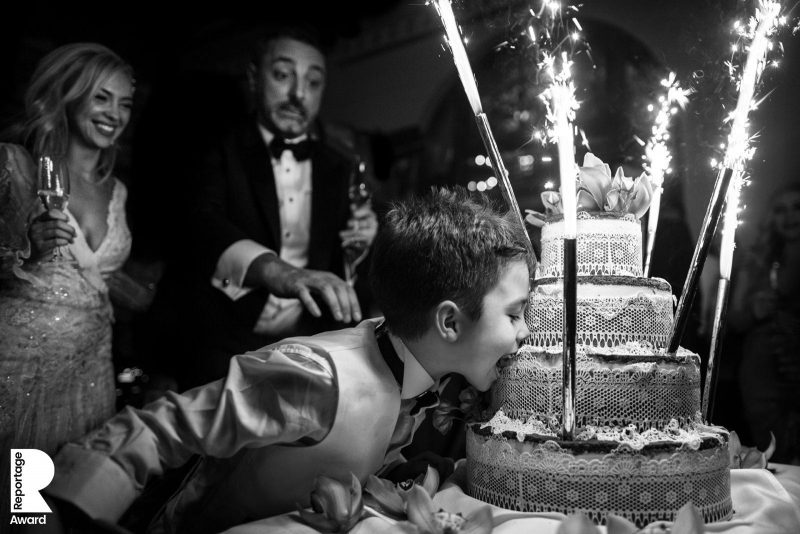 (Reportage Award above by Fabio Mirulla)
Today is a bit of a special day for us, as it's our 1st Birthday!
On 21st November last year we opened our doors (aka 'clicked the big green button to launch the website'), not knowing what lay in store at all. We knew that we wanted to showcase and celebrate the very best in documentary wedding photography; to really put the power of the 'moment' – of real, natural captures – out there in the forefront, but would people share our vision…?
Well, the answer has been a massively resounding 'Yes!', and we can't thank you – the photographers of TiR – enough. It is all down to you; your support and trust, your willingness to share, your amazing images. It's a cliché for sure, but it really is true: Without you, we are nothing. But with you? Wow, what a year!
Our first year really has surpassed our wildest dreams; here are a few stats from 365 days of existence:
Photographers: 491
Uploaded Images: 29,149 (Members can display an unlimited number of images on their profiles, hence the massive number! That's an average of 59 images per photographer)
Total Image Size: 6.2 GB
Number of 'Forgotten Password' Requests: 256
Different Countries Represented: 31 (Including members from the UK, United States, France, Portugal, Germany, Canada, Belgium, Australia, Poland, Sri Lanka, Italy, Hong Kong, Spain, Mexico, Denmark, Slovakia, Netherlands, Greece, India and more…)
Blog Posts: 150
'This is How' Features (where our members share exactly how they 'got the shot'): 91
Amount Of Money Saved (our members receive exclusive discounts/deals on wedding photography related products/services): Over $1000 / £750
Photographers Coming To Our Christmas Party in a couple of weeks: 145
Award Collections: 5 (there's still a few days left to submit to our sixth and final Collection of the year; deadline is 23:59 GMT on Friday 23rd November).
Judges: 30
Reportage Awards: 175
Story Awards: 20
Average Percent of Submissions Awarded: Less than 4%.
Number of Reportage Awards featuring a dog urinating on the top table during the speeches: 1 (which is below, by Matt Parry)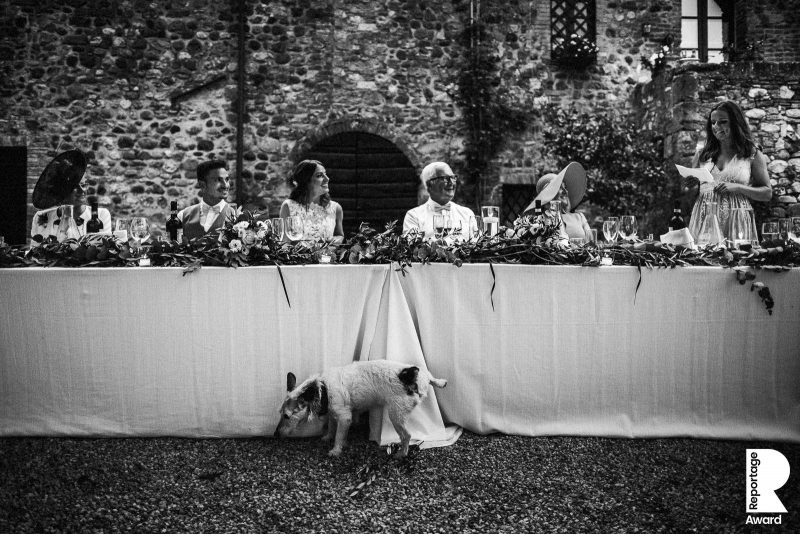 So, yes, we have totally been blown away by our first year, and can't thank you enough. We're looking forward to our second year, now, with lots of ideas for extra features and improvements – we are so passionate about documentary wedding photography, and really want to continue to raise the profile of the art; to feature those photographers who are capturing memories that will – cliché again, but true – be cherished forever.
To celebrate – as a birthday wouldn't be a birthday without some gifts, would it? – we're going to give away 5 This is Reportage Annual Memberships, worth a total of £400 (£80 each). We're not fans of offers/contests that are just for new members, so this giveaway is also open to existing members, who will get an extra year's membership added on to their account if they're a winner.
What do you need to do to win? Well, as you might've guessed, we love documentary wedding photography – we can't get enough of it! With this in mind, we want to see a brand-new, never-been-published-on-Instagram-before documentary wedding photography capture of yours. Spoil us with your moment-capturing skills! So, yes, just follow these very simple steps:
Follow us on Instagram.
Post a brand new documentary wedding photography capture on your Instagram. By 'brand new', we mean an image that you haven't posted on Instagram before – we want to see fresh imagery, rather than hashtagging an older image on your feed that we may have seen before (we just want to see new captures; we love seeing them!)
Mention it's our 1st birthday in some way (you could go for a classic 'Happy First Birthday @thisisreportage!' or say something nice about us (or even something mean, if you like – "It's our Birthday and we'll cry if we want to", and all that – but, well, that may slightly hurt your chances of winning…;)) – just whatever you want to say, as long as you mention it being our 1st Birthday.
Tag us @thisisreportage
Use the hashtags #thisisreportagebirthday and #thisisreportage
And that's it! You can enter as many times as you like (remember, they need to be all new images, though), and the deadline is 18:00 GMT tomorrow (22nd November). We'll then choose our five favourite entries (unlike our Awards, which have five different judges for each round, this contest is a bit of birthday fun, and so will just be judged by us). Each of the five winners will receive either a free annual membership, or an extra year added on to their membership if they're already a member.
Terms and Conditions
Entries must be posted on Instagram before 18:00 GMT on 22nd November 2018.
All five conditions of entry (see above) must be complete for your entry to be valid.
You can enter as many times as you like.
You must own the copyright to the posted image(s), and agree for us to publish the image on our website and social media channels if you're selected as a winner.
The usual conditions of membership apply to the prize.
We're very excited to see your entries! Right, we're off for a birthday prosecco (or Cider) or two…
By the way, we may have mentioned it above, but there's just a few days left if you want to submit to our final Collection of the year (Deadline for entries to Collection Six is 23:59 GMT on Friday 23rd November). Find out all the benefits of membership and apply over here.