This Is How: 'Hairspray' by Lyndsey Goddard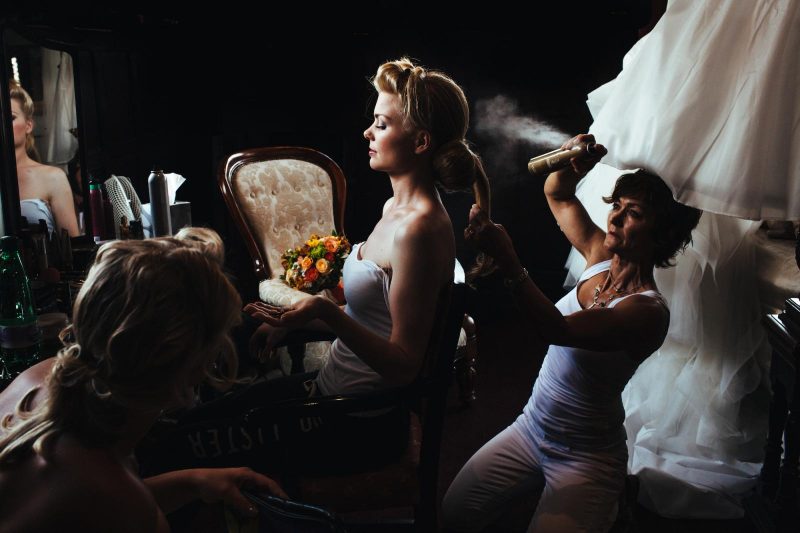 In the fourteenth of our regular series of 'This Is How…', the fab Lyndsey Goddard shares her insights as to how she captured this iconic image of hers.

This photo of Marie was taken during bridal prep at The Mermaid Inn Rye. Marie and Nicholai had come to Rye from Norway to marry in the local church, were Nicholai's parents had married 40 years ago to the day. It's an old photo of mine, taken in July 2014, but it remains one of my favourites.
It's simple yet striking, mainly down to the very dark wall and the contrast of the jet of hairspray, coupled with Marie's perfect profile with the light hitting her face. To understand how the photo was lit, you need to know a little about The Mermaid Inn Rye. It's an ancient building, with cellars dating from 1156, and a rich history of smugglers' tunnels, priest holes and ghosts. As you'd expect from an ancient inn, the windows are tiny and latticed with lead, and the rooms are wonky with sloping, low ceilings, dark wood panelled walls and very little natural light. It could very well be a photographer's nightmare! Fortunately for me, when I arrived at the hotel, Marie was sat in a chair facing a window which meant that natural light fell on her face. With the rest of the room being so dark, and the wall behind her made of dark wood, she seems to glow in this ethereal Nordic way!
All morning there was just Marie, her best friend and the hairdresser. I had already got many images I was happy with but as soon as the hairspray came out I knew there would be an opportunity for a great shot; usually hairspray can't be seen as it's not against a dark enough background. I've not managed to get a better 'hairspray shot' since this photo was taken; I need more dark walls in my bridal prep! This image was taken on a Canon 5DMKll with a 35mm f 1.4 lens, at 1/160 second at f6.3 ISO 800.
Thanks again to Lyndsey – who really is one of the best wedding photographers in London – for this piece.You can see more of Lyndsey's work on her website, and here on her This is Reportage profile.
If you found this article interesting, we have lots of other 'This Is How…' posts by our TiR members over here.