This is Storytelling: 'Priyal and Dan' by Ash Davenport
We think it's absolutely amazing when our members share their behind-the-scenes tips and advice about how they captured certain images – and it's brilliant when they share all about their Story Awards too! Today, the fantastic Ash Davenport is taking us back to one of his Story Awards from Collection Eleven, including thoughts on his overall approach, as well as specific details about how he captured certain images from the Award-winning Story. Including tips on capturing emotion, patience, lens choice, layers, storytelling, colour, composition, and more, this is an in-depth and incredibly insightful read – thanks so much, Ash!
I would definitely say one thing I am drawn to on a wedding day is emotion – I feel like its a magnet for me. Thankfully Priyal and Dan's day had plenty of it. I love Indian weddings but I think I love fusion weddings (where there's a mixture of cultures even more). I think it's lovely that both families get to experience each other's traditions and enjoy both the commonality and the differences. I find then this can actually heighten the experience for both the couple, the guests and myself.
That makes me feel like a kid in a candy store – it's so easy to get distracted by all that's happening and want to shoot everything all the time. So I find there is an internal conversation I need to have with myself and it's almost like slowing myself down and asking myself what is the main story here, who are the main characters. Once I feel I've found this I can really start to zone in on the story I feel needs to be told.
That is the foundation and I can then build on that by adding layers – specifically things that are unique to the way I see the world, whether that be interesting compositions, light or colour but it all starts with finding that thread – the story that will inform what I will shoot and what I will choose to concentrate on.
For Priyal and Dan's wedding they were such a fun loud and energetic crowd so they were determined to have fun on the day but also a big element of the day was the fact her mother couldn't be there and the impact of that was felt by all especially her dad so in the midst of all the celebration and party you're trying to also find the frames that will honour her mum's memory, her dad's feelings and Priyal's, but balance that with the amazing energy, beauty and fun on the day.
To talk specifically about a few images and the background might help put all this into context.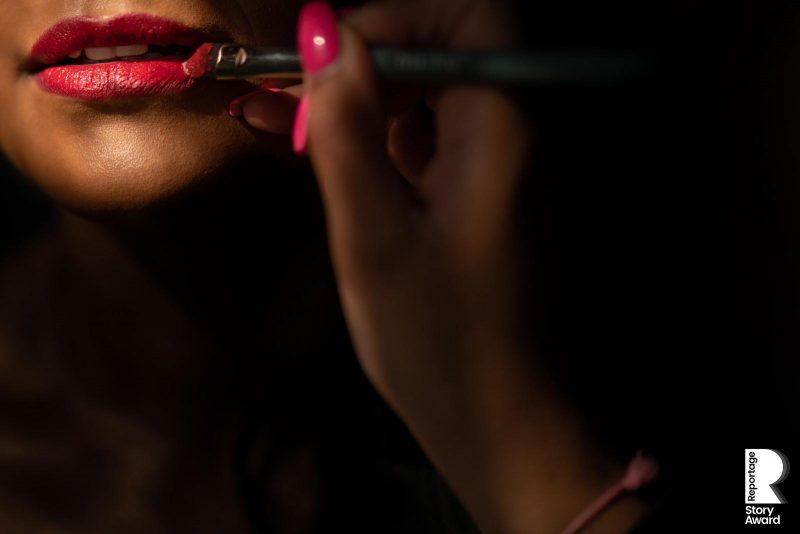 Image number 1 (lips; above) – I have a strange obsession with lips, not because it's a getting ready moment but I just love them….. the makeup artist had Priyal right in an amazing streak of light whilst she was putting the finishing touches on her lips and I took that as a moment to shoot over her shoulder. I love this image more than most because of the movement within the image and the impact the brush is having on Priyal lips. and I love the fact the colours of the makeup artists nails compliments the lips.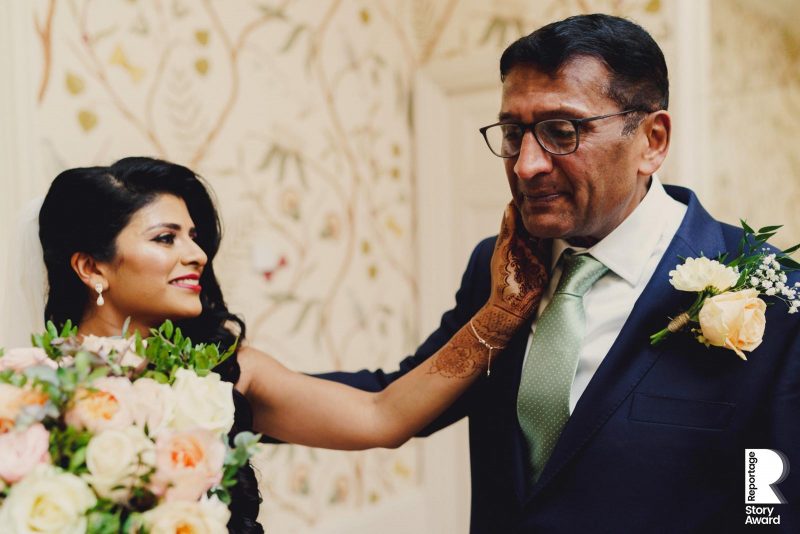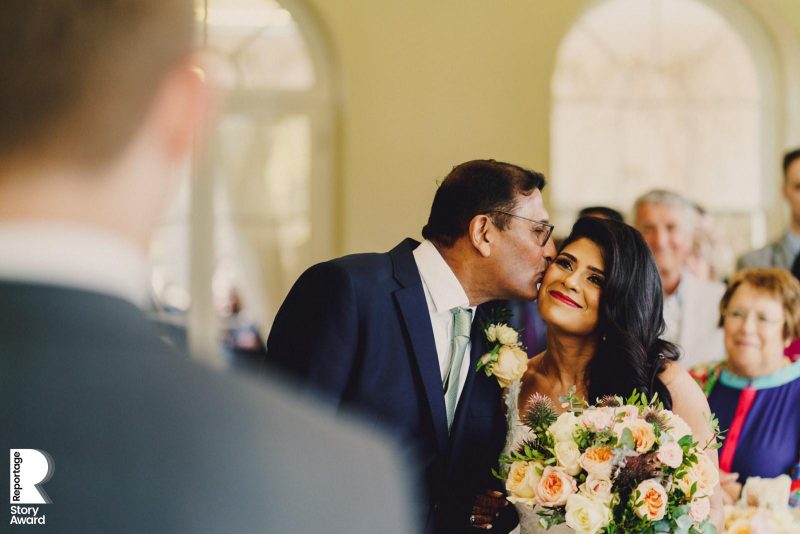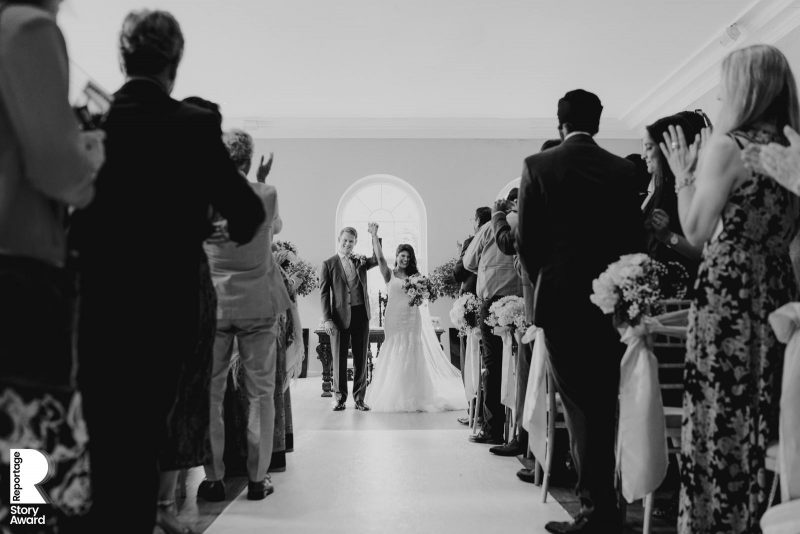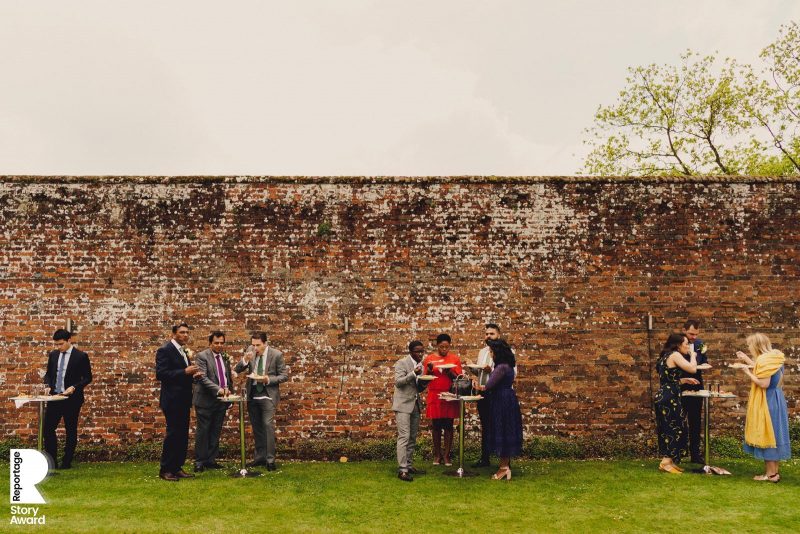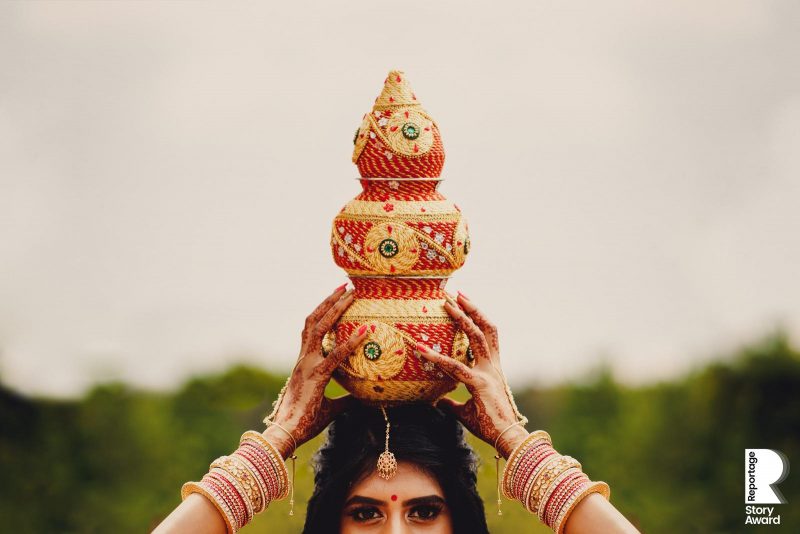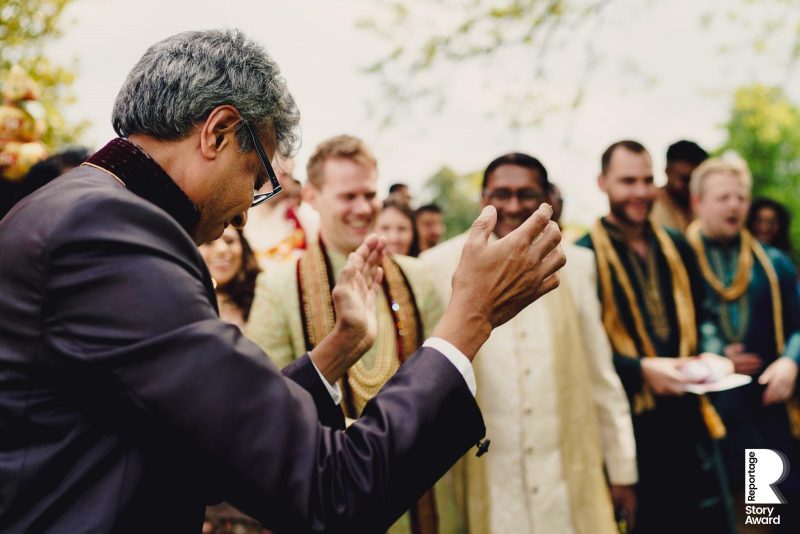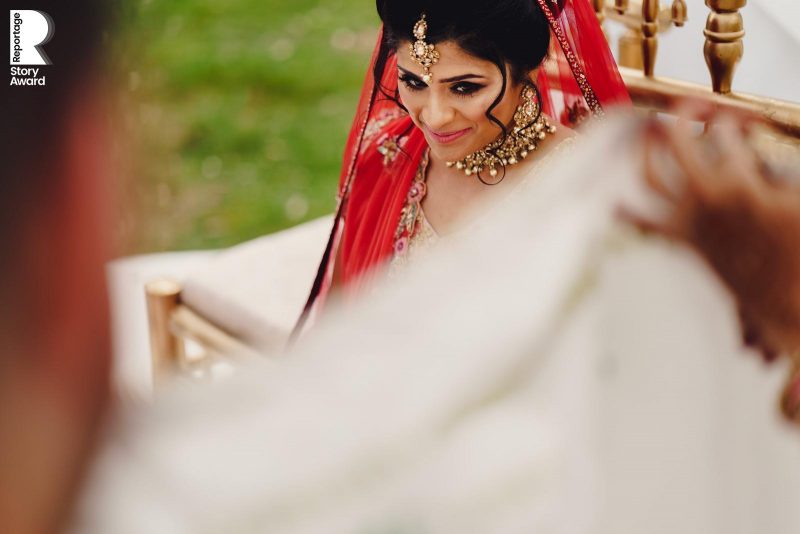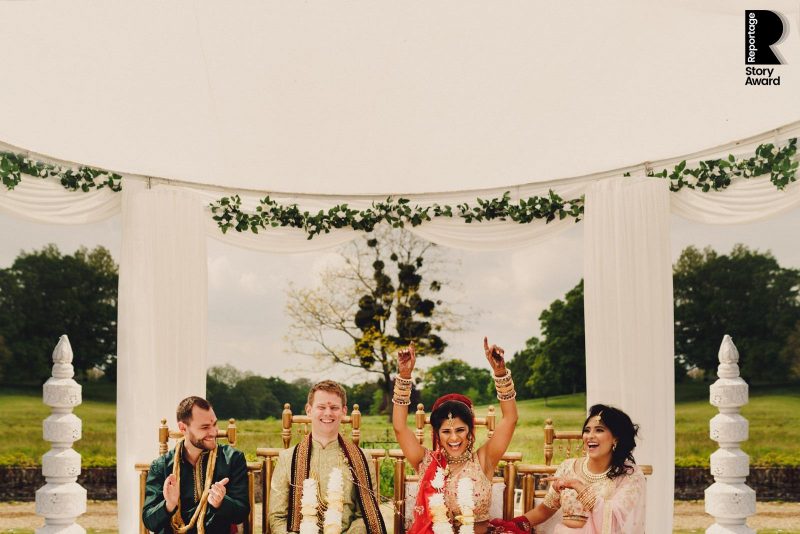 Image number 9 (Priyal wins the sitting competition; above) – In Hindu ceremonies there is a competition as to who can sit down the quickest, the bride or the groom. Knowing this is the first challenge of their marriage always brings great expressions and emotions but I didn't expect the image that presented itself in front of me. Clearly Priyal won and quickly started celebrating whilst everyone around her started cheering and clapping. I love to position myself straight on, square as symmetry and balance are important to me which helps elevate this image.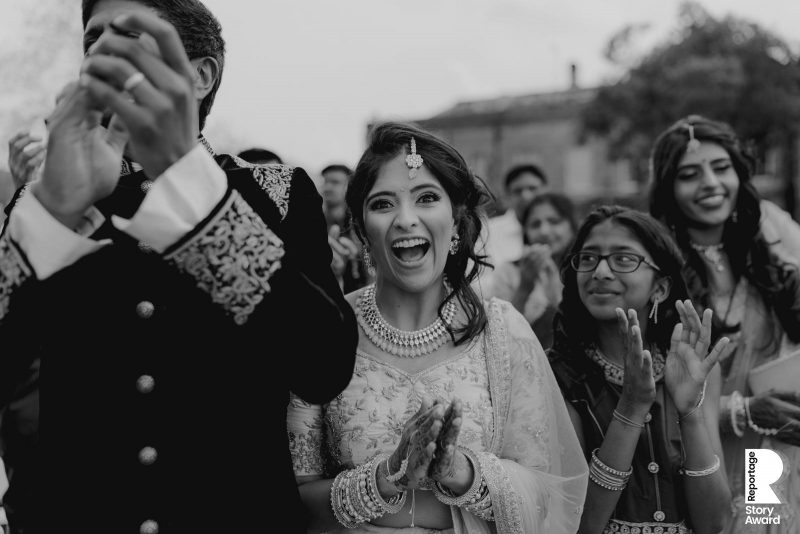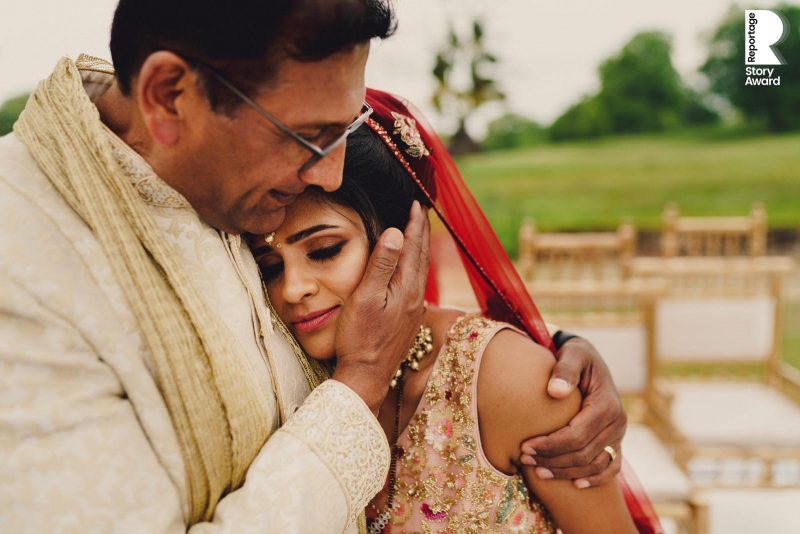 Image number 11 (dad hugs daughter; above) – This isn't a unique or award-winning image in itself but the way that Priyal's dad holds her in the loving and caring way he does make me think of my daughter every time. The strong left hand with the gentle right hand on her face screams LOVE and SUPPORT.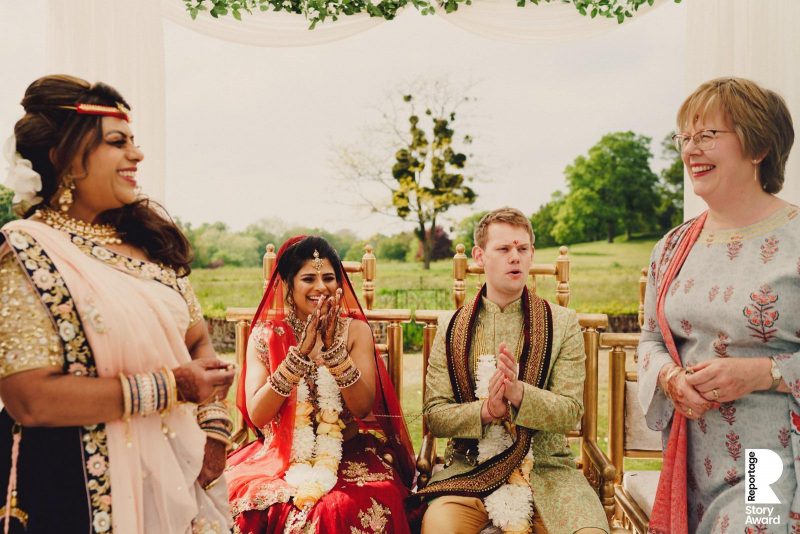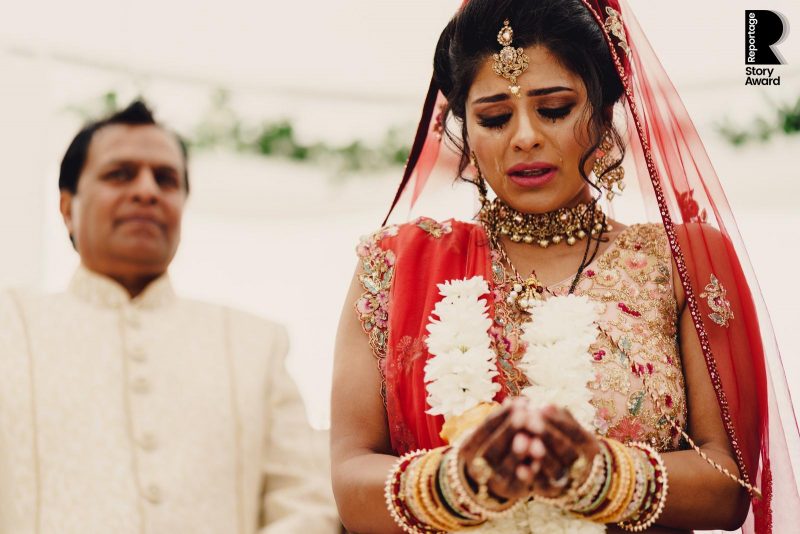 Image number 13 (crying bride; above) – after kissing an image of Priyal's mum in remembrance, Priyal had a few moments where her emotions came to the surface and were visible. Normally a very strong and stable emotional lady but on this occasion, the feelings got the better of her. Positioned low shooting on my 85mm I was able to get this image whilst getting her uncle in the background to give some context.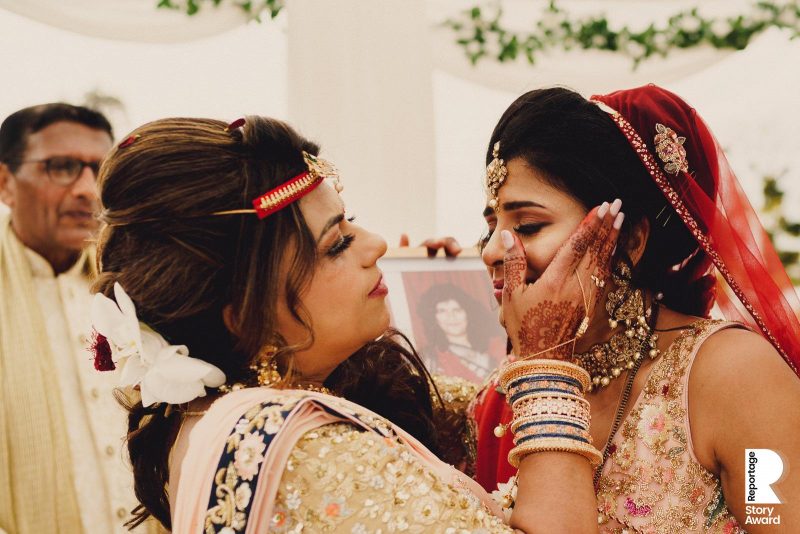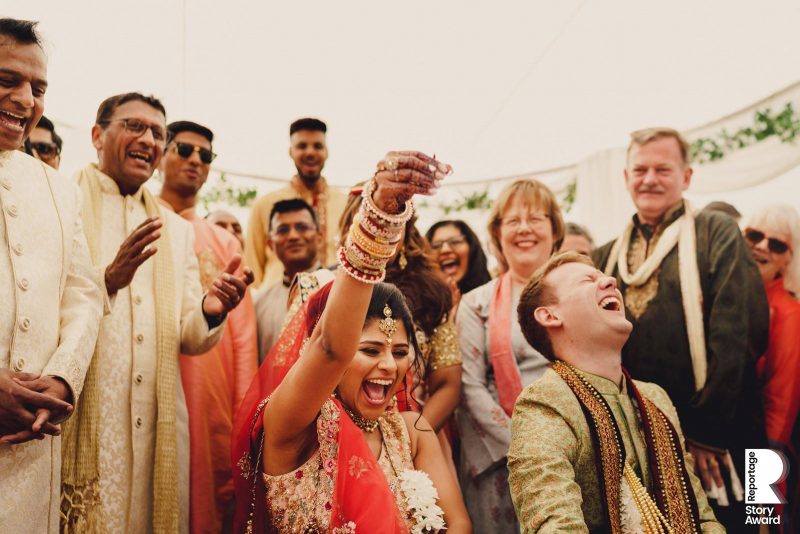 Image number 15 (bride celebrating; above) – Another tradition in Hindu culture is to play games at the end of the formal ceremony and one very popular game is to put the wedding rings into a bowl full of milk, spices and herbs and whoever manages to find the ring wins… A pretty simple game but one that attracts a lot of competitiveness. With close family positioned behind them the game gets underway and like the chairs game, Priyal wins and enjoys the celebration. Shooting this is always fun as it always provides great moments for the winner and loser and this was no exception. As the ceremony takes place on a stage it is easy to get low and be able to shot the whole scene on a batis 25mm, a great little lens for this type of image.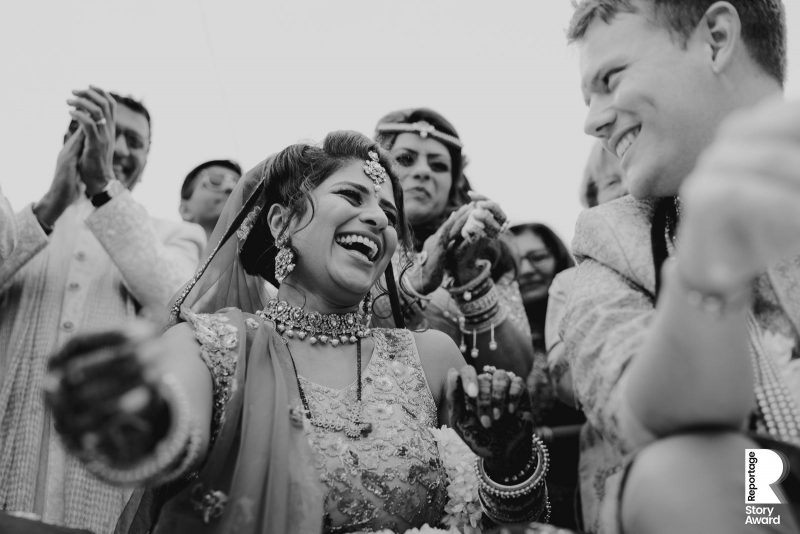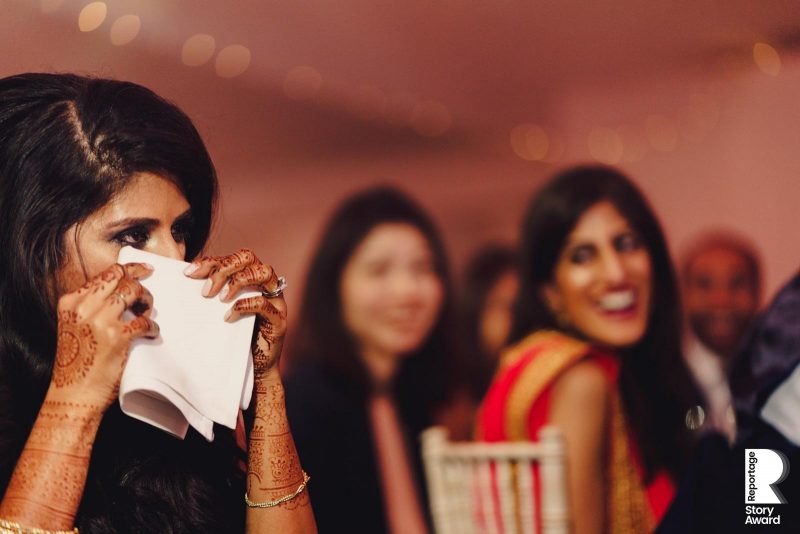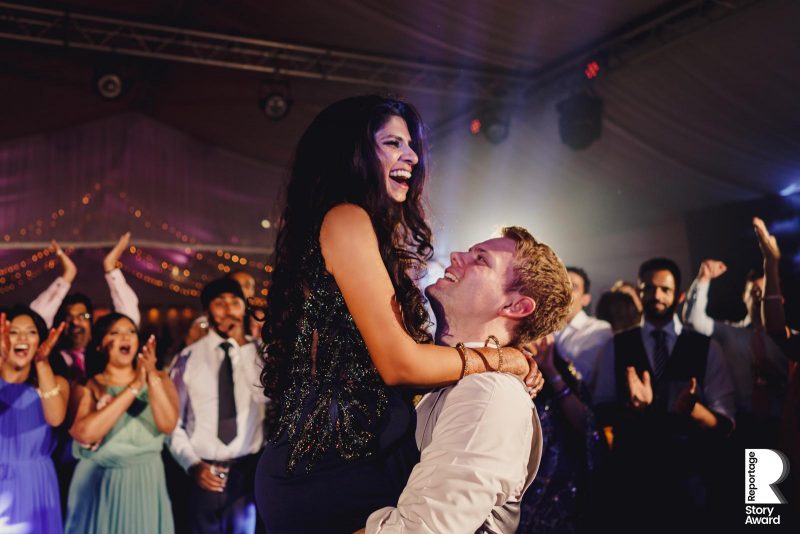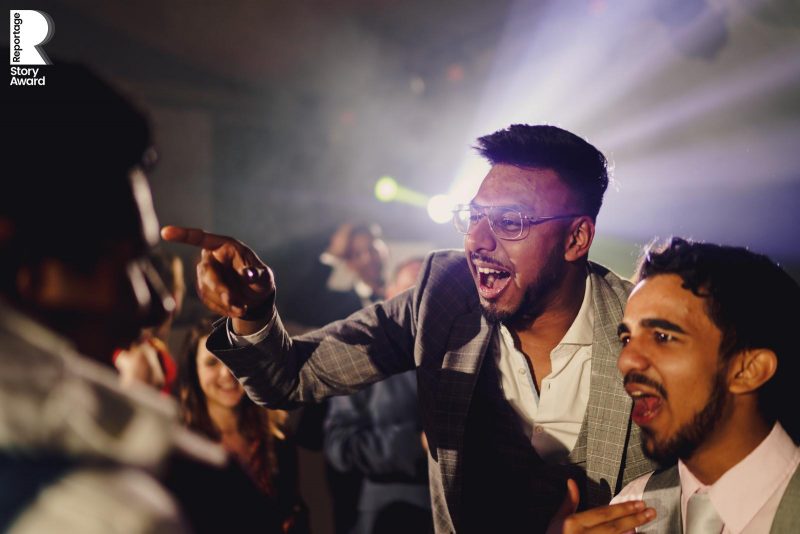 Thanks again to Ash for this brilliant piece! You can see lots more examples of his work on his website, and here on his This is Reportage profile.
If you found this piece useful then make sure you check out the rest of our wedding photography tips – we have almost 120 of these types of articles from our TiR members, all explaining how they captured individual images or entire Stories.
Interested in joining us? Collection 14 deadline is under two weeks away: Submit by 23:59 GMT on 24th March 2020. Members receive 60 Reportage Award and 18 Story Award entries per year, an unlimited number of images show on your profile, and many more benefits. Find out more details and apply to join us over here.