This Is How: 'Umbrellas and Cats' by Shaunte' Dittmar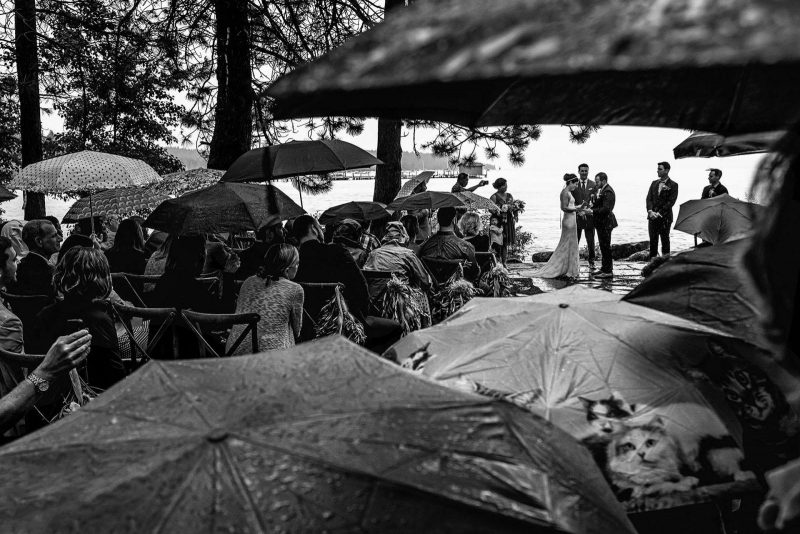 Honoured to have the fantastic Shaunte' Dittmar with us today (who was one of our judges for Collection Four), as she explains all about her thought process and how she captured this striking image. Great insights on composition, the benefits of having a second shooter, the important of making a connection with her couple, editing and more…thanks so much, Shaunte'! 
There are a few reasons as to why I approached the image this way. It is a combination of cleaning up the composition and including certain elements within the image to give it a deeper meaning.
I always have a second photographer with me on the wedding day. This allows me to be free from the safe photos and gives me the freedom to allow from more creative compositions. In this case, while my second photographer posted up in the middle of the isle mid-ceremony I was wandering in the back waiting for something to grab at me to take an overall view of the ceremony to give a sense of place and atmosphere for this couple's wedding. This wedding was mid-June and though I warn my couples to always have back up plan for their wedding in Lake Tahoe because the weather is so unpredictable, they, unfortunately, did not have one. Fortunately for the photos, however, this really created an interesting scene with the umbrellas.
Before explaining that the cats on the umbrella were what initially caught my eye and where I started my composition from, you should know that the bride and I connected initially over the subject of cats when they first hired me. They own one and so do I and many jokes were passed back and forth about cats prior to their wedding. So needless to say cats were important to them. When I spotted the cat umbrella I knew it had to be in the photo for personal reasons to the couple and because it added some character to an otherwise drabby scene. The next thing I knew was that I needed to eliminate as much white sky as possible. White sky personally is a huge pet peeve for me. Your eyes are immediately drawn to the brightest part of the photo so I knew I had to surround the couple with it but also get rid of it as much as possible. Sometimes an open white sky can add to a photo but in this case, it was a distraction.
I made a few small moves to get the composition and frame the couple within the umbrellas while also including the cats. As far as choosing black and white over a color image, I instinctively saw this as a black and white while taking it. Given the weather and the fact that the color was not enhancing the image but in fact taking away from it, I knew the choice to have it as a black and white worked best.
Thanks so much to Shaunte' for this piece; you can see more of her work on her website, and here on her TiR profile.
Our members have created and shared lots more wedding photography tips, too; can't recommend reading them enough – a real goldmine of documentary wedding photography knowledge!
Join our worldwide community here at This is Reportage and showcase the documentary side of your work. Members receive many benefits, including 60 Reportage Award and 18 Story Award entries per year. Find out all the benefits and apply for membership over here.