This Is How: 'Toast To The Brides, I'm Not Crying You're Crying' by Shauna Benoit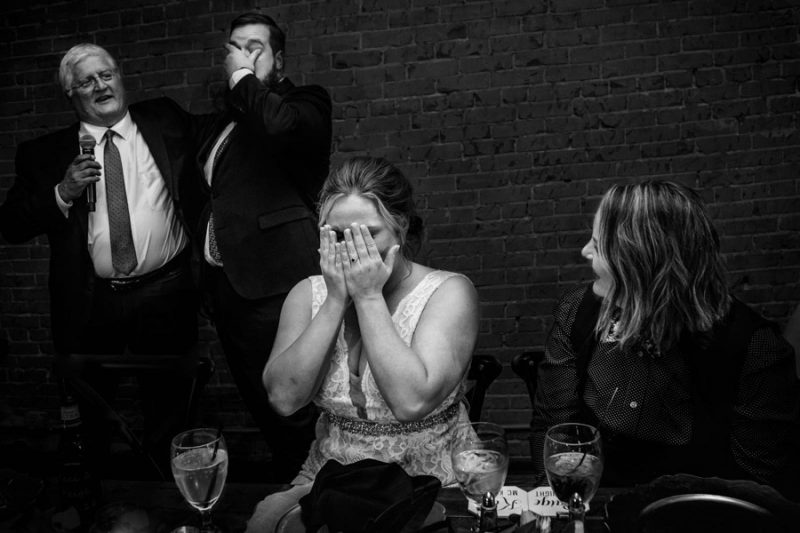 Fantastic to have US-based TiR member Shauna Benoit of K & S Photography on the site today, telling us about this emotional capture of hers. Great tips about pulling back to capture more context, her flash setup and lens choice – thanks a lot, Shauna!
This moment was taken right after the father of the bride in white gave a speech that left everyone in tears. Even the brother of the bride was moved and was brought to tears as well and he went up to embrace their dad as his sister was still crying. Afterwards he went and hugged his sister and new sister in law and they all started crying more.
It was so sweet to see what love a dad has for his daughter and how loving and supportive a close knit family can be. I felt it was important to pull back and show the entire family rather than just the bride to let the broader impact of the moment play out and give context to what was happening.
On the technical side, I used one off camera flash, set to 1/16th power, to the left of the scene, being used to provide some extra depth and dimension to the image, and highlighting the principle subjects more acutely. I shot with 24 mm lens on a canon mark 3. My aperture was 4.5. My shutter speed was 1/160th.
You can see more of Shauna's work on her website, or here on her TiR profile.
Did you enjoy this post? We have lots more 'This is How' posts by our TiR members on the site (over 80 now already, which is amazing, as the site only launched in November) –  see them all over here.
Interested in joining TiR? See all the benefits that membership brings and sign up at this link.