This Is How: 'The Flag Bearers' by Nikola Smernic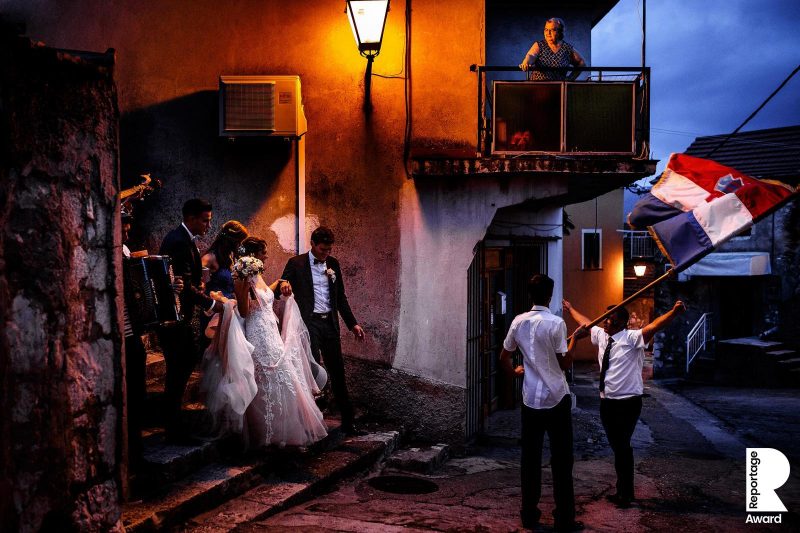 An honour to have the fantastic Nikola Smernic on the TiR blog today to tell us all about how he got this Reportage Award-winning image (in Collection Three). Brilliant insights into the importance of capturing the 'in-between' moments of a wedding day, making the most of light sources, positioning, capturing traditions, as well as lens choice and full settings. Thanks so much, Nikola; an amazing capture and brilliant read!
As a wedding photographer who is mostly interested in photojournalism and looking for all sorts of moments happening at one wedding, I pay attention to those "in-between" moments and parts of weddings as much as I pay attention to those very significant parts and moments of weddings. The reason is simple – sometimes when you think nothing special can happen in those parts (which is a case in many occasions), things still happen and they turn out being very interesting and worth a memory for our couples.
That's basically what was happening on this photo. This was during a traditional Croatian wedding in a small town: church on a hill in which bride and groom had their wedding ceremony. All guests who arrived with their cars parked them underneath that hill in town's central part, and they all needed to walk down there after the ceremony to sit in their cars and drive few kilometres to the reception venue. Croatian flag is the usual part of weddings in Croatia, so the young man carrying it was the first among people, followed by the bride and groom and the rest of wedding guests.
Two of us (myself and my wife who is a second shooter) were descending down the stairs always being in front of them and following what's happening. We reached one of streets at the end of stairs and started taking photos of people descending (with different focal lengths) but staying straight in front of them.
It was that time of the day when natural light was going away so fast, way past sunset, so I saw natural light as slowly becoming an issue. Then I noticed this lady on the balcony who probably heard the noise and the music and wanted to check what's happening from her balcony. Very close to her there was another interesting and helpful element, the street light. I quickly moved on a side and decided to try and shoot from that angle while waiting for people to basically walk in the frame. Second shooter stayed in front taking photos from there.
Luckily flag boy and another guy came down quicker than bride and groom and then turned to the crowd and started cheering which made the frame more interesting and gave it another story, but also left a "room" for bride and groom to nicely walk into the frame. That was it.
When editing it, I noticed a thing I didn't even notice while shooting cause everything was happening too fast: I had that warm yellow-orangey light in one spot and then in the same level only in the corner there was a piece of blue sky getting darker.
My main lens that I use to cover around 75% of a wedding is Sigma Art 35mm 1.4, the rest of a wedding being covered with Canon 85mm 1.2L II, and shooting it all with Canon 5d mkIII and mkIV. This photo was taken back in 2015, so the choice was Canon 5d mkIII and Sigma Art 35mm 1.4.
Settings were following:
f2.2, 1/160, ISO 2500
Although I unfortunately don't have raw file of the photo anymore, I know by my memory that the editing was minimal, done in not more than 5 minutes. The moment itself just offered everything right there on the plate, so all I needed was light adjustments and little bit of burn/dodge.
You can see more of Nikola's work on his website, or his TiR profile.
Our members have produced lots of 'This is How…' posts, taking us behind the scenes of their brilliant documentary captures; be sure to check more of them out over here.
Would you like to join us? See all the benefits that membership brings and sign up.