This Is How: 'The Backflip' by R2Arte Photography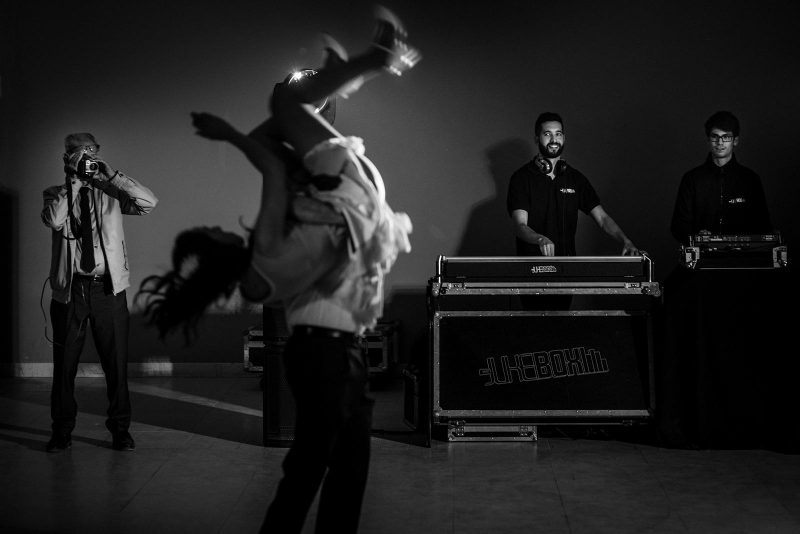 Thrilled to have Portugal-based Ricardo and Rita of R2Arte Photography on the site today, telling us all about how this great first dance capture came about. Great insights into how a duo of photographers can work to capture different angles, and how the fore-knowledge of how the DJ would light the dancefloor enabled them to get this great image…
The first dance is always a tricky 'must-have' shot for any wedding. This moment can be really challenging because everything happens really fast and is the first time we get to know well the dance-floor ambience. In this case, we were already familiar with the venue and also with the DJ team, so we knew that they would use strobes to spotlight the newlyweds while they dance around the room.
As a team, we position ourselves ubiquitously in order to capture different points of view from the same moment and also pursue angles that add context involving the surrounding environment.
As soon as Catarina & Tiago started the astonishing choreography we knew something was about to happen. In a moment of seconds the groom made a move and swung the bride around the air. It was a matter of luck that Catarina's leg blocked the strobe light (preventing a huge backlight), under the amused look of the Dj's and the stillness of the guest filming the whole scene.
This photo was taken at Quinta de Catralvos, Azeitão (Portugal), in September last year. Nikon D750, AF-S NIKKOR 85mm f/1.4, F2.2, 1/125s at ISO 800, no flash.
You can see more of Ricardo and Rita's work on their website, or here on their TiR profile.
Did you find this piece interesting? View lots of other 'This is How…' pieces by our TiR photographers; we can't recommend them enough!