This Is How: 'Secret Moment' by Martin Hecht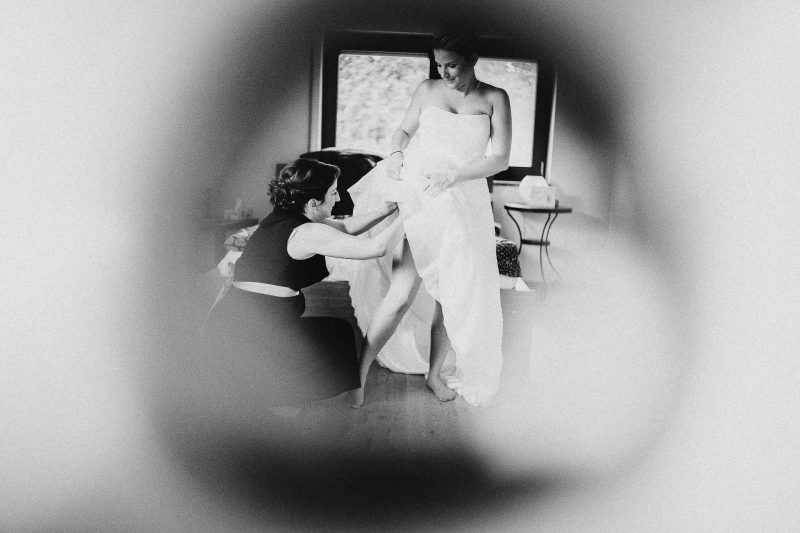 Super to have Martin Hecht with us today, as he takes us behind the scenes of this fab bridal prep capture. Really interesting to hear how his close bond with the bride and her family helped him to get the shot, how the composition came about, and more…thanks, Martin!
This picture was taken at the wedding of Sara and Eugen. I was already allowed to photograph several weddings in this family. Accordingly, we now have a very good and friendly relationship.
Already a few years before this wedding I was allowed to accompany Melina – Sara's sister – to her wedding, and have built up a very close friendly relationship with the whole family over the years. I am always happy when I am allowed to take a picture of a wedding in this area and see all the dear people again.
This photo was taken during Getting Ready by Sara. Melina – Sara's sister – adjusted the dress. To give the two a bit of privacy and so they did not feel so observed, I stayed in an adjoining room. This room (a kind of dressing room) was separated by a sliding glass door. The keyhole of this door was extremely large so I could use it well to take pictures.
In my opinion the picture has a great distance and at least it is very interesting for me. Since I love black and white, I have chosen here also a classic black and white treatment and given the image a slight grain.
The result is a picture of a great moment in which the two felt unobserved and you can literally feel their connectedness. I love such moments at my weddings. Thanks to my couples to have the opportunity to get the Getting Ready photographs.
You can see more of Martin's work on his website, or here on his This is Reportage profile.
We lots more documentary wedding photography tips; over 100 of them so far, with absolutely brilliant insights, guides and advice; can't recommend them enough.
The deadline for our next Awards Collection – Collection Seven – is just over a couple of weeks away: 23:59 GMT on 24th January 2019. Become a member and receive 10 Reportage Award entries and 3 Story Award entries per Collection, for a total of 60 Reportage Award and 18 Story Award entries per year, all included in our membership fee. Our photographers also receive lots of other benefits, including their own profile on the site with an unlimited number of images/Stories, exclusive deals/discounts on wedding photography-related products/services, frequent opportunities for extra exposure on our site and social media channels, and much more…