This Is How: 'Peckish' by Tim Millen of This Modern Love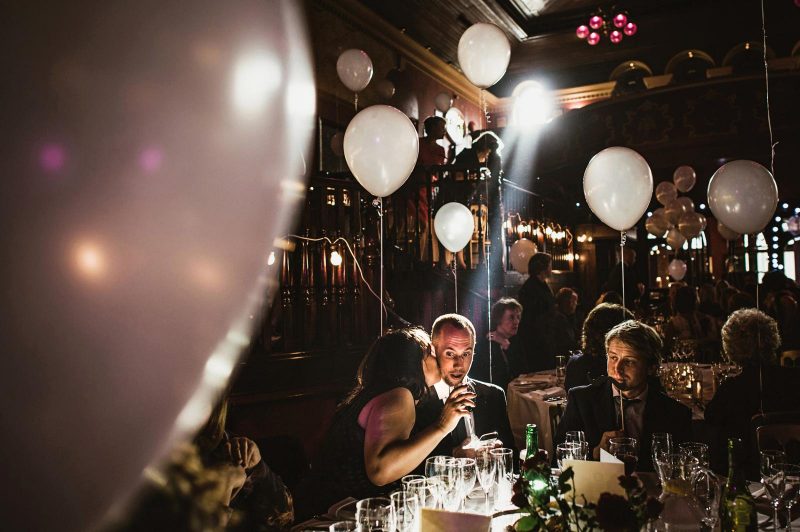 A real pleasure to have the fab Tim Millen of This Modern Love on the site today, as he tells us all about this great capture of his – superb tips on light, patience, composition and more. Really great insights on what Tim calls 'fortune favours the prepared' too – such a great quote, and so true!
This was one of those rare photographs that arrived like a gift in a literal sunbeam.
In an old music hall in Belfast, the wedding guests had just found their seats for dinner. There are often opportunities in these moments for the photographer, as people settle into new surroundings and neighbours. "Who am I sitting beside? What's for dinner? Yes I'll have the wine… Oh look a moustache on a stick."
I take tens of thousands of photographs every year, but for some reason I have a clear memory of taking this one. Probably because I witnessed the clouds part from inside a dark room. First there was the sunbeam – a rare gift in Belfast. It poured through a small window into the dark hall and lit up just one table. 'Go where the light is,' they say, so I went there.
David Hurn says only two things matter, "where to stand and when to release the shutter". He also talks about 'the pregnant moment – potentially interesting moments that might give birth to a picture'. So I had the sunbeam lighting two people in a balloon-filled room. I knew where to stand and wait, I just needed something to happen.
I decided to keep one of the nearest balloons in the foreground. It slightly hid me from the, as yet unsuspecting, heroes of my frame. I liked the repetition of the balloon shapes through the space and the sense of 'sneaking a peak' that a close foreground object can lend. I waited and adjusted the composition over a few frames.
Usually at this point nothing happens. Even with light beams in balloon-filled rooms. Week after week we wait by the good light or the crazy kids or the leaning wedding cake and nothing happens. There's so much luck involved in a good picture and so much outside of your control. But fortune favours the prepared, and all you can do is keep showing up at these moments, and somehow develop an instinct to spot them in the first place.
A stolen kiss, a look of surprise, click. Only later did I notice the other guy on the right looking a little left out and that makes it so much better for me. Luck and chance. And sore knees.
This is probably one of the oldest images in my portfolio but still one of my favourites.
You can see more of Tim's work on his website, or here on his TiR profile.
If you enjoyed reading this behind the scenes feature, then you'll love our other 'This is How…' pieces over here.