This Is How: 'PARTAYYYYY' by John Steel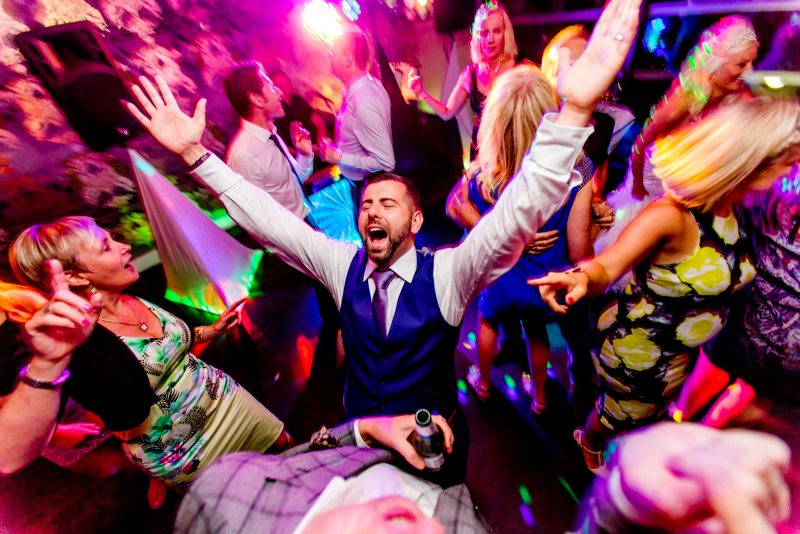 A little milestone for us today: As the fab John Steel shares all about how he captured this image (which is super apt for New Year's Eve), we also celebrate our 100th 'This is How' piece! We can't thank our TiR photographers enough for sharing so much of their expertise and knowledge throughout this year; 100 different images and Stories all explained exactly how they were captured, with such amazing advice and tips from world-renowned photographers; just amazing!
Today's piece is no exception, with John including lots of supporting images, as well as his Lightroom screenshot of his exact edit. Super tips on capturing the energy of the dancefloor, his exact flash setup(s), assessing each different situation, getting up close, composition and more…thanks so much, John!
Probably my favourite part of any wedding is PARTY time! It's the time when I can just relax. All the other days events are done and hopefully nailed and now its time to just photograph drunk guests dancing.
I offer unlimited coverage at my weddings, so I do get to see lots of dancing and drunken folk.
Set up
When it comes to this time, I never have a set plan. I don't have a go to lighting set up that I use every time. Instead I try to work out what is best for the venue and what lighting the DJ is using and devise a plan from there. To be honest by this time of the day I just like to play so if I know I'm getting good pictures I will just mess about and see what is working on the night.
Dancing
The pictures were taken about 10:30pm which is prime dancing time. The buffet had been eaten, the fireworks had taken place, lots of alcohol had been consumed so the only thing left to do is to dance. The DJ had used his 2 dancefloor fillers of "Sex on Fire" followed by "Mr Brightside" and the dancing was going off (sort of)
I try to keep things as easy and less complex as possible and I don't just set flashes up for the sake of it to make me look fancy, so I decided to just bounce on camera flash. The ceiling was low, and I'd measured for the ambient, so I could still have plenty of atmosphere in the room. When Bouncing I use my flash on manual, I start off at 1/64th and go from there. Sometimes I zoom my flash but for this picture I think I just kept it at 24mm.
Here's a couple of others which helped me determine my settings for the final image: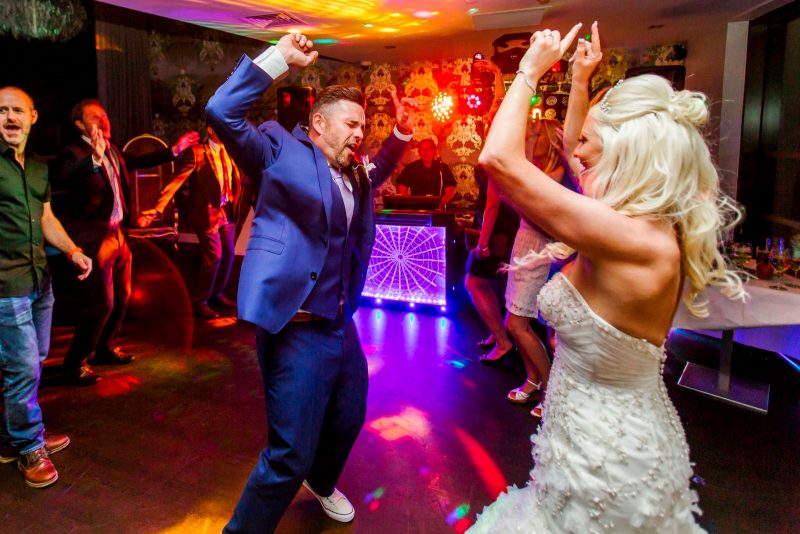 Canon 5Dmarkiii
Canon 16-35mm – at 16mm
1/40th sec
f/3.2
ISO 1000
As you can see in this picture the DJ had invested in pretty much every lighting gadget from psychedelic booth to them annoying spot light things that every photographer loves.
Here's a few more examples of having fun with the DJ's lights.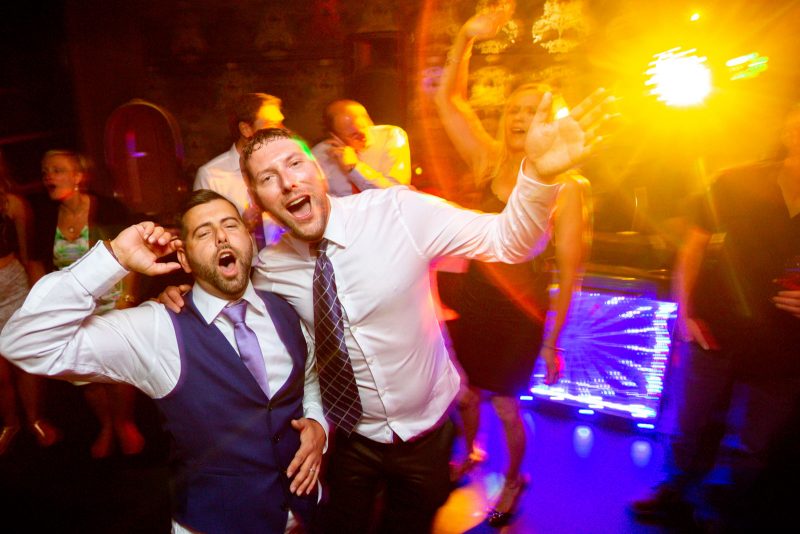 He had two of these big bright spotlight things which just kept on moving about. Every shot I was taking had these things in them and obviously your eyes go straight to the brightest part of the frame. I nearly resorted to changing to a 24mm or 35mm lens, but I decided to stick to the trusty 16mm.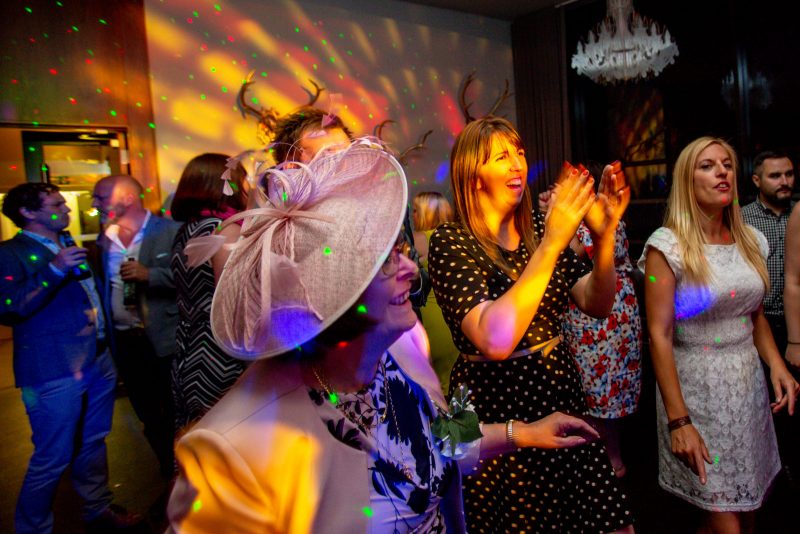 The DJ also had them little coloured spot light things that every photographer appreciates, and I knew a lot of the shots I was taking were going to be unusable because of these little (buggers)!
To make things more exciting for me, there were areas of the room which were pretty dark (I nearly resorted to setting up an OCF) but instead just changed my settings (here's an example)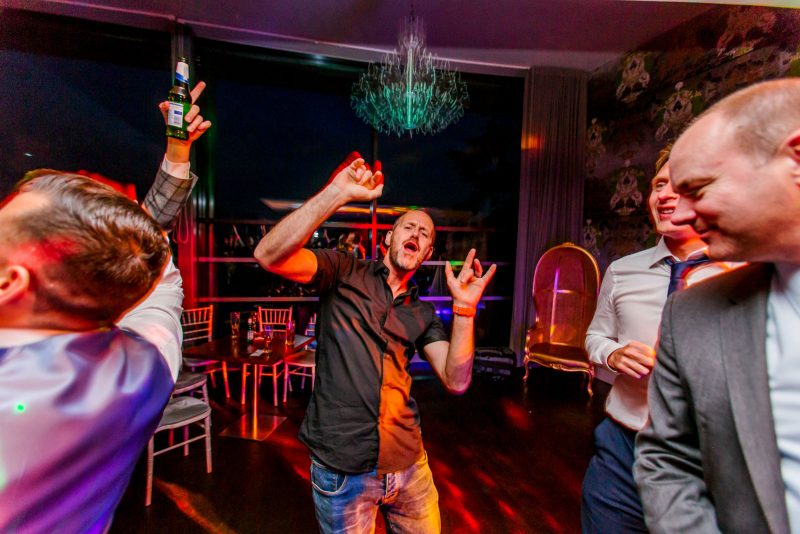 This time I slowed the shutter down to 1/30th sec and increased to ISO 2000 which compensated for the darkness and still plenty of ambient.
The final shot
Now that I knew that the settings were right or very near (I always shoot on manual) I could spend a little time to look for a moment. The dance floor was filling up. I'd been at the wedding all day and had worked out the personalities of the guests so as soon as I saw the groom's brother (who'd done a fab best mans speech including quiz with a gameshow spinning wheel) so I knew he wasn't the shy type I knew he was the man I should be waiting for. Because of the DJ's wonderful lights, I'd now concluded that if I shot down (I'm 6ft2) on the dancing with a 16mm lens still bouncing the flash I could eliminate most of them. It was just a matter of waiting out. I saw my subject getting into the song and now I had to just wait for the chorus. As soon as the chorus started, he waved his arms in the air, I shot 3 frames and I had got the shot!
Post processing
I'm a great believer in getting everything right in camera so here's the RAW: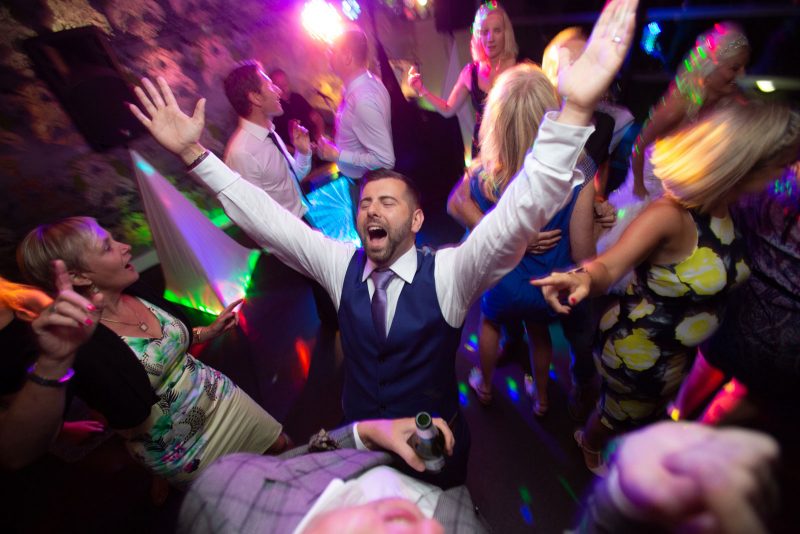 1/30th
F2.8
ISO 2000
16mm
As you can see the RAW is pretty good so all I did was to bring the blacks down, add a tiny bit of shadow and a little increase in the whites: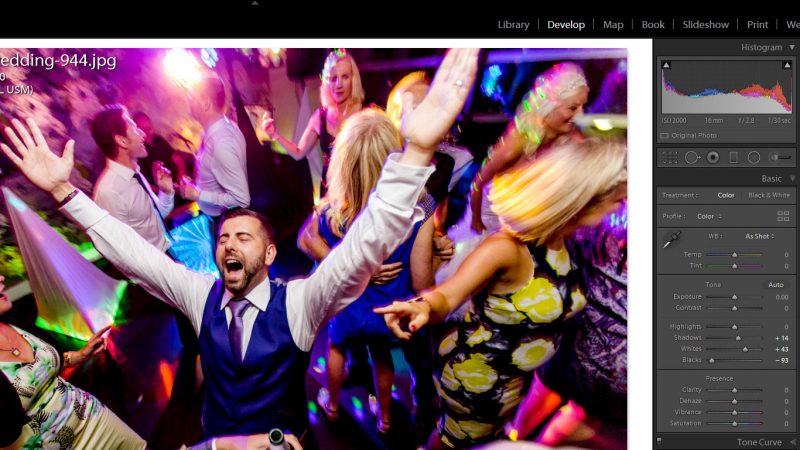 You can see more of John's work over on his website, or here on his This is Reportage profile.
As mentioned at the top, John's piece is our 100th 'This is How' article by our TiR members. Read all of the others over here.
Would you like to join us? Members receive lots of benefits, including 60 Reportage Award and 18 Story Award entries per year, your own profile with an unlimited number of images/Stories, access to our members-only Facebook group, invites to physical meetups, exclusive deals and discounts on wedding photography-related products/services, and more…