This Is How: 'Mother, Daughter and Grandmother' by Simone Miglietta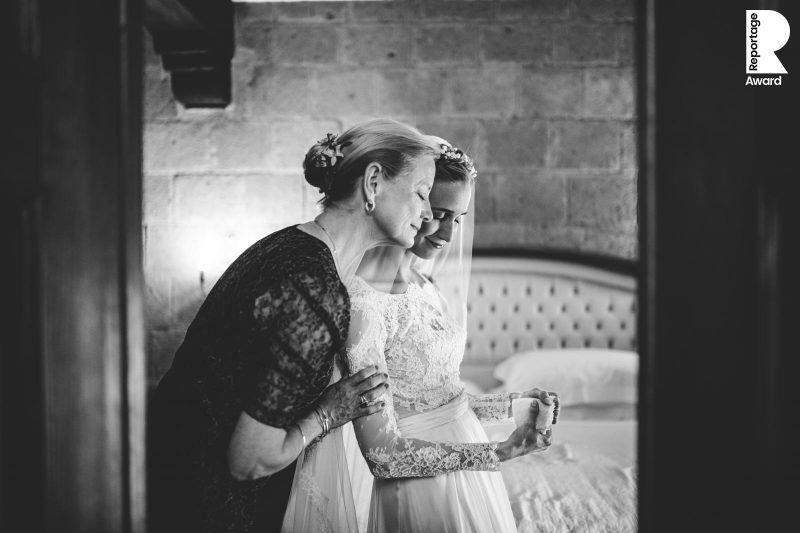 Really great to have Simone Miglietta on the site today, telling us all about how he captured this emotional image, which earned him a Reportage Award back in Collection Six. Really interesting to hear his thoughts about empathy, respect, composition, why he edited it in black and white, and more…thanks a lot, Simone!
To be always empathic on the wedding day is very important for me. It's the most important day of their life for the couple and the stress is high. You know, sometimes things happen, intimate and full of emotional moments. We should respect them. We should be human first of all.
We have to know how and when to take a picture in the right and as gentle way as we can. Sometimes, we see an amazing picture for us, but our click can be a bit much in that moment. It's better to put away the camera and take the picture only in our mind. First of all, the respect.
I photographed this wedding in Italy. The bride come from Denmark and she was very anxious. She wanted everything to be like a fairy tale. It was her dream. The bride was getting ready in a suite divided in two parts, one a little living and one the bedroom. I left the rooms to let the bride put on her dress and then I opened the doors that divided the suite.
When I opened the door, I saw the bride under a perfect light. The bride's mama came up with something in the hands to the bride. I immediately understood that the bride's mama wanted to give her something. I kept still, I didn't want to get close to risk intimidating them.
With my 35mm the distance was perfect, the open door framed the subjects and that lovely moment. The frame looked great!
Just one click. Nobody saw me. It was a really emotional moment.
What was that? A little wedding handkerchief of grandmother's bride. A tradition of this family.
Why this picture is black and white? Because I imagined the scene in black and white. I think the colour would have distracted the reader from the meaning and the emotion of the moment. The bride loved this shot because her grandmother was present; for her the subject was three: Bride, Mother, and Grandmother. And this picture has become the representative picture of this wedding.
Empathy is very important for a wedding photographer.
View lots more of Simone's work on his website, or here on his This is Reportage profile.
We also have lots more wedding photography tips and guides.
Interested in joining us here at TiR? We're all about focusing on the documentary-side of what we do; showing the world how important – and skilful – reportage wedding photography really is. Apply for membership and get your own profile on the site with the ability to display an unlimited number of images/Stories, 60 Reportage Award entries and 18 Story Award entries (for a series of images from a single wedding) per year, and much more…