This Is How: 'More Time, More Moments' by Indra Simons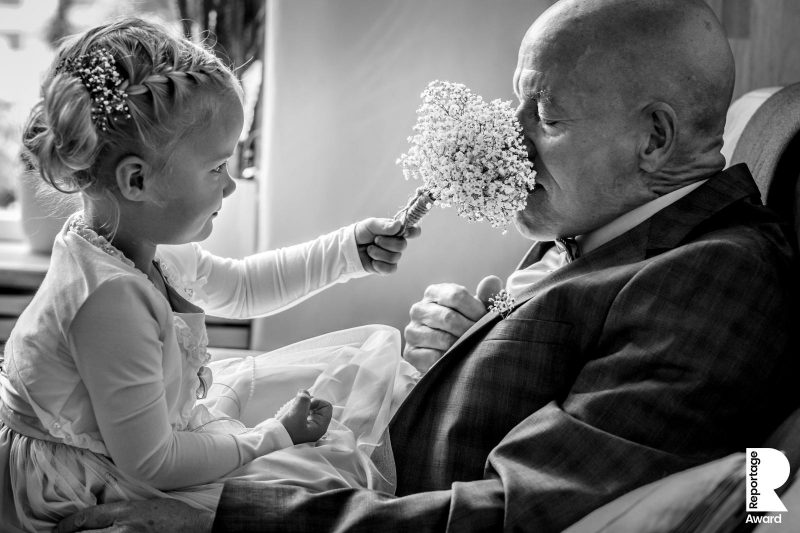 Excited to have the brilliant Netherlands-based photographer Indra Simons on the site today, as she tells us all about how she activated her 'special cloaking mode' to get this recent Reportage Award! Superb advice to not only other photographers, but also brides and grooms – a fantastic piece, thanks so much Indra!
I always love it when I get plenty of time to shoot wedding preparations. It's not often I get to hang with everybody for more than an hour during prep time. In this case, I did. Actually there was a little too much time reserved for having lunch together before heading to the ceremony.
But since I was in the same room with the bride and groom and their most important guests for quite a while, I became more and more 'part of the furniture' (or better: part of the family, because I do talk to people when I sit next to them). I was not so much 'the photographer' anymore and was able to just sit back, watch, and capture all the little moments up close.
So when granddad called his grandchild to come and show her little bouquet, I was ready to dive into the action with my Canon 5dIV, 35 mm attached, and position myself right in front of them without being noticed.
Special cloaking mode activated.
I then had the opportunity to shoot through the moment. Get close, and even closer, adjust the shutter speed to compensate for the backlight from the window, improve the composition with every next frame so at least granddad was against a clear background, both their faces are visible, and be ready for a good moment.
So my heartfelt advice to brides and grooms:
Allow your 'this is reportage' photographer to be there with you as long as possible. Only then will he or she become 'invisible' to everybody, and be able to capture these little moments up close. Exactly those are the meaningful pictures that allow you to look back on your wedding day and get goosebumps, tear up, or just can't help smiling over and over again.
You can see more of Indra's work on her website, or here on her TiR profile.
If you enjoyed this piece then you'll love the many more 'This is How…' pieces by our This is Reportage members.
Would you like to be a member of a worldwide community that's all about showcasing and celebrating the art of documentary wedding photography? Head over here to see all the benefits of a This is Reportage membership.