This Is How: 'Molly in the Making' by Lauren Brimhall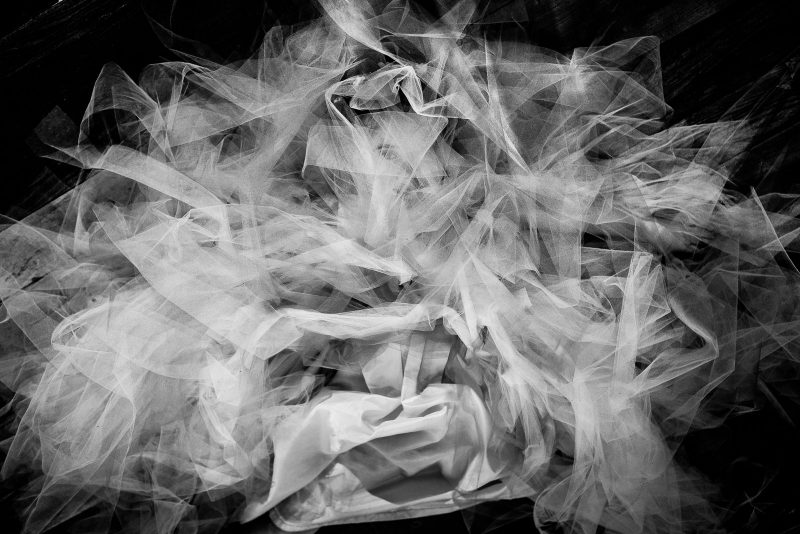 A real pleasure to have the fantastic Lauren Brimhall with us today, as she takes us behind the scenes of this striking capture. This is such an interesting and in-depth 'This is How…' article, with so many insightful nuggets; including tips about intuition, pre-visualisation, and hugely important lessons about determination and perseverance, in order to capture the best moments possible for our couples. Lauren also includes lots of supporting images, and shares some great insights into documentary wedding photography in general. Thanks so much, Lauren!
A large part of being able to capture moments well is being able to predict them happening. Sometimes, on a lucky day, our predictions come true, while during others we wait and wait and the moment just never unfolds the way we wished it would. There are times when I feel that it takes all of my self restraint to not just take the reigns and start directing my clients into the possible amazing moment that I foresaw happening in my mind, but I do. I restrain myself because no matter what anyone tries to tell me: 1.) That's NOT journalism, and 2.) That moment will never look as good in a directed version as it would if it happened naturally in real life.
In the case of "the flower girl dress," from the minute one of the bridesmaids pulled this HUGE pink dress out of the bag, I immediately knew there was going to be some sort of amazing shot with it somewhere over the course of this wedding day… but would I be on point to capture it? What exactly this super-cool shot was going to look like was also a mystery to me. Generally speaking, I find that life is more creative than I will ever be, so there was nothing to do but to stay on top of this kid for the next ten hours and pray for that special moment to happen.
You can see during getting ready, I was keeping my eye out for images that just might do this dress and the young girl justice but there wasn't much there. Then, when we got off the bus, I saw a gust of wind start blowing the dress all around her and engulfing her. The shot that I wanted started to form in my head and I had a couple nice captures that I felt were "almost but not quite." I stayed committed, because the girl whose name is Molly by the way, is the bride's daughter, and so I felt this was an important shot to get that would make my client very happy.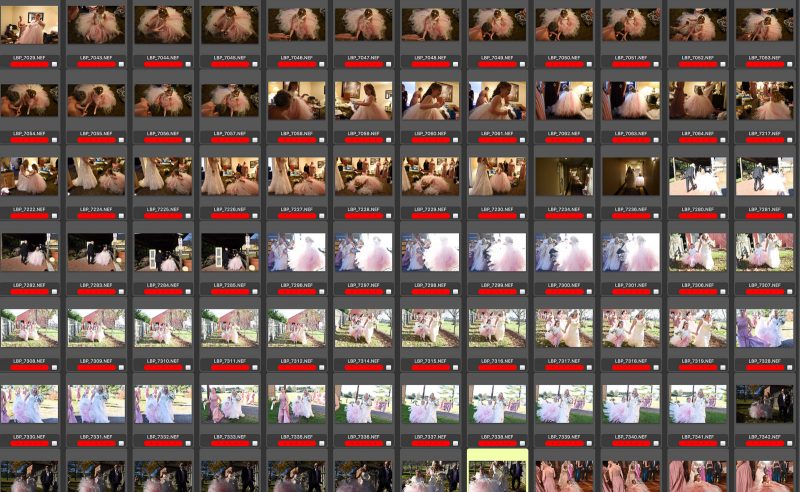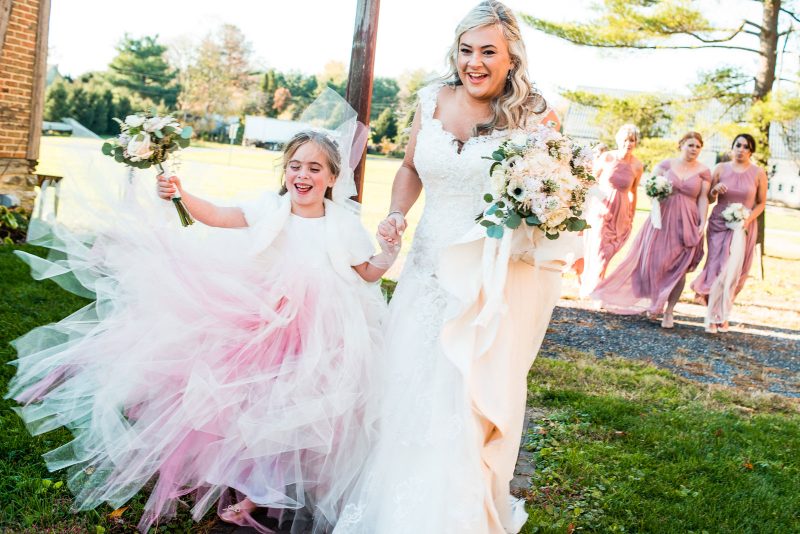 During the reception, I started to see the dress-shot potential unfolding yet again. Molly turned out to be a wild child on the dance floor and in the midst of her fun she was getting swallowed up by this huge dress once again. The dress was being torn as she was being dragged, tossed, rolled, and occasionally dance-floor road kill. There were a million ways I could have photographed all of this, standing over her, under her, on eye level with her, from the front end, from the dress end, with her face or without it, and I tried A LOT of them…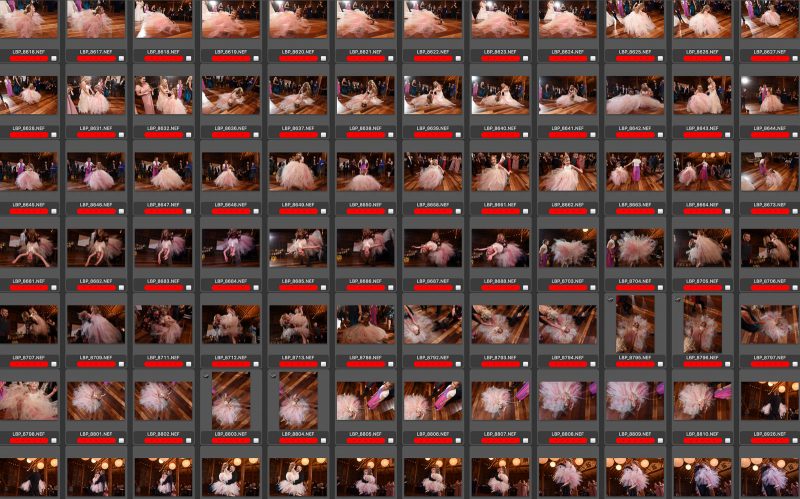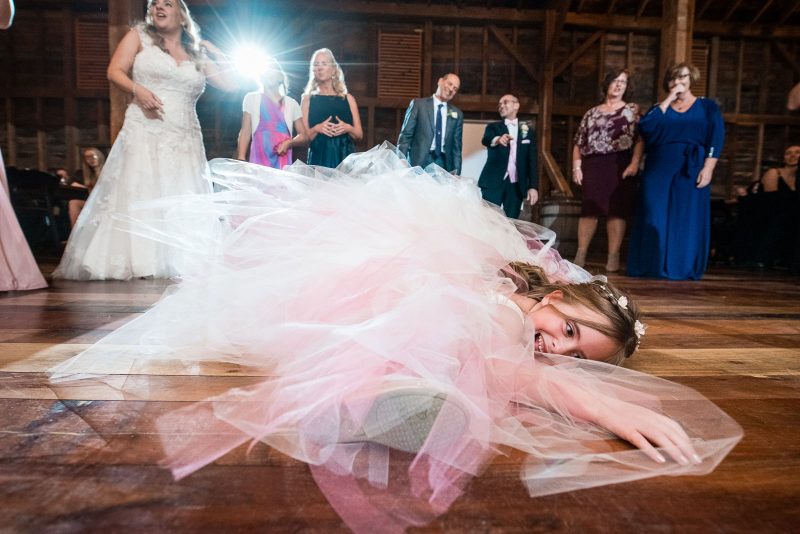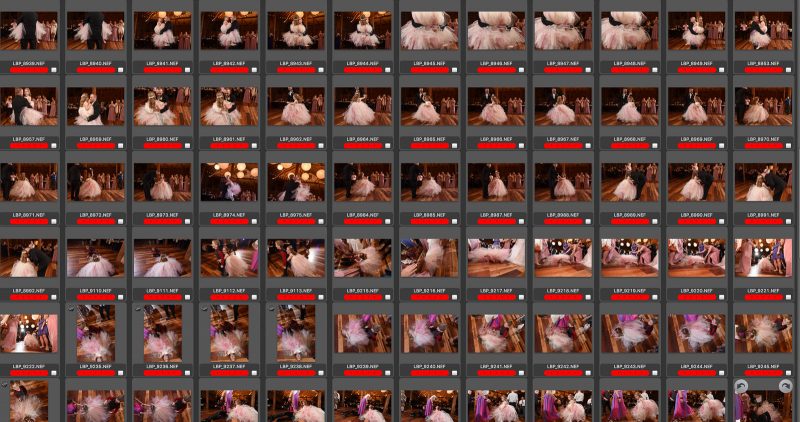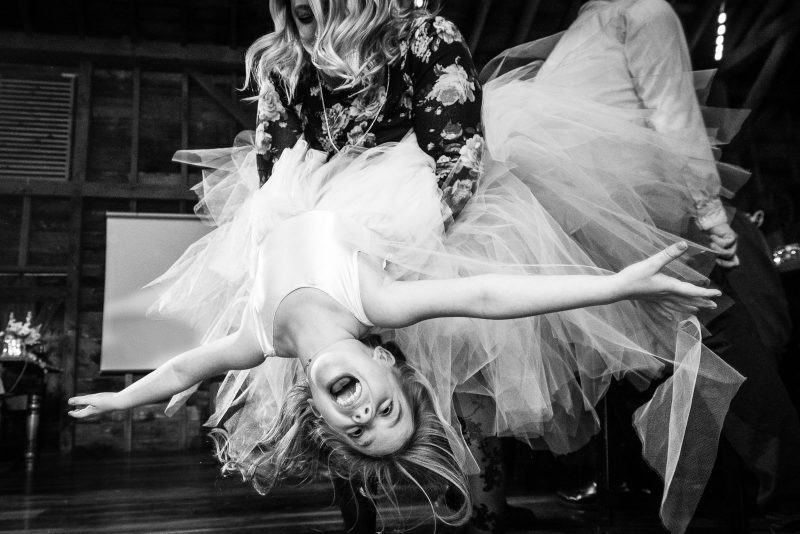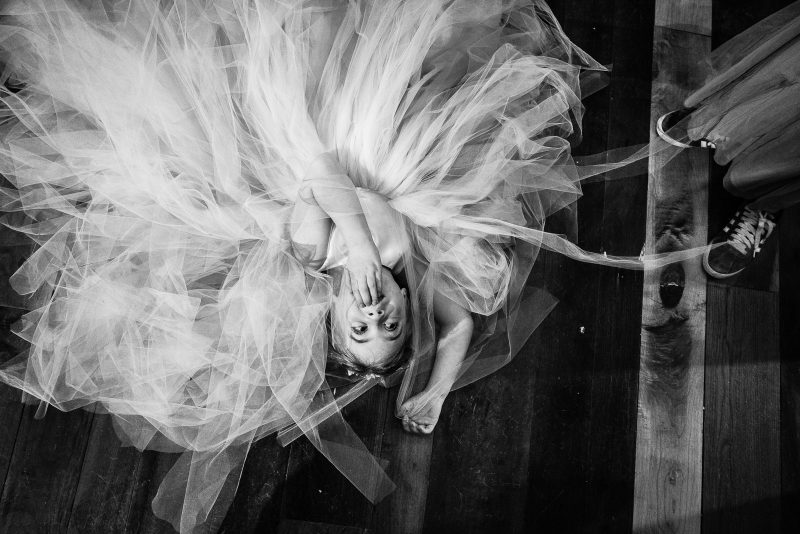 I even got a bunch more "almost shots," but one of my favorite theories in photographing is that no matter how good a shot is, it can always be better. So, I kept with it.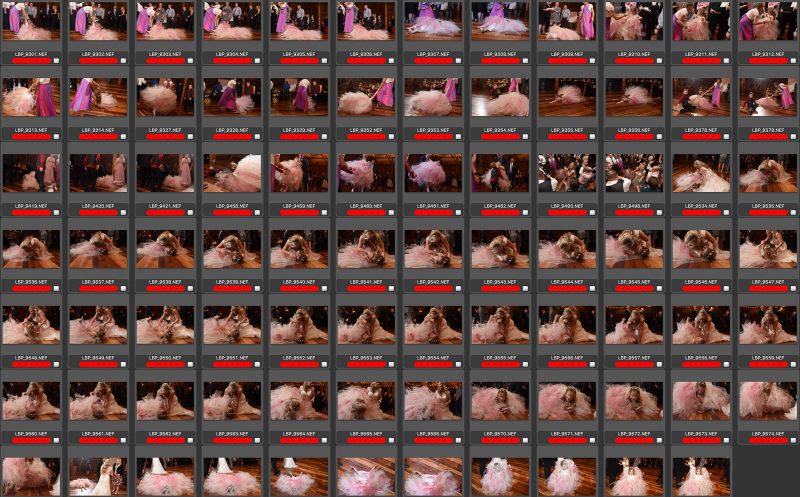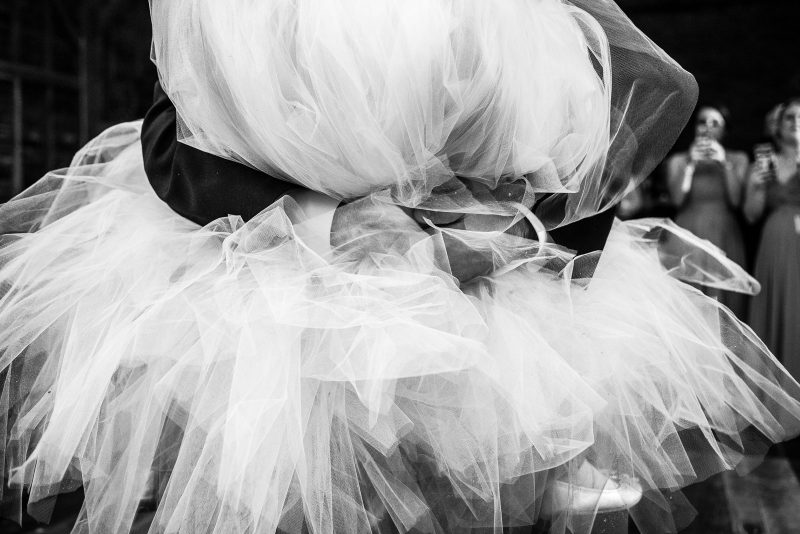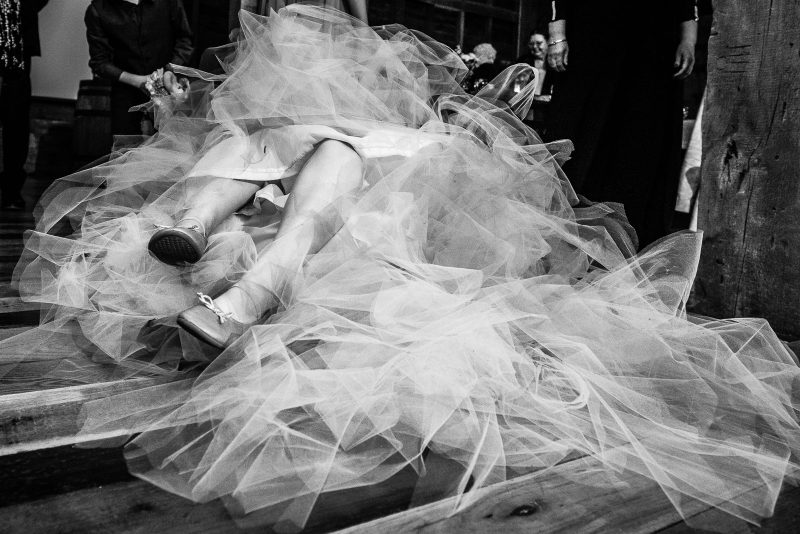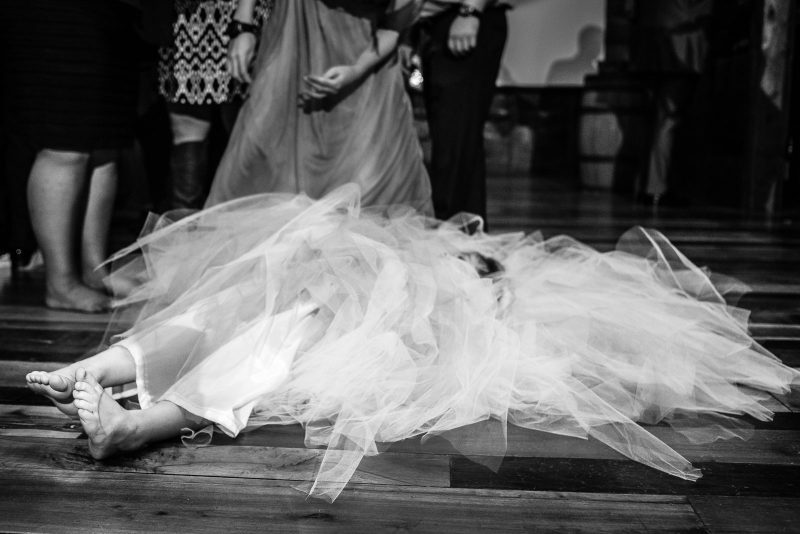 Now, before I go any further, I should point out that I DID have an extremely reliable and talented second shooter in my husband, Sean, and he was specifically tasked with taking great dance photos of everyone on the floor EXCEPT Molly (we knew I had her covered, haha). I also was forced to ignore her at times and double up on my own guest dance shots to ensure we did not neglect to get these other important photos for my client. I simply cannot advise strongly enough that no one EVER try something like this without a reliable second photographer. But yeah, here is a shot where I am ignoring Molly and my pursuit of the shot because I needed to capture an important moment with the couple.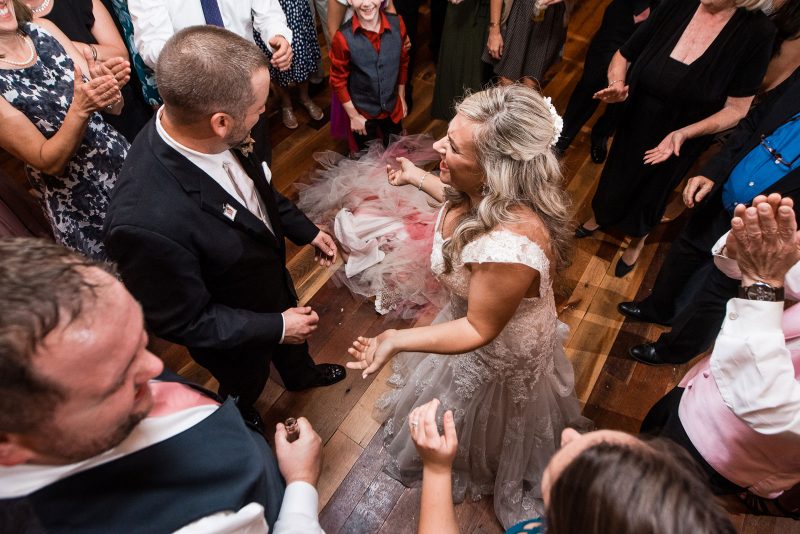 For a few weeks after the wedding I was convinced I had left it with a lot of great shots, but not THE SHOT. That's life, right? You win some, and you lose some. BUT, then I went back through and culled the photos carefully for the client's gallery and low and behold, there it was. I hadn't noticed it at first, because in the moment I took it I didn't know you could see her face glancing back up at me through the tulle. It was one of the last five frames of the night and among the last five shots I took of her… sheer persistence.
Looking at this photo now, I'm still so taken aback that her expression was so serene, even haunting, in that moment of what could only be described as playful chaos. The sprawling of the dress – so random and abstract, and I LOVED the way her eye was so perfectly centered in that one rectangular piece of tulle. The shadows where the tulle is thin to reveal the dark wood floor beneath also draw my attention to where she is hidden and I knew I could never have planned this image more perfectly if I had tried.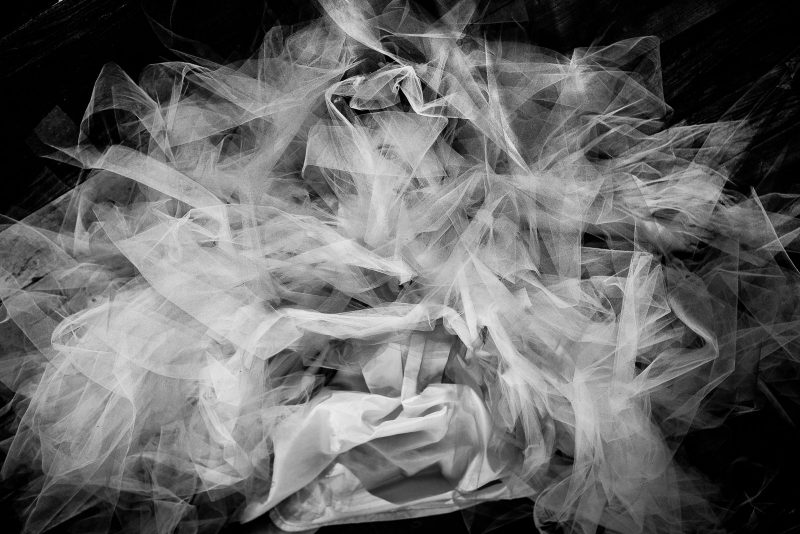 So there it is … after all that. Totally Candid, and totally Molly. I only hope this photo does her beautiful and playful spirit the justice it deserves!
Thanks so much to Lauren for such a fascinating piece! You can see more of Lauren's work over on her website, or here on her This is Reportage profile.
We have lots more wedding photography tips by our TiR members; a veritable treasure-chest of tips and advice from world-class photographers all over the world.
Would you like to join us? We're all about featuring the very best of documentary wedding photography; showing the world how moments really matter most. Members receive lots of benefits, including 60 Reportage Award and 18 Story Award entries per year, your own profile with an unlimited number of images/Stories, and much more…