This Is How: 'Keep Shooting' by Geertje Vierhout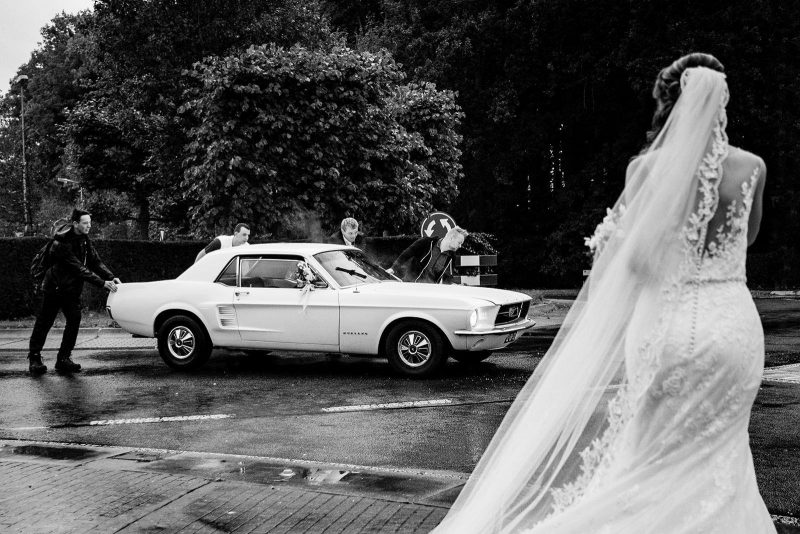 Delighted to have TiR member Geertje Vierhout on the site today, as she tells us all about how she captured this unique image! Such an important and strong theme that Geertje details in this piece; a tip that is truly universal – and we find out exactly why below…Thanks, Geertje!
Keep shooting….
It was one of the things I learned at the Two Mann workshop that I joined earlier this year in Italy.
Keep shooting.
Always.
Of course I also shot a lot before I joined this workshop. But these words of Erica and Lanny I have set in my mind on every wedding day since then. And this picture is a result of that 'mantra'.
We just left the house of the bride. They hired a nice old car, and I followed them. From the moment they drove away there was smoke under and behind the car. At one moment I couldn't see anything myself anymore because of all the smoke! But they kept driving as if it was normal, and I just followed. When we came at a roundabout the car suddenly stopped. At that moment it also started raining. The bride and groom both jumped out of the car, because of the smoke. Later the bride told me she was afraid the car would explode. Of course I stopped immediately too.
Then there were three things I could do:
1. Stay safe and dry in my comfortable car.
2. Go out of the car, and help them to get the car out of the way. But I'm not that strong (;)) and some passersby were already coming to help.
3. Keep shooting. Jump out of my car, get totally wet, but keep shooting.
Of course the last option was what I did. It was a moment of their wedding day they always would remember. Not because it was very emotional, or very intimate. But it was part of their wedding day, and although it was raining, and they had a delay on their wedding day, they had fun after the first frightening moments. They were just laughing in the rain because of this car trouble.
So I grabbed my camera from the seat next to me and jumped out of the car. (I even left my own car half on the road, half on the roadside, almost nobody could pass…) The groom, the videographer and two passersby pushed the car from the roundabout, and the bride called the car rental company for help. This is the picture I made from that moment. When the bride saw me with my camera she cheered, and although I think that picture is nice too, I prefer the first one, where everybody is busy, and they are not noticing me at all.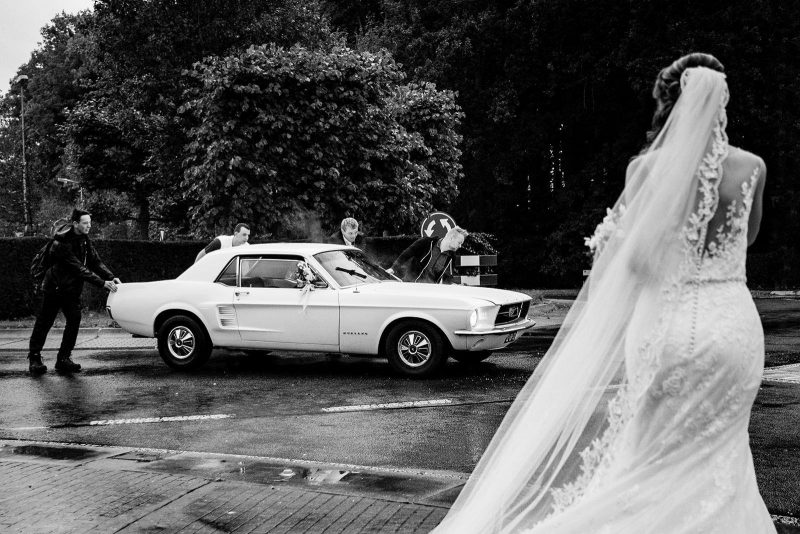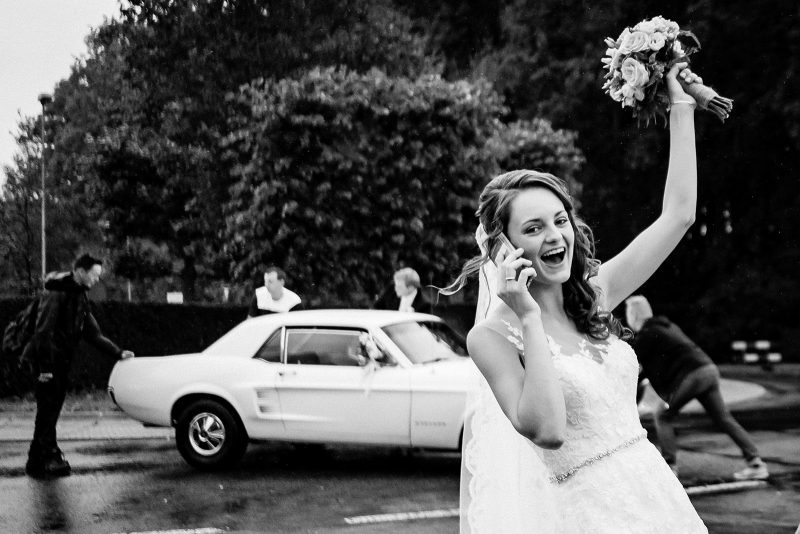 When the car was put aside, (and I also had mine parked more safely) we all stepped in my car to get dry and warm and wait for the mechanic. (It turned out to be a lack of coolant btw)
The rest of their day was beautiful and full of love and emotions. (I just added a story from this day to my profile) I took several better and more informant pictures. But 'the-car-thing' was something they told several times to all guests during the rest of the day. I'm glad I took these pictures because it's part of their story.
You can view lots more of Geertje's work on her website, and here on her This is Reportage profile (where photographers can display an unlimited number of images/Stories).
Enjoyed this piece? We have lots more wedding photography tips and guides.
Would you like to join us here at This is Reportage? We're all about showcasing the things that truly matter: Real moments; the art and skill of documentary wedding photography. You may still do some portraits or groups with your couples – and that's absolutely fine – what we're doing here at TiR is showcasing the documentary-side of your work. Members receive a whole host of benefits, such as 60 Reportage Award and 18 Story Award entries per year, your own profile with an unlimited number of images, access to our private Facebook members-only group, invites to physical parties/meetups, and much more…