This Is How: 'Keep An Eye On The Horse' by Michele Morea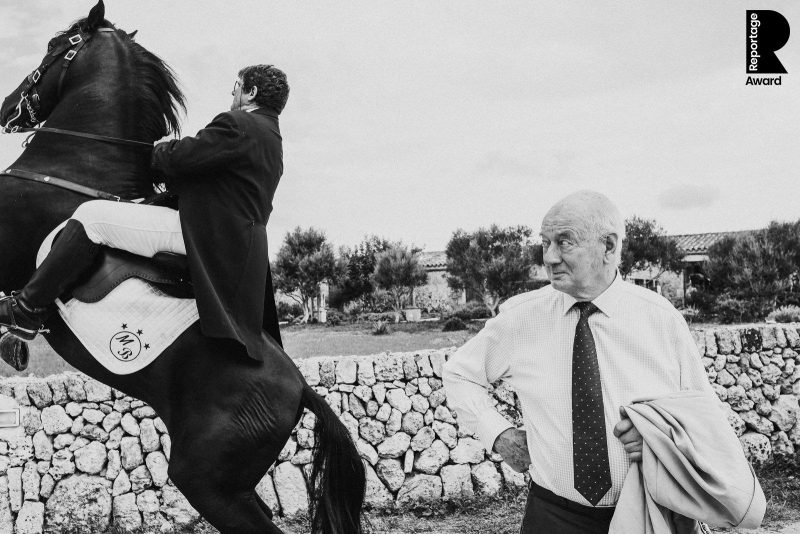 Honoured to have a brand new 'This is How…' piece on the site today, as Michele Morea tells us about how he captured this recent Reportage Award-winning image. Really interesting thoughts on layering, composition, pre-visualisation, and documentary wedding photography in general – a great read!
"Even a trained orangutan with a decent wide angle could not fail to take a decent photograph of such an emotionally charged situation. Photography like all the plastic arts has rules. A good photograph needs to be: "a properly framed picture", combining the emotion and a proper composition". – Elliott Erwitt
I will describe the circumstances and also take the opportunity to take a look at the journey that led me to the making of this photograph (above).
It was taken during an English wedding in Menorca last summer where is tradition to greet the bridal party and the rest of the guests with horses. I was trying to get a good photo of the scene, doing some 'layering' (see examples below)…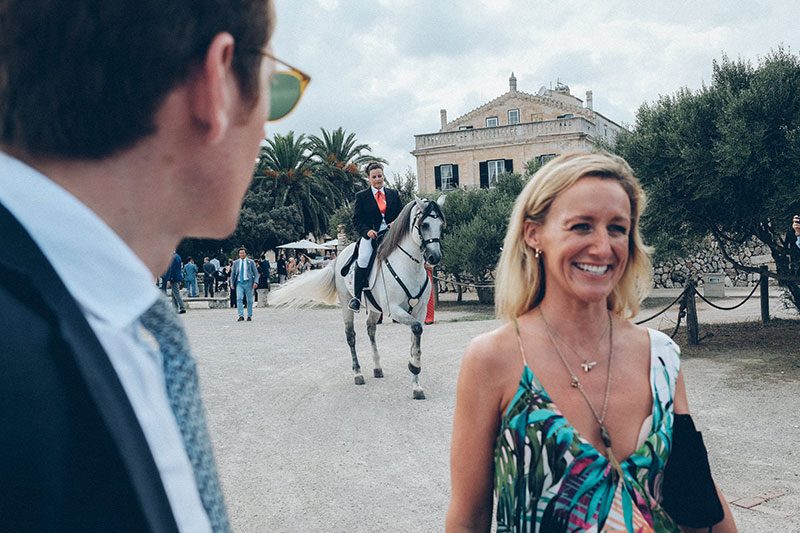 …when a horse very close to me started jumping, I began looking for something more specific, a reaction from one of the guests at the horse jumping wildly in the same frame: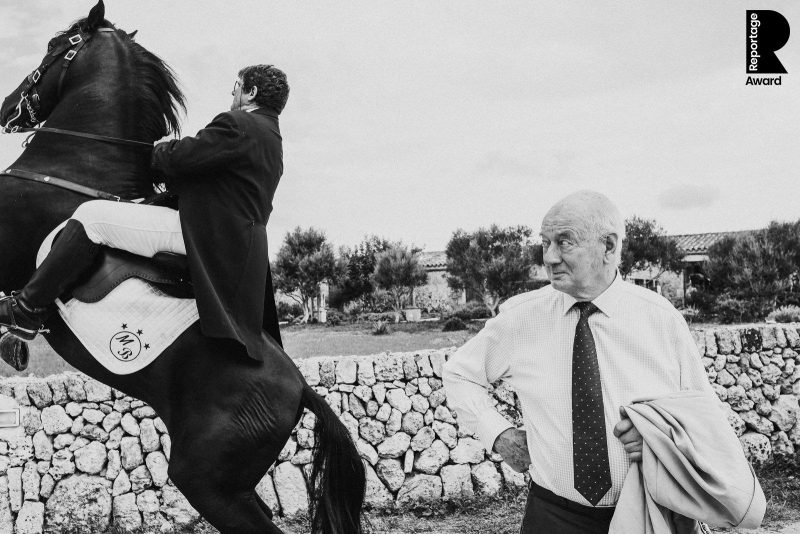 What I like about the photograph is the composure of the guest's reaction, he didn't flinch, he just kept a very attentive eye at it. I found the calm reaction to be very pertinent of an English man. The image was taken using a 35mm (fuji 23mm 1.4)
The quest for a more consistent style and meaningful body of work led me to a technique quite known among street photographers: layering or shoot layers. Subjects are ordered using layers, space and perspective. Alex Webb's books are a master class on the subject. The work of York Place Studios is a very good example of street photography applied at weddings with sterling results. I found the work of documentary wedding photographers working in the UK among the most refreshing and inspiring. Ian Weldon's work is probably the boldest and uncompromising in wedding photography.
Since this shift in my practice, family and friends interactions are something to really look forward to rather than a boring list of people to photograph and hand over to the clients. Bride and Groom portraits no longer are the main bulk of my portfolio but they merely complement it. The quality of my work no longer relies on good looking subjects posed against stunning location at sunset. I look for real moments and emotions to properly frame. It feels liberating, it feels like a breath of fresh air.
Thanks again to Michele for sharing his insights with us. You can see more of Michele's work on his website, or here on his This is Reportage profile.
We adore the fact that our TiR photographers are so open about their work; if you enjoyed this piece, you'll love the rest of our wedding photography tips.
Interested in becoming a member? We're all about featuring the documentary-side of your work; showcasing the art and skill of world-class reportage wedding photography. Members receive lots of benefits, including your own profile on the site with the ability to display an unlimited number of images, 60 Reportage Award entries and 18 Story Award entries per year, exclusive deals and discounts on wedding photography-related products/services (our members have saved over $1000 this year alone!) and much more – see all the benefits and sign up over here.
By the way, if you want to enter our latest round of Awards, there's still time: Deadline for Collection Six is just a few days away, on 23:59 GMT on 23rd November. Apply for membership and submit your favourite documentary captures and Stories.