This Is How: 'Head In Hands x 3' by Olly Knight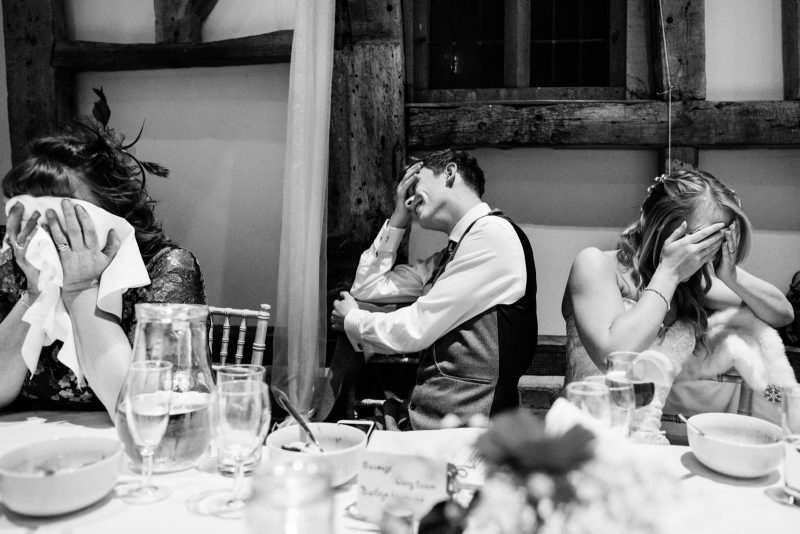 Delighted to have a new 'This is How' piece on the site today, with the fab Olly Knight telling us all about how he captured this great speech image. Olly shares so much gold, here, including insights into bonding with his couple (and their family/friends) – and just why this is so important – composition, shooting up close, shooting through the scene, info on his edit (with a before/after comparison), and more…thanks so much, Olly!
This image is really special to me because of the moment and also because of the people in the frame that I loved getting to know. Bekka's Mum (on the left) actually persuaded Bekka and Jordan to book me in the first place. They organised their wedding with only a couple of months to go and Rachel (the Mum) messaged me asking for a quote. I was a bit out of their planned budget but Bekka's Mum said how much she values photography and they ended up booking me!
On the morning of the wedding during the prep stages Bekka's Dad said to me "Olly I just love documentary photography. It's so much better than formal and staged photos. You really capture people at their best". I wanted to punch the air and do a little dance in his living room because I usually find at weddings that I'm having to try and win Parents over to the documentary way that I photograph but at this wedding the Mum booked me and the Dad couldn't be happier. Winner!
For this reason for the rest of the day I was able to get close to family members without anyone feeling uncomfortable. I must point out at this point that my style of photography is completely hands off. I want to capture the moments that I feel would mean a lot to the Bride and Groom. I don't direct people into nice light, I don't ask people to repeat things. I just photograph what really happens therefore I need the Bride, Groom and people around them to have confidence in me and to feel relaxed around me.
At this wedding there were funny moments like Bekka and her Dad trying to open the champagne bottle for 10 minutes, there were also tender moments like Bekka and her Mum hugging in the kitchen with just me and them. Family played a huge part in this wedding with Bekka's Grandad taking the ceremony, Bekka and Jordan's Siblings forming the band during the service and Jordan's Parents being in the Ceilidh band in the evening too. Family were in the majority of the images I sent to Bekka and Jordan.
Their reception was at Haughley Park Barn in Suffolk. It was a very sunny but cold November day and the light had gone by the time that speeches had come around. I'm usually a 35mm and 85mm shooter (incredibly original I know) but during the milling around I changed the 35mm to a 24mm lens so I could get a bit more in the frame as everything was quite close. The only part of the day I ever use flash in is the dancing (if I have to!) so this image was taken on my 5d iv and using my 24L ii lens and available light. I had my shutter as low as I'd want to go to for the speeches 1/160 and brought my aperture down a little bit to f2.8. I knew that I could boost my ISO without getting too much grain and this image was shot at 6400.
The speeches started and I remember starting off getting some wide images of the whole room then slowly and quietly making my way towards the top table (some of it on my knees) as I knew this would be the place where I'd get the best reactions. I remember going on a photography course hosted by Daniel Aguilar a few years back and I always remember him saying the question he asks himself at every wedding is "where do I need to be to get the shot?" then he moves there. It's so simple yet it's stayed in my brain ever since.
Jordan and Bekka had been so fun, animated and expressive the whole day and I knew that there'd be more images like this during the speeches. So I ended up basically crouching on the floor in front of the top table (which was a long table thankfully- so much better than a circular one hey?!) Ben the Best Man was giving his speech and I took a few shots of him then noticed that Bekka's Mum Rachel was really starting to crack up at one of the stories shared in the speech. She then reached for her napkin and covered her face with it, at that same time Jordan and Bekka both covered their faces with their hands. I was shooting through this moment as I was loving what I was seeing. I was enjoying taking the shots and I was laughing at the same time too. I took a step back to get all three of them in the frame and tried to keep the composition fairly straight and simple.
There's things that could be better with this image. I could have left slightly more room on the left hand side of the image I think and the lighting could have been better but I quite like the raw emotion and the gritty feel to the image. I put it in black and white as I'm often drawn to black and white high contrast images for those moments that really stand out to me. I had to dodge and burn a fair bit particularly on skin and I also had to reduce noise on the wall behind the top table as that distracted me from the subjects.
There you have it- "Head in hands x3"
canon 5d iv
EF24mm 1.4L ii lens
1/160
f/2.8
ISO 6400
Thanks so much to Olly for such a great behind-the-scenes piece! You can see lots more of his work over on his website, or here on his TiR profile.
We absolutely love how open and sharing our This is Reportage members are; if you enjoyed this piece, you'll love all the other wedding photography tips that our members have shared.
Interested in becoming a member? We're all about showcasing the documentary-side of your work – because moments matter most. Members receive a whole host of benefits, including the ability to show an unlimited number of images and wedding Stories on their profile, entries to our Reportage Award and Story Award collections, exclusive deals/discounts on wedding photography related products/services, access to our private members-only Facebook group, and much more. Find out more and sign up over here…