This Is How: 'Groomstick' by Niels Gerhardt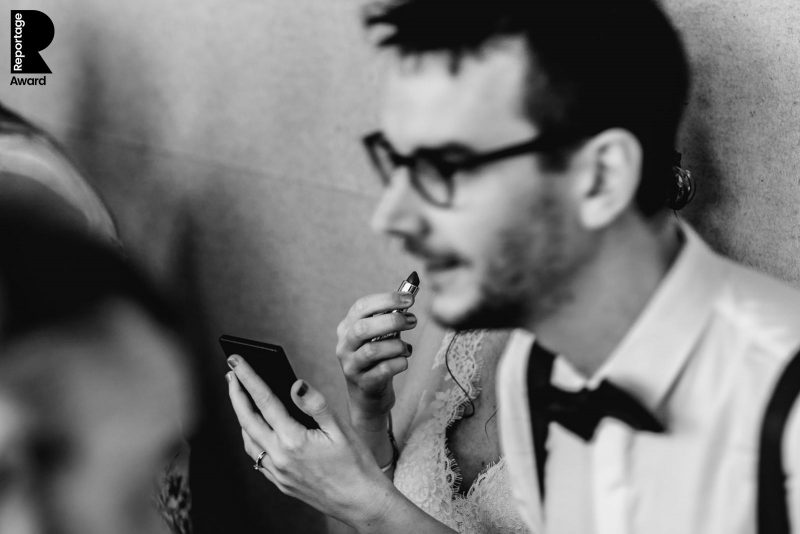 Excited to have the fab Niels Gerhardt on the site today to tell us how he captured this recent Reportage Award-winning capture from Collection Five. Really insightful tips on following your intuition, shooting through a scene, and a specific tip about a particular camera setting that enabled him to get this image – a great read, thanks Niels!
It was one of the hottest days of 2018, with almost 38 degrees. It was therefore a great stroke of luck that we sat in a café right next to a public swimming pool, because a slightly cooler air was blowing in. The bride and groom celebrated their civil wedding with a late breakfast, before moving on to the final location.
I was concentrated on photographing the emotions and interactions between the guests, although being sure that this breakfast wouldn't deliver much »action«.
I couldn't even imagine at this point, that a photo would be taken, which might able to collect four awards – including this fantastic TiR-Award …
After breakfast the bride asked for the groom's mobile phone. She needed a mirror to refresh her lipstick. Since I thought this might be a nice scene, I positioned myself and watched the bride.
After the groom had handed over his mobile phone, the bride leaned back against the wall, pulled her lipstick out of her handbag and started applying. Meanwhile the groom turned his attention back to the guests, leaning forward and … damn … he blocked my view. So I looked over my camera to quickly find a better position. But then, in the retrospective, something quite magical happened: From the corner of my eyes (and in a split of a second) I got the illusion that the groom was putting on the lipstick. Maybe it was because my eyes were no longer focused on the scene and both layers weren't strictly separated anymore.
It would be a lie to claim that it was a crystal-clear thought (and image in my mind) to shoot exactly this photo, but I felt intuitively that I may get something interesting in the end if I hold my position. I quickly switched the camera into burst mode (A9/20 frames per second), focused on her hand and started to shoot through the scene.
After the bride returned the cell phone to her hubby I forgot the scene quite fast. I didn't even control the result. I had to explore the terrain for the couple shooting afterwards. Which, by the way, lead to another fantastic shot.
In the post processing I remembered the scene again and went through the photos with no big expectations. But – voilà – there it was: One perfect shot, where even the angle of the lipstick fitted perfectly to the groom's lips. I was electrified and it was clear to me that I had a potential award candidate here.
Let me say one thing: It's nearly impossible to achieve a photo like this in just one single frame. In most cases, one can only freeze a moment in this perfectness using burst mode.
You can see more of Niels' work on his website, or here on his TiR profile.
Did you know that we have lots more 'This is How' pieces by our other TiR members? They are an absolute treasure-trove of documentary wedding photography tips.
Interested in joining This is Reportage? Membership benefits include your own profile on the site, with the ability to show an unlimited number of images and Stories, as well as 5 free Reportage Award entries and 2 free Story Award entries (for a series of 15 – 20 images from a single wedding) per Collection, with six Collections per year. All for a very pocket-friendly price, too! Full details and to apply for membership over here.