This Is How: 'Emotional Connections' by Matteo Carta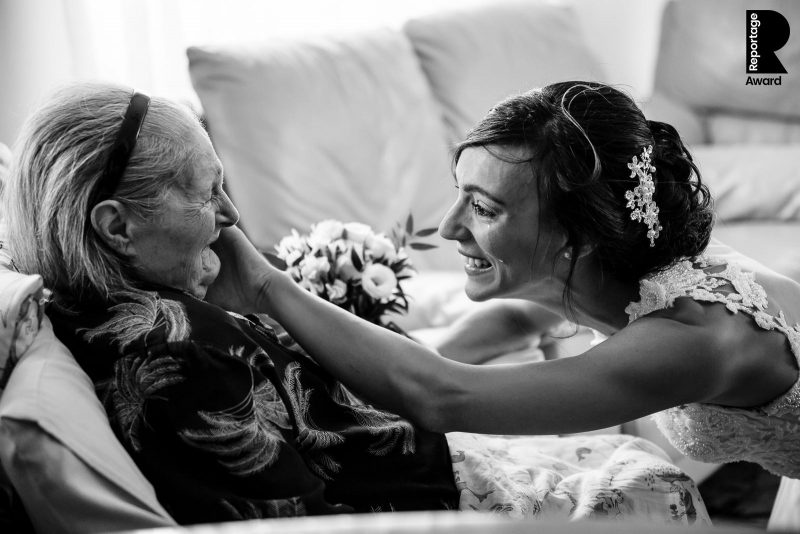 An honour to have the brilliant Matteo Carta on the site today, as he tells us all about how he captured this Reportage Award from Collection Six. Capturing moments like this is something we all aspire to, and it's fantastic to hear Matteo's story behind this award-winning frame. Over to Matteo… 
I'm specially bound to this photograph. It has been photographed for Maria Paola and Antonello's wedding. After the ceremony they told me that they are going to her grandmother's house and I've followed them. Unfortunately, due to her sickness, she couldn't be present during the ceremony and at the venue.
Right before I was entering her grandma's house I've noticed that Maria Paola and Antonello were full of emotions. I've entered for first in the room were the grandmother were and I tiptoed to find a spot were I can "hide" right behind a table that was near where she was. In this way I couldn't distract them from their moment.
When Paola entered the room I've started to shoot and she was full of emotions. She approached her and while caressing her grandmother's face she was whispering sweets words that I will never forget.
Her grandmother had some difficulties to keep her head up but there was a fraction of a second when there was eye contact and connection between them and I take this photograph! Honestly in that moment I can't hold my emotions: I started shaking and my eyes filled with tears and I was not sure to have captured that moment!
I believe that this photograph teached me a lot of things.
I can't take much credit for having taken this photograph. The only thing that I've done was doing nothing, just shoot! I think that when we move silently, with discretion, and we do not alter a thing, our clients feel free to LIVE their moments. This will be seen in their faces and in their emotions lived totally spontaneously!
When I get back at home I chose to convert it in black and white. Why? I wanted to extrapolate the colours to give much prominence to emotions. Not much work to do, some dodging and burning on highlights to keep more attention on the emotions and not to be distracted by surrounding elements. I want that the viewer will focalize only on the moment and the emotion.
Thanks so much to Matteo for sharing the story behind this brilliant capture! You can see more of his work over on his website, or here on his This is Reportage profile.
Enjoyed this piece? We have lots more wedding photography tips by our worldwide community of photographers.
Would you like to submit your favourite documentary captures and Stories to our Awards? The deadline for Collection Seven submissions is just a few days away: 23:59 GMT on 24th January. Apply for membership over here and receive 60 Reportage Award and 18 Story Award entries per year, all included in our membership fee. Members also receive lots of other benefits, including your own profile with an unlimited number of images/Stories, exclusive discounts and deals on wedding photography-related products, frequent opportunities for extra features, and more…