This Is How: 'Emotional Boys' by James White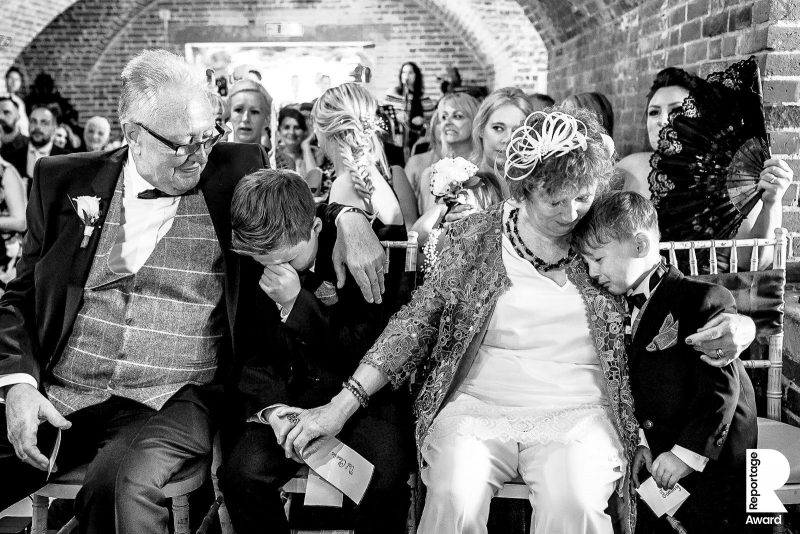 Fantastic to have James White with us today, as he takes us behind the scenes of his Reportage Award-winning capture from back in Collection Five. Really great insights into shooting through the scene, observation, getting up close, capturing emotion, and a great run-down on his edit, too. Thanks so much, James! 
Another crazy hot summer 2018 UK wedding, and a rare local wedding for me. I was at Southsea Castle here on the south coast.
I've now got the awesome Charlie and Tommy to thank for my first ever TiR award! I noticed them a couple of times during the service looking quite emotional, and this was how they were throughout the whole day as they saw their Mum and Dad get married. I kept a close eye on both knowing that I could get some more of those golden emotional images. As you can see with the other images that I've included there were plenty of other touching moments soon after the service, during the speeches and at other points during the wedding: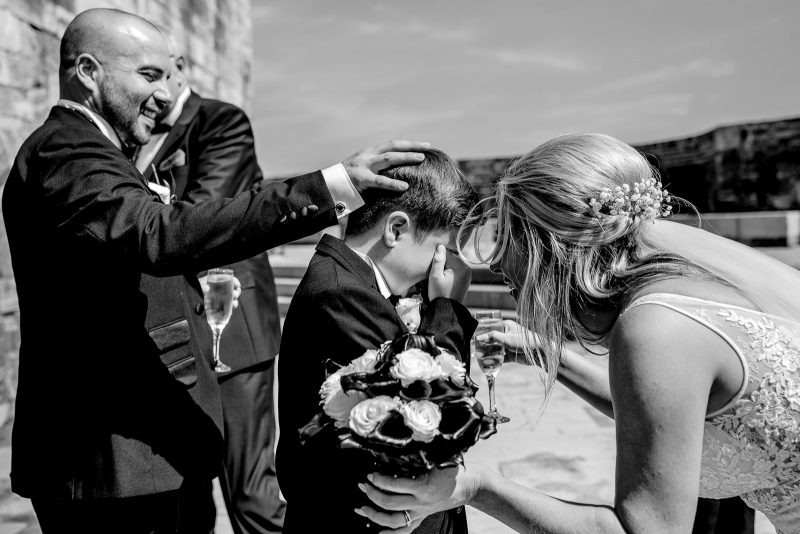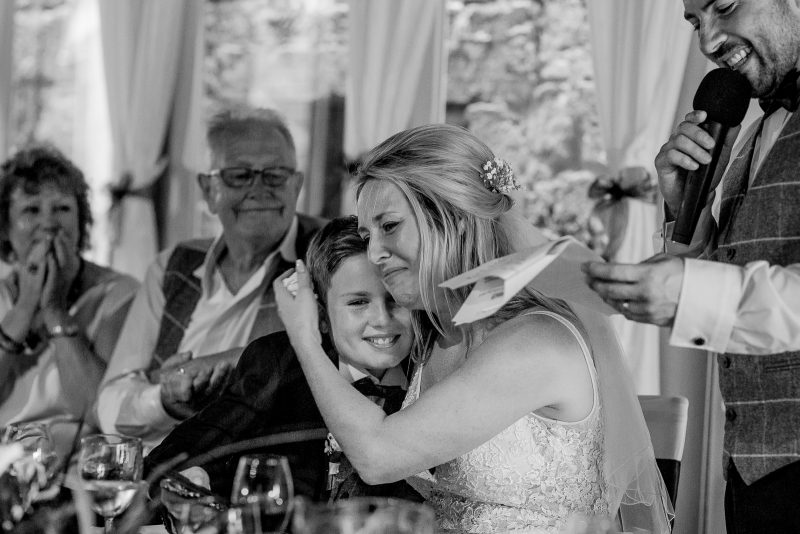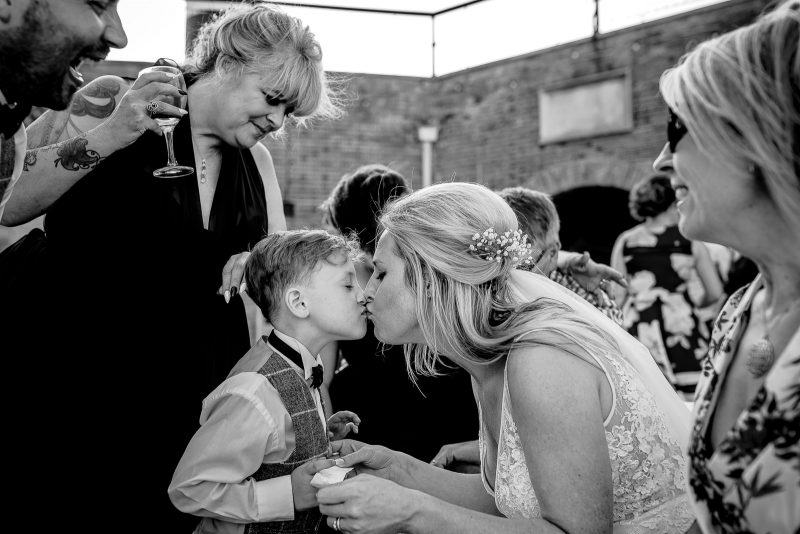 You can see a few supporting images below from the award-winning image, as you can see the light isn't great which is pretty standard for wedding ceremonies. There's daylight mixed with the orange overhead spotlights which is never a good mix. I opted for a black and white conversion which takes away the bad colour casts and helps make a stronger image overall. I was right up close and the final image just needed a slight crop and straighten. Since my ISO was at 6400 for this I added a touch of noise reduction in Lightroom which is what I use for all of my editing. I've also included the before and after: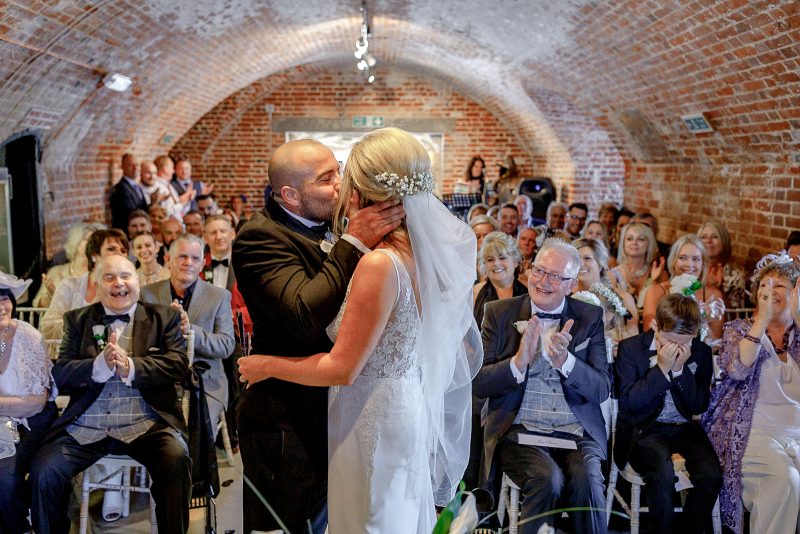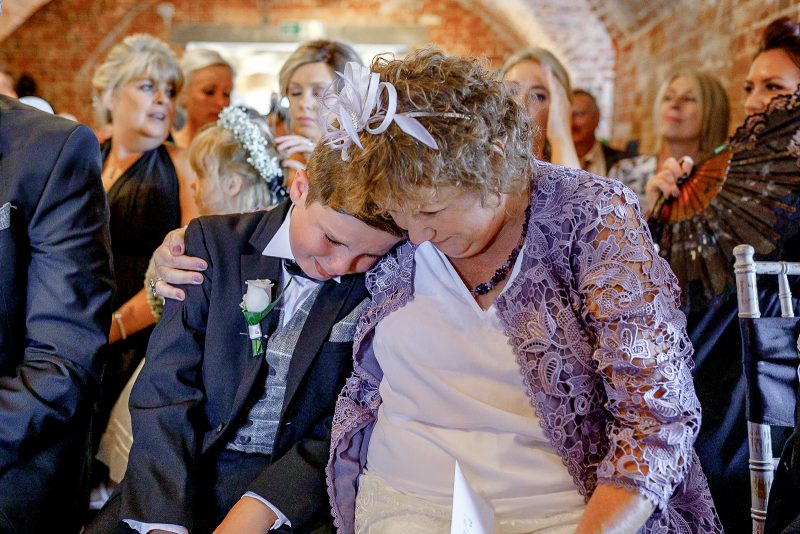 I shot quite a few frames as I was struggling to get a good reaction with the kids grandparents often looking in the wrong direction. I wanted the sole focus on the boys and their reaction. I considered moving and shooting something else as I felt I had my best image, but stuck with it a bit longer, and then, everything lined up. I got great hand placements from the grandparents and tearful expressions from the Charlie and Tommy. I like the fact, Vickie – one the bridesmaids –  is waving her fan giving the impression of a hot summers day. Little details like the names places really add to the final image for me and love the fact you can read Val and Tommy's name on them.
I never use flash during the service as I like to be nice and close to the action with the bride and groom whilst trying to be as discreet as possible. If I was firing off a flash all the time I really don't think this would be appropriate.
I'm sure this image will be treasured by the family for years and years and hopefully shown on Charlie and Tommy's wedding day!
Thanks a lot to James for this great piece; you can view more of his work on his website, or here on his This is Reportage profile.
We have lots more documentary wedding photography tips by our members too; a veritable goldmine, they are! Just amazing how open and sharing our members are; can't recommend reading them enough.
Would you like to join us here at TiR? Find out all the benefits of membership and sign up over here.