This Is How: 'El Velo Ventoso – The Windy Veil' by Sara Kirkham
Today we're sharing the story of another Reportage Award, and we're excited to have the fantastic Sara Kirkham of Pixies in the Cellar telling all. Great insights into the practical benefits of shooting a wedding as a duo, embracing parts of the day that may not usually be your style, and Sara's own thoughts on why this image has been awarded…a great read indeed, thanks so much Sara!
Nope we're not Spanish but in homage to Prilly, our first and so far only Ecuadorian bride, lets embrace another language and it sounds so much better that way too!
Back in 2016 this shot was captured at the stunning setting of Highcliffe Castle on the south coast of England. A bit of a trek for us Northerners, but we do like the odd mini working holiday every now and then. Prilly was full of life and super excited about her wedding to Anthony the quintessentially English military groom.
Prilly and her proud dad arrived at the doors of the Castle right in the path of a mischievous wind whipping up off the coast. As there's two of us we're normally in separate locations but at this point in the day we often both cover the bride's arrival as there's so much anticipation and emotion in this moment. The theory goes that we'll cover it from different angles where possible or using different focal lengths. So it was this day that Pete was shooting at 35mm to take in the grandeur of the scene, whilst I had moved to my 70-200mm to focus in on Prilly and her dad without intruding in the moment.
The montage shows a selection some of both our shots throughout the momentico (great word stolen from Rocio Vega that perfectly sums this up!)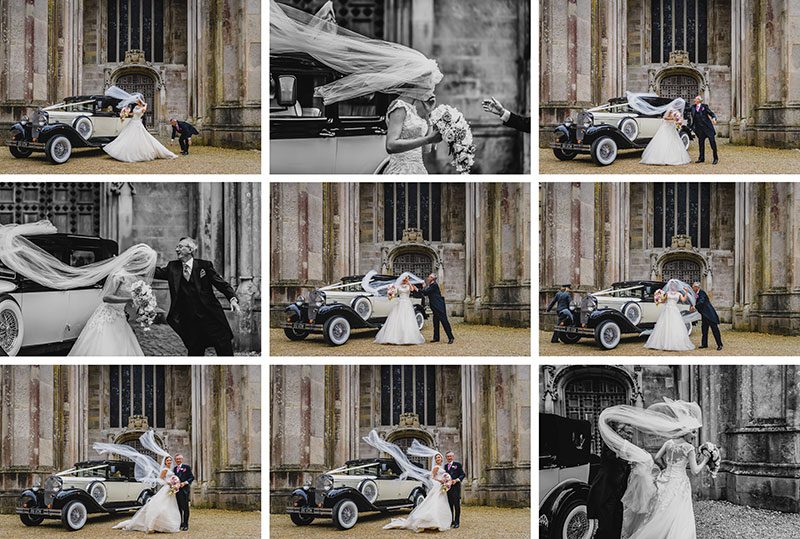 Prilly was keen to capture a more traditional pic of dad, old car, English castle etc before they made their way around to the ceremony entrance. So as these guys battled with the wind and the veil we captured the moments as they unfolded. The sequence of images really shows how the more reportage style truly captures the sense of the moment and the happy go lucky character of Prilly and her dad. Interesting to speculate though that without these guys wanting the more traditional shot then this may never have happened. And without us both being there then the two styles of shot couldn't have been achieved at the very same moment as we have done here. So I guess every element of the day should be embraced as you never know what can come from something which at the outset doesn't exactly seem your usual style.
This one shot has been well received by TiR (of course!) but also Fearless Photographers and ISPWP. So I guess it's an all round crowd pleaser. Why do I think so …. I guess it's that all important hand from the right of the frame. The simple gesture of someone helping, a sense of anticipation and movement too as the veil blows away from the hand. I also really love the way you can see how Prilly is laughing about it all hidden under her unruly veil.
So, muchas gracias to all the judges, here's to more wind and more crazy happy brides 🙂
You can see more of Sara's work over on her website, or here on her This is Reportage profile.
We're always super grateful to our TiR members for sharing how they captured their brilliant images; if you enjoyed this piece, then we really recommend you check out some of the other 'This is How…' pieces over here – we have over 70 on the site already!
Would you like to join a worldwide community that's all about celebrating the art and skill of documentary wedding photography? Head over here to join us!