This Is How: 'Taking the Plunge' by Charlie Campey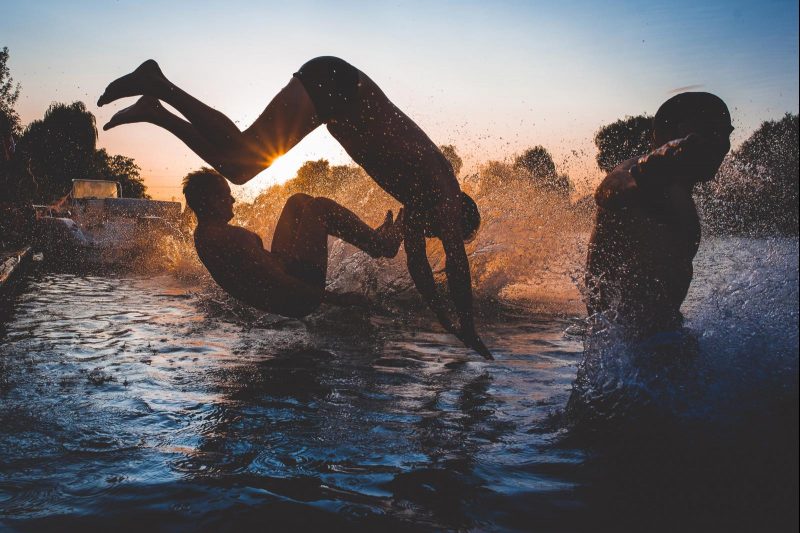 In the second of our regular series of 'This Is How…', Surrey-based photographer Charlie Campey tells us how he got this fantastic action shot.

I shot this at a wedding this summer, where the reception was at the bride's parents' home in Weybridge. They had an amazing spot, backing directly onto the Thames, so something like this was always bound to happen.

The groom and some of the guests were in the army, and I had got word that they were planning on stripping down and jumping in, so I found what I thought was the optimal position which was holding the camera low down, right by the water, and using the flip up screen to compose the frame. There were a few guests near by who I tested the settings on before the boys came out. I ended up with 24mm (me and camera got a little wet!), f8, 1/2500th and ISO 1800 so that everything was sharp and there was no motion blur.

I exposed for the evening sky, which in turn would lead to the guys being silhouettes, more-or-less. I manually focused to the point which seemed the most logical for them to appear, and then I just shot a tonne as they all came out. They jumped in one at a time to begin with, and then they all did a group jump, which is where this shot came from.

From all the keepers, I like the one in particular as the two main guys mirror one another and frame the sun quite nicely. Here's a few of the others!

You can see more of Charlie's work on his website, and on his profile on This is Reportage.

If you enjoyed this post, we have lots of other'This Is How…' posts by our TiR members over here.