This Is How: 'Man Vs Peacock' by Matt Parry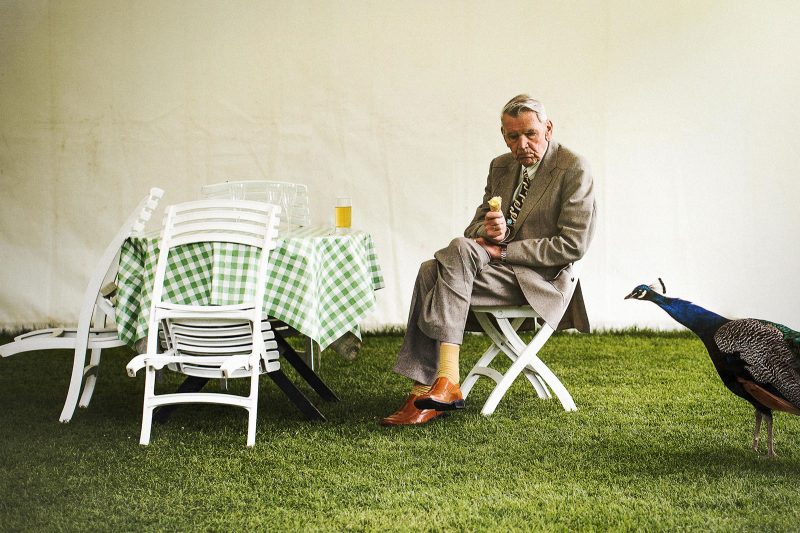 In the twenty-fourth of our regular series of 'This is How…' we're excited to welcome the fab Matt Parry to tell us all about this iconic capture of his. So much personality in this image! Great insights into how street photography has had a massive effect on his work ("…watching, waiting and capturing the ordinary…"), how speed and reaction are so important but how slowing down can be just as vital, composition, character, getting close and more…
I didn't own a proper camera until I was in my early 30's. I bought a DSLR after returning from a year's travelling where I had started taking pics on a Sony Cybershot type thing…and got the bug. I was living in Camden and working a job in the City that I hated and would just wander the streets taking pictures without any time constraints or pressures…much like I had done with the point and press when I was travelling.
This was 2009 and I didn't really know what street photography was or ever heard of Cartier Bresson BUT I would find a cool spot and just wait for something to happen (See below for an image shot in 2010 and excuse the offensive vignette :))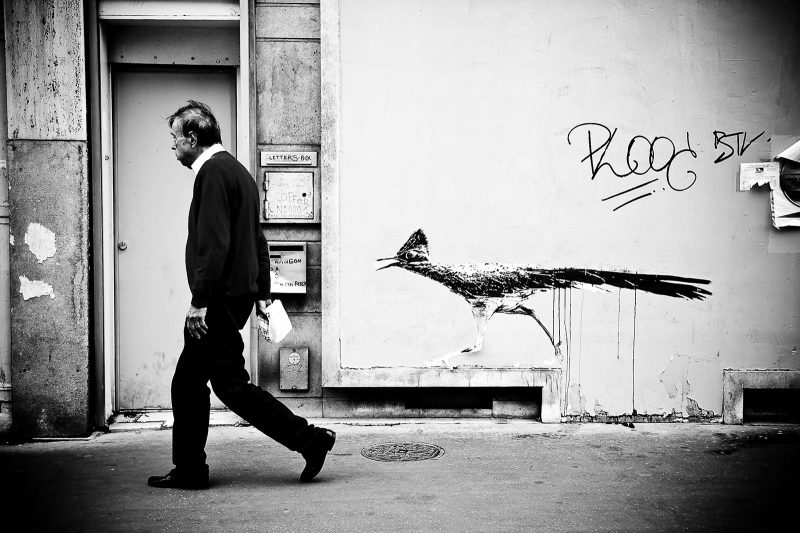 2 years later I shot my first wedding and that time wandering around watching, waiting and capturing the ordinary will always be my biggest influence.
Truth be told I often work at a hundred miles an hour these days. As a wedding photographer, who spends minimum time on groups shots or portraits, speed and reaction are without doubt the most important elements across the rest of the day BUT frames like this that I shot in 2014 always remind me to slow down and remember how I started.
The venue was full of peacocks (Larmer Tree in Wiltshire) and a quick look at it's website or other weddings shot there…and it's basically just stock shots of peacocks. So the challenge to capture them in a slightly more unusual way and within the context of my couples day was my initial challenge.
I had picked out the old chap as my muse as I liked his suit, socks and face plus like so many of the older or younger generations you tend to get better access without them becoming all self aware. It was a hot, muggy, overcast day so no shadow or harsh light to contend with BUT the retro ice-cream cart was doing a roaring trade and it quickly became obvious that the peacocks had acquired a taste for the stuff.
Out of shot is a hive of lawn games, kids chasing peacocks and a sea of green (I am not a big fan of too much grass green in my images) but when my chap sat himself in the little marquee to enjoy his cornet I liked how it isolated him and gave me a nice white backdrop as well as the hint of green on the strip of grass and tablecloth. I had my frame!
So I knelt down (pretty close as this is shot on a 50mm) took a couple of test shots to set my exposure (F2.5 1/1600) and then just waited, eating my ice-cream (mint chocolate chip) and chimping the back of my camera so as not to appear too obvious BUT keeping one eye on the peacocks. Its amazing how if you get close and stay close you can become invisible…I think I waited about 3-4 minutes before BOOM.
As I always do I fired off 15-20 frames (very itchy trigger finger) before moving on to a particularly tense and nearby drunken game of Jenga with a little smug smile across my beardy face. It wasn't until I culled the wedding the following day that I realised I had got the eye contact, evil stare and connection between the two of them.
Still to this day the image takes pride of place on my websites landing page and as a print on the wall of my office as a reminder to slow down and remember how it all began.
You can see more of Matt's work on his website, or on his This is Reportage profile.
Found this article interesting? We have lots of other 'This Is How…' posts by our TiR members over here.