This Is How: 'London Calling' by Hannah Hall of Red on Blonde Photography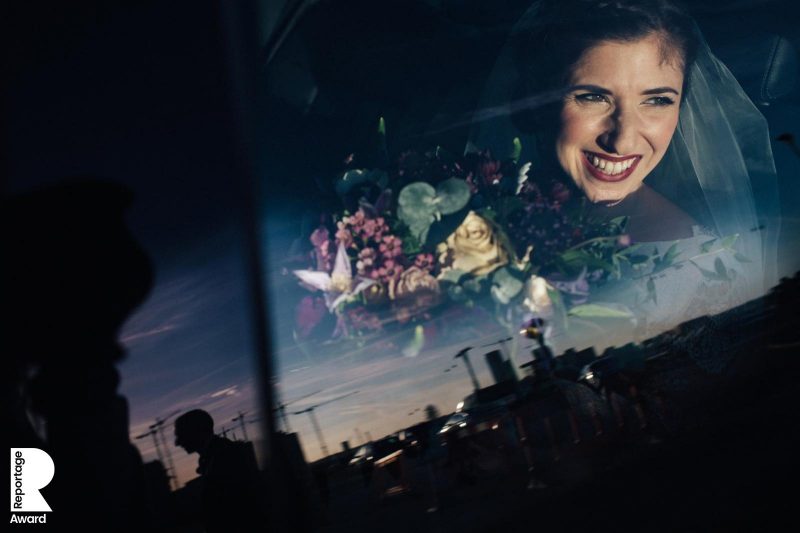 Today we're honoured to have the fantastic Hannah Hall from Red on Blonde Photography on the site, telling us all about her recent Reportage Award. It was incredibly tough to get an award, with only the top 2% of submissions being awarded by our Collection One Judges, so we're thrilled that Hannah has taken the time to bring us her insights into this capture; fab tips on working with available light, reflections and composition, getting in close and low, building rapport and trust, patience and more…
Sometimes the strangest of things can cement the bond between you and your couple on a wedding day. For Miriam and I, it was our taxi driver. He was doom-riddled and insisted on spending the agonising 45 minute journey across London talking about the terrible traffic, the hazardous conditions, accident hotspots were pointed out; he was doubtful we'd make it to her wedding on time…if at all. And to top it all off, he dealt the classic blow, "I bet the morning's gone by in a flash, hasn't it? All this build up and your wedding will all be done in a few hours. You won't remember it, you know." Cheers mate. The bride and I exchanged some looks, knew exactly what each other was thinking, suppressed some giggles and breathed massive sighs of relief as we pulled into the venue.
We were on a pretty tight schedule because a 3pm ceremony in December meant daylight would be limited. I'd therefore suggested a "First Look" before the ceremony, so we could maximise on the natural light and get some beautiful shots of the bride and groom at their amazing venue. Needless to say I was bloomin' relieved when we arrived at Trinity Buoy Wharf with time for Miriam to meet Thomas ahead of their ceremony. This place was so cool.
I jumped out the cab, ready to shoot Miriam's arrival. Earlier I'd noticed the low, directional Winter sun was perfect for getting reflections in the car windows and I'd worked hard to frame the bride getting into the car with her parents' home and her Mum reflected in the glass, which had worked fairly well but there were a couple of distracting elements (a no smoking sticker!) in the frame.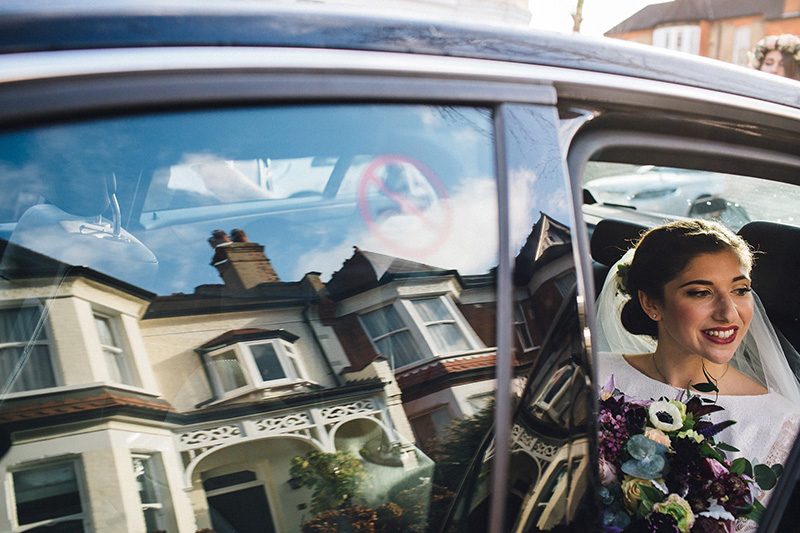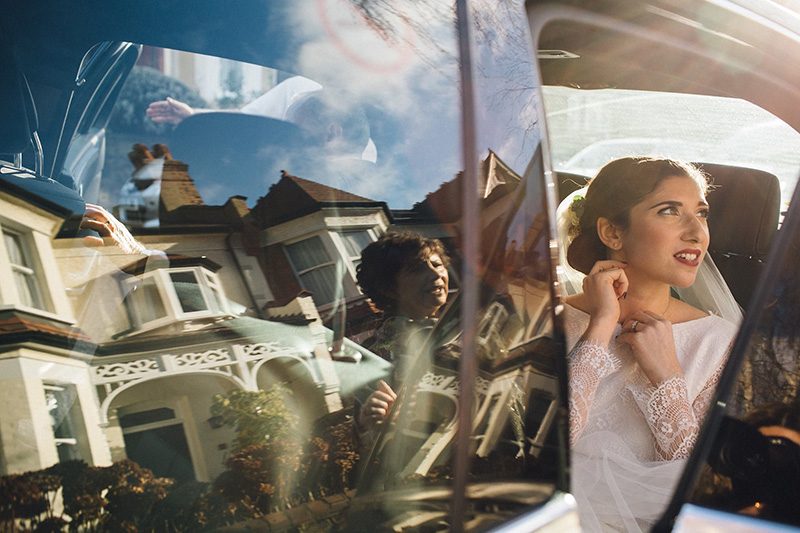 Now was my chance and the sun had dipped that bit lower. I wanted to isolate Miriam against the reflection of the incredible London skyline. I exposed for the highlights on her face, so the buildings were silhouetted. Shooting on a 35mm lens I had to get in mega close to eliminate distractions from the frame and I had to drop down low. I think the extra trust and mutual understanding that Miriam and I had forged on our taxi ride were instrumental because she was totally unfazed by my proximity and absorbed in watching some friends arrive, which means her smile is genuine. I took a few frames but kept waiting, crouched by the car because I knew Miriam's Dad was coming to escort her to the lighthouse to meet the groom. The final element was getting the Father of the Bride silhouetted in the left corner of my frame. Then of course the colours of the flowers and Miriam's lipstick complimented the beginnings of a sunset sky but I can't take any credit for those! This image was a kind of marker for the rest of the day – that sky got better and better and the wedding totally smashed it out the ball park. The cabbie was wrong – we will definitely remember their day for always.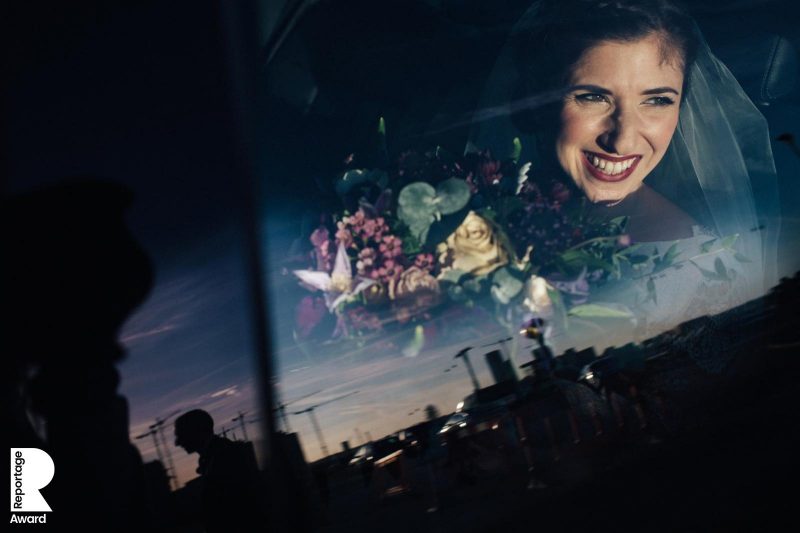 You can see more of Hannah's work on her website, or over on her TiR profile.
We're absolutely loving these series of 'This is How…' posts by our This is Reportage members; if you are, too, then you can head over here to read more of them.