This Is How: 'Conga' by Eneka Stewart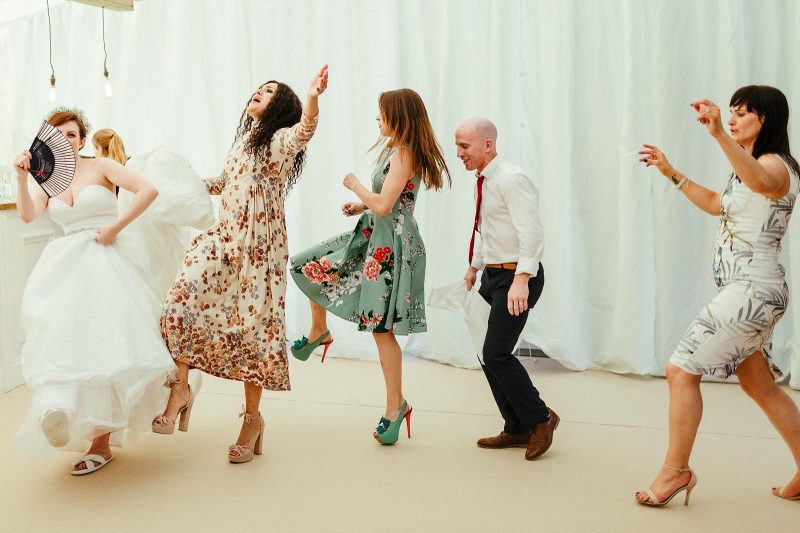 In the seventh of our regular series of 'This Is How…', Buckinghamshire-based photographer Eneka Stewart, tells us her thought process and just how she got this fab party image.

I took this image shortly after the first dance when the couple and all the guests started to conga around the marquee. Just before the first dance, a surprise act by the singing waiters got all the guests on their feet, pumped up with a lot of energy so there was no stopping an imminent party mode after the couple finished their first dance.
The key for me was to stay put on the dance floor and to watch which section of the 'snake' was most fun. The bride was leading the line and luckily followed by a group of loud and fun guests. Complimented with excellent outfits. I followed the conga around the tables a bit but quickly realized that the best shots were coming out on the dance floor. I returned to my spot and sat there like a Buddha until the conga stopped.
Jo & Ben had a superb vibe and atmosphere throughout their wedding day and it was clear from the reception time that it was going to be a fun evening. It was a super hot and bright day, one of the hottest wedding days that I have actually ever photographed.
I shot it with my all time favorite lens – 35mm. I probably shoot about 80% of my weddings with it. The settings were AV mode, f1.8, ISO1600, AWB.
You can see more of Eneka's work on her website, and on her profile on This is Reportage.
If you enjoyed this post, we have lots of other'This Is How…' posts by our TiR members over here.