This Is How: 'Anna and her Dad' by Sam Gibson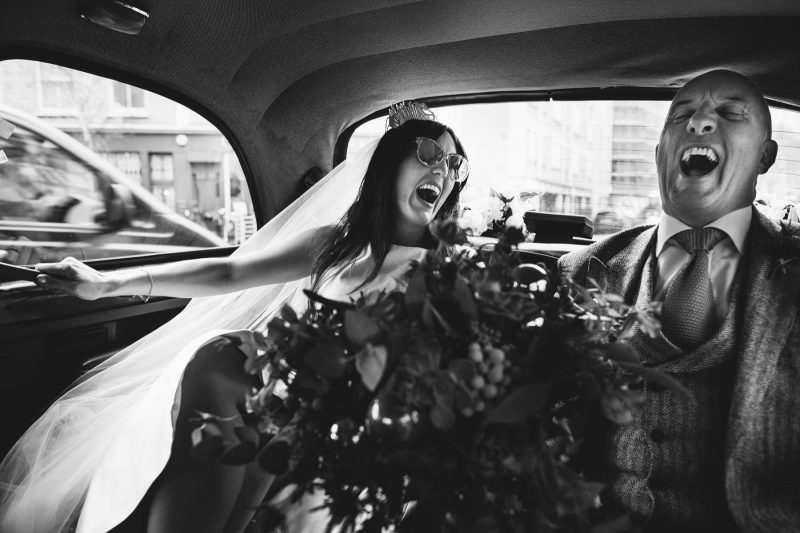 In the fourth of our regular series of 'This Is How…', Bristol-based photographer Sam Gibson tells us how he got this awesome double-laugh.

This shot was taken travelling with Anna and her dad from the Ace Hotel in Shoreditch to her wedding at Hackney Town Hall. It's shot with a 24mm which is a real favourite of mine. It's a great documentary lens, encompassing a wide view of moments. The trick to really making a lens like that work is getting close. If you're too far away it's sort of an awkward focal length, but get up close and it really comes alive, capturing intimate moments and making you feel like you're really in amongst the action. In fairness, we were all crammed into a London cab so I didn't exactly have much choice when it came to getting up close and personal!
Anna was so much fun, so full of life and laughter. I knew her and Michael a little before the wedding as I'd photographed Michael's brother's wedding a few years back and had met them both at other weddings since then. I just knew it was going to be a fun day. As we set off, Anna and her dad started chatting and laughing, and I was working to find an angle that I was happy with. I had my back pressed right up against the plastic of the divider in the taxi, and had a fairly slow shutter speed of 1/250 – I wanted to try and get a bit of movement outside so it didn't feel too staged, but didn't want to lose too many images to shake as we were driving through the London streets. The lens is at 2.8 and ISO was 1250.
I tried not to lose too much of the detail outside while I was shooting, and did a bit of dodging and burning on Anna and her dad and the rest of the scene to really draw the attention to them and their expressions. A nice contrasty black and white look just really suited the documentary nature of the image and the fairly flat December light outside. For me it's a key image from their wedding morning. They were both so relaxed about what was happening, so determined to have fun and embrace it and I'm so glad I caught these moments of laughter with her dad.
You can see more of Sam's work on his website, and his profile on This is Reportage.
If you enjoyed this post, we have lots of other'This Is How…' posts by our TiR members over here.