This Is How: 'Alternative Perspective' by Sam Docker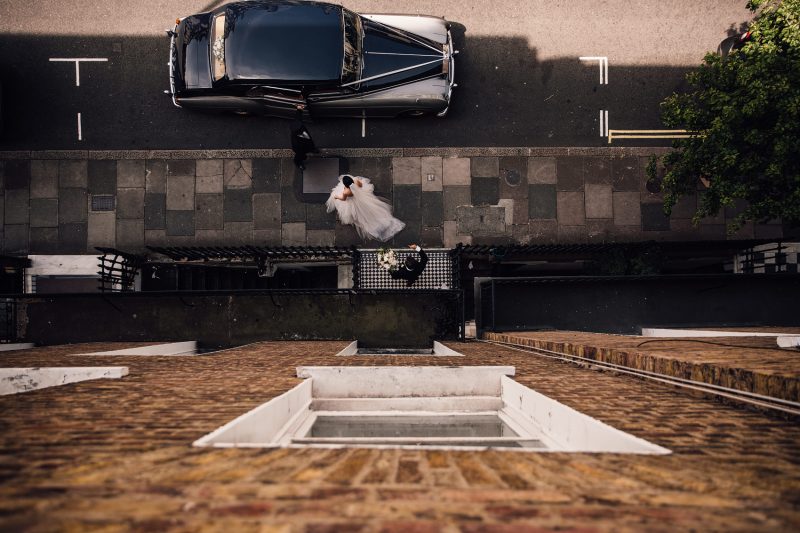 In the tenth of our regular series of 'This Is How…', we have the fab Sam Docker giving us his perspective on this alternative perspective shot…! (Sorry, couldn't resist that). Such a striking image, this, and Sam's insights below as to his thought process and technique is incredibly interesting:
This shot of Abigail and her dad setting off to the wedding is one of my personal favourites from 2017. It absolutely typifies how I approach weddings in so many ways. Even though this is a relatively ordinary moment of the day (she's just getting in the car, I've shot this part of the day endless times!), the main reason this stood out so much in my 2017 collection is purely down to the perspective; the aerial viewpoint of the frame gives this ordinary moment a totally different look and immediately grabs the viewers attention. I'm always looking for a slightly different way to document these moments, trying to be creative and taking an alternative perspective is a great way to producing something away from the traditional.
I usually work in a very spontaneous way at a wedding, getting in close and shooting as it happens, but in this instance, and even though the shot is totally un-staged, I'd seen the potential an hour before it happened. The wedding car had arrived outside during bridal prep, and like so many wedding days, I like to explore and look around, I think it's important to step outside of that close wedding bubble every now and then to take in the surroundings, and during this time out of bridal prep, I'd noticed a top floor window in the flat that allowed me to look directly down on the wedding car, that was it, I knew I'd be hanging back whilst Abigail and her dad went to get in! I also had to be in that car, so with my arms stretched out of the window, camera in live view mode, it was a quick burst of a dozen frames as Abigail walked across the pavement, and then it was a quick dash down 4 flights to make the church on time!!
For those interested in settings and technical details, this was shot on the 5DMKIV, 24-70MKII at 24mm / f2.8 / ISO 100 / 1/800 sec.
You can see more of Sam's work on his website, and on his profile here on This is Reportage.
If you enjoyed this post, we have lots of other'This Is How…' posts by our TiR members over here.